International Airport Review Awards 2018 – shortlist announced
International Airport Review is very proud to announce the shortlisted candidates for its 2018 Awards, and would like to thank everyone who participated, nominated and voted in the awards this year.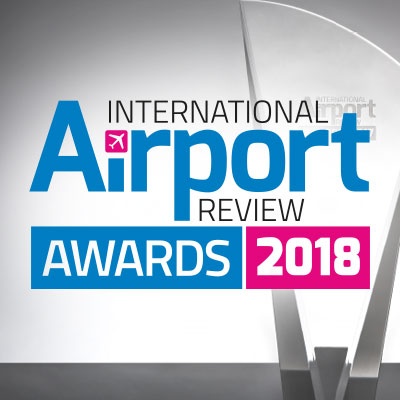 The next stage of the process for the nominees is now in the hands of our judging panel, which is comprised of industry experts, to decide upon the winners for each category. The winners will be announced in our December issue. 
The eclectic mix of submissions we had this year is encouraging, and it is an honour to witness all the hard work that is going on in the industry. In fact, due to an overwhelming number of nominations pertaining to PRM, we have decided to include an additional category this year: Accessibility, to ensure all the hard work being done to support accessibility within the industry is being given the recognition it duly deserves. 
So let's get down to business…
CATEGORY
SHORTLISTED NOMINEES 
Airport of the Year
Airport Authority Hong Kong
Bristol Airport
St Helena Airport
Airside Operations
Brisbane Airport Corporation
Groupe ADP
Rushlift GSE
Design Project
Israel Airports Authority
St Helena Government
 
Environmental Awareness
Airport Authority Hong Kong
Budapest Airport
Aeropuerto de Carrasco
Passenger Experience and Seamless Travel (Airports)
Heathrow Airport
PT Angkasa Pura II (Persero)
Miami-Dade Aviation Department
Passenger Experience and Seamless Travel (Suppliers)
iinside
ICM Airport Technics
Vision-Box
Revenue Generation
Gatwick Airport Ltd
Information and Communications Technologies – FastTrack
Pathfinder Global FZCO
Security Solution
BlipTrack (Veovo)
Copenhagen Optimization
 
Accessibility 
Gatwick Airport
Neatbox Ltd. 
Calgary Airport Authority
Technological Solution
Royal Schiphol Group
Bizmate s.r.l.
Assasia International Inc.
Terminal Operations 
Vanderlande APC
Polytechnic University of Madrid
Copenhagen Optimization
For more information visit the Awards section of our website. 
Related topics
Aeronautical revenue, Air freight and cargo, Airport development, Airside operations, Baggage handling, Biometrics, Blockchain, Communication Technology, Conferences and events, Economy, Emissions, Engineering, Ground handling, Information technology (IT), New technologies, Passenger experience and seamless travel, Passengers with reduced mobility (PRMs), Recruitment and training, Regulation and Legislation, Retail, Runways and pavements, Safety, Security, Self-service, Sustainability, Sustainable development, Terminal operations
Related organisations
Airports Authority Hong Kong, Assasia International Inc., Bizmate s.r.l., Calgary Airport Authority, Copenhagen Optimization, Groupe ADP, ICM Airport Technics, iinside, Information and Communications Technologies, Israel Airports Authority (IAA), Miami-Dade Aviation Department (MDAD), Neatbox Ltd, Pathfinders Global FZCO, Polytechnic University of Madrid, PT Angkasa Pura II (Persero), Royal Schiphol Group, Rushlift GSE, St Helena Government, Vanderlande APC, Veovo, Vision-Box