Written in the stars: re-writing air travel at the new Samarkand International Airport
International Airport Review Editor, Holly Miles, spoke with Dmitry Martynenko, Commercial Director at Air Marakanda – the operator of Samarkand International Airport. Together they discussed the redevelopment and construction of the new airport and its commitments to help ensure a brand-new future for Uzbekistan's tourism.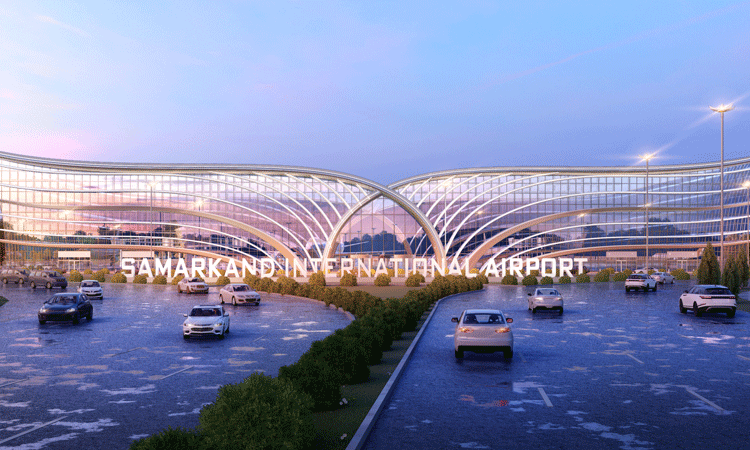 Credit: Samarkand International Airport (SKD)
Airports are a beacon for developing cities and play a central role in the socio-economic development of their surrounding communities. As a major international hub and gateway to central Asia, as well as an important corridor between Europe and Asia, Samarkand Airport aims to be a destination in its own right by becoming a venue, a place for relaxation and business, as well a pool of opportunities for the region and a source of national pride for Uzbekistan.
"There has never been anything like this in Uzbekistan before, in terms of services and infrastructure – and not every airport in central Asia can say the same," stated Martynenko.
Only at Samarkand Airport
There has been major growth in Uzbekistan's aviation and tourism sector, as well as the economy. The development of the new airport infrastructure, which stands as the first public private partnership (PPP) project in Uzbekistan's aviation sector, is testament to this. Samarkand is one of the main points of the ancient Silk Road trade route and international interest has risen significantly with international arrivals doubling from 2.7 million to 5.3 million tourists between 2017 to 2018. What's more, in early 2020, the United Nations World Tourism Organization titled Uzbekistan as the fourth fastest growing country for tourism in the world, preparing to play host to numerous events including the Shanghai Co-operation Organization summit in 2022 and fifth international meeting for UNWTO.
Commenting on what will make the airport unique compared to other airports in the region, apart from its distinctive design, Martynenko revealed: "We will be complying with the international requirements / standards (ISO) for aviation security, which means the continuous improvement to passenger service levels, modernisation to the airport infrastructure, use of modern technologies, and implementation of improved management systems.
"The upgraded airport will catalyse the economic growth and development of the surrounding area by bringing jobs to the local and greater community, implementing, and teaching international standards among staff, and potentially the large green area in front of the airport playing host to public and community events in the future.
Sustainable influences
Sustainability was one of the core influences during the design and construction stages of Samarkand Airport, according to Martynenko. The building's infrastructure has been designed to be energy efficient. The terminal is designed to prevent excessive energy consumption by responding automatically through the airport's Building Management System (BMS), which helps ensure that all the systems operate under optimum working conditions and energy consumption levels. Therefore, systematically preventing energy waste in unused areas of the airport.
The façade of the airport is a combination of glass and frame. It's heat transfer values and shading coefficient factor have been chosen at optimum values according to the international standards, to reduce energy consumption to the building.
An out of this world design
The design is bright, it's new, it's contemporary, with elegant installations, with limited ornamental patterns, and it's very spacious"
Martynenko's passion for the 'unique', one-of-a-kind airport building design, shone through during the interview: "The design is bright, it's new, it's contemporary, with elegant installations, with limited ornamental patterns, and it's very spacious." From the exterior, the main building resembles an open book, a design inspired by the New Guragan astronomical tables, a manuscript published by the world-renowned Uzbek astronomer, Mirzo Ulugbek. "In recognition of his achievements, the external roof will display a sky map with constellations that will be recognisable from the air. Air passengers will be able to see this fantastic design, and it will look especially good for those arriving at night," explained Martynenko.
During the construction of the airport, engineer designers from a Turkish company, Kiklop, have reinterpreted traditional architecture from the different cultures connected by the historic Silk Road; consorted of numerous arches and pillars, acting as a metaphorical portal to both Uzbekistan and the Silk Road.
To help ensure a seamless and memorable passenger experience, the airport has located 'green zones' inside the terminal with plenty of greenery, open spaces, and natural sunlight. The airport was also constructed with key design principles in mind: to be simple, flexible, convenient, comfortable, attractive, and be generous with flow area.
"The airport is the first thing that you see when you arrive in the country, and the last when you depart. We want to strive for the best first, and last, impression that we can for our passengers."
Technological advancements
Alongside the grand infrastructure design, there has also been huge technological advancements at Samarkand Airport including the main ventilation, water, and electricity systems. The airport will include four new passenger boarding bridges; 29 check-in desks, as well as e-gates to ease passenger experience at the international passport control; a new baggage handling system, with three luggage carousels; charging sockets in terminal waiting area seats; and dedicated green zones near the departure area, installed with a flight information display system (FIDS), allowing passengers to relax and enjoy a coffee, with the status of their flight close by.
Using the new technological implementations, controlling the airport's flow will be easier. "At all stages of the passenger's journey, the airport is designed to create the fastest airport experience. We're not big, but 29 self-check-in desks and the four passenger boarding bridges will help us to comply with the IATA C standards."
Conquering the challenges of COVID-19
With its spacious and open design, Samarkand Airport is prepared for large crowds and social distancing regulations. The airport has issued e-gates and self-check-in desks to help passengers feel safe when beginning their journey, as well as hand sanitiser dispensers with contactless sensors and regular disinfection of public areas and waste disposal.
Martynenko added: "Airports are always subject to constant change. There's a general requirement for expansion and reconfiguration in response to changing, and often unforeseen, demands. So, the design that we have right now, is easy to change and expand without causing maximum disruption to the airport's operations."
A commercial hub
As airports evolve for the future, they are becoming important shopping and entertainment hubs which look to create memorable experiences for their passengers before they take-off. "Like everything in this airport, the commercial areas are spacious. Overall, we are talking about more than 3,000sqm of retail and F&B areas," commented Martynenko. To manage the passenger flows, the two main commercial areas are located in the most popular airport areas, positioned near green spaces to attract the visitors who are waiting for their departing flights.
This is an exciting venture for both Uzbekistan Airports and Air Marakanda. The airport's goal to maintain international standards and create a fresh prospect for Uzbekistan highlights its drive to support, and contribute to, the success of the region. A stepwise increase in passenger and tourist numbers for the following years is readily anticipated.
Biography

Dmitry Martynenko is the Commercial Director at Air Marakanda – the operator of Samarkand International Airport and has six years of international experience in commercial and business development, working simultaneously with several airports in Russia. His main expertise areas are in aviation marketing, route development, airline interaction, civil aviation, market research, commercial strategy development and implementation, and non-aviation business development.