In conversation with David Wilson, COO of Oman Airports
In an exclusive video interview with David Wilson, International Airport Review's Editor, Holly Miles, discusses COVID-19, operational excellence, challenges, airport technologies and their plans for future growth for the future.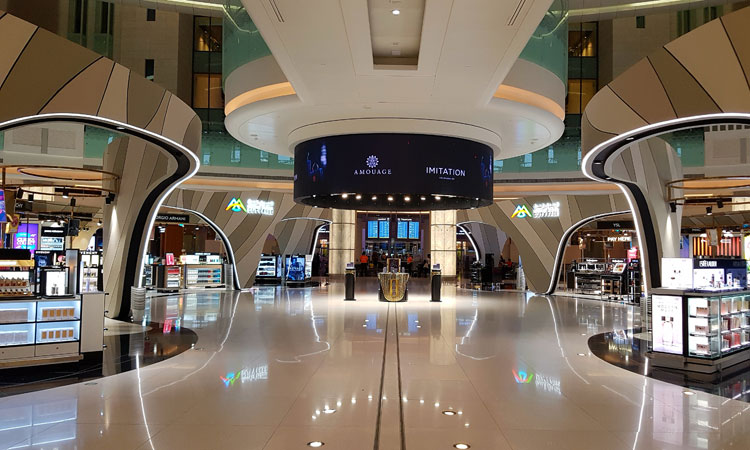 Access to the duty free zone inside the international airport of Muscat.
The past year and a half has been the most devastating time for aviation with the on-set of the COVID-19 pandemic, which saw flights grounded around the world, airports closed, and international travel grind to a halt. Global passenger traffic in 2020 declined by 64.2 per cent according to ACI World. However, there is now a light at the end of the tunnel with the global vaccination programme underway and countries beginning to open their borders fully to vaccinated travellers.
It was against this backdrop that Editor, Holly Miles, interviewed David Wilson, Chief Operating Officer of Oman Airports – and one of International Airport Review's newest Advisory Board Members. David has spent over 28 years in the aviation industry, following several years serving in the British Army. David has been in the role of Chief Operations Officer at Oman Airports since June 2017, and was accountable for the operational readiness, activation and transition (ORAT) programme and preparedness for the future operation of the new Muscat International Airport (MCT). Together they discussed the impacts that the pandemic has had on Oman's passenger numbers, and how they set about rearranging their operations to reduce costs.
This article includes sound bytes from the discussion on some of the key topics. You can listen to the full discussion here.
The impact of COVID-19
Giving a brief overview of the impact that the COVID-19 pandemic has had on their airports, David said that it had devastated their passenger numbers and their traffic "fell off a cliff".
According to David, Muscat International Airport would normally see 75,000 to 80,000 passengers a day with 450 to 500 air traffic movements per day. At the time of the interview, David reported that they had an average of around 7,000 passengers per day, which is only 10 per cent of 2019 levels, with only 40 to 50 air traffic movements per day. So the impact on the business in terms of financial performance and our revenue has been devastating.
Operational excellence during the COVID-19 pandemic
During 2019, airports were experiencing record numbers of passengers coming through their airports and their main problem was their airport infrastructure being unable to accommodate the numbers of travellers. When the pandemic hit, airports around the world went from having huge passenger footfall to zero. Airport terminals had to be shut down, staff let go of and costs slashed as much as possible. When international travel has been allowed, the way in which regulations were constantly changing meant that airports were dealing with peaks and troughs which they could not predict, meaning that many airports were struggling to operate efficiently. Holly asked David if this was the case with Oman Airports and whether they have been able to promote operational efficiency during this time at all. This was David's response.
New technologies
David also spoke about the airport technologies that Oman Airports are looking to implement in the future for a smoother and more efficient passenger experience such as touchless technology and self-service kiosks. The passenger experience has changed massively since the COVID-19 pandemic said David, now their number one priority is health and welfare. They do not mind queuing longer if they feel that their welfare is being looked after, which is why biometrics are going to play an even more important role in the years to come. The big challenge according to David is how it's paid for and funded because the equipment and infrastructure is expensive, and as a regulated airport they need to recover their capital investment. If the airlines are still hemorrhaging money as they are, putting in millions of dollars worth of new technology may not be the right timing. However, what is the right thing to do also has to make commercial business sense and it needs to generate a return on investment. So the business case and the purpose of why you implement this type of technology through the airports has to be clearly understood by all stakeholders.
Capacity Growth
Over the next 20 years, passenger traffic growth in the Middle East is projected to increase by an average of 4.3 per cent per year, and this is above the global average of four per cent growth per year. Holly asked David whether they are ready to meet this demand when it does indeed return. Muscat International Airport can handle up to 25 million passengers per annum said David, before the pandemic they were handling 18 million passengers so there is plenty of capacity available to meet future demand. However, with the implementation of new technologies such as biometrics self-service kiosks, self-service bag drops, David thinks that they can push this to 30-35 million passengers per annum. 
Common challenges facing airports
Having worked for many different airports during his career, Holly was keen to find out what the most common challenge is that airports face no matter their size or location.
David said that the challenges are always going to be balancing out an airport's growth strategy with the customer's expectation. All airports or commercial businesses want to grow and want to increase their market share in terms of passenger numbers, air traffic movements in the competition for customers but they need to balance this with whether they have the right infrastructure in place and the right process to grow aggressively and acquire new customers.
Listen to the full podcast here.