Re-designing seamless travel at Istanbul Airport beyond the pandemic
Ersin İnankul, Chief Digital and Commercial Officer at Istanbul Airport, speaks to International Airport Review about the airport's quest to offer a completely seamless passenger experience through touchless technologies, artificial intelligence and biometrics.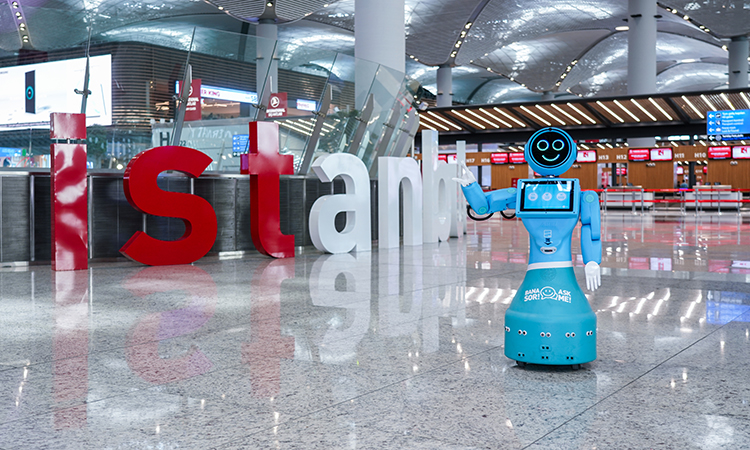 Credit: Istanbul Airport
As we all know, 2020 has been a difficult year for everyone, especially for the aviation industry. We faced the worst global health crisis ever – the effects of which we were unable to foresee – and experienced a year where we could not meet our goals as an industry. We still do not know much about when countries will begin to lift travel restrictions and when travelling will resume internationally.
Taking the above into account, along with what we have been through in the last year and considering that Istanbul Airport (IST) is still a young airport, we employed a proactive management approach. We took proactive safety measures even before the COVID-19 pandemic had spread to our country. Even when life was almost at a standstill and flights were being cancelled for months in many areas throughout the world, we continued with our operations by performing repatriation flights without any interruptions as Turkey's gateway to the world. We achieved this by working together with our colleagues and stakeholders, utilising every means possible. We developed and implemented new guidelines around the terminal regarding social distancing, cleaning and contactless passenger journeys.
The safe and touchless passenger journey
Today, a digital state of mind is required in all business decisions because we live in a world of digital transformation, and companies are trying to keep pace with this trend. We have built the biggest airport in the world and, while doing that, we accomplished more than what is required in terms of technology solutions. 
We determined the technological needs of the terminal and passenger journey at the very first phase of its design and developed the airport infrastructure accordingly. We built our own data centre for our terminal needs, which enables elasticity, compliance with regulations and quick response for action plans. On top of that, we followed the latest technology trends closely and embedded them into the related touchpoints during the early phase of construction – and our technology investments continue.
First, our Queue Management System (QMS) constantly measures existing queues lane-by-lane at the entrance, and estimates average waiting times for any incoming passengers. Terminal operation teams are then able to manage existing lines at the terminal entrance accordingly, which ensures the shortest line occurrence. Secondly, once the passenger is inside, they can benefit from Passenger Information Systems (PIS) providing interactive guidance; dynamic flight information; wayfinding; facility information; weather; animated graphics; and video streaming applications for a better terminal experience. Moreover, humanoid robots meeting passengers in the middle of our terminal perform virtual assistance tasks in multiple languages for users. Robots also utilise face-scanning technology for security purposes. Self-check-in kiosks and self-luggage drop-off desks are also located around check-in islands.
A touchless security experience
Contactless security checks are available through e-Passport control points, where biometric validation, fingerprint validation and full facial recognition is conducted. A flight validation system is also running at secondary security checkpoints. Passengers' boarding passes are scanned to prevent incorrect crossings and monitor passenger traffic. Moreover, through Istanbul Airport's mobile application, passengers have access to real-time detailed information within the terminal and its facilities. For arriving passengers returning to the terminal, the function 'Where is my car?' within the Istanbul Airport mobile app allows them to find their car easily in the car park. Additionally, car park payment can be performed through the app. We continue to develop new services with the same perspective – to use our technological solutions to provide a seamless passenger journey. In line with digital transformation trends, it is evident that augmented reality (AR) applications, mobile contactless payment and wearable technologies will support the requirement of social distancing that has been introduced into our lives because of the COVID-19 pandemic. 
We are continuing our efforts to design an end-to-end digital passenger experience that will take the digital customer journey that we have already developed to the next level. In this context, we are making use of chatbot, voice assistant, mobile payment, biometric and AR technologies. By integrating all of these technology solutions with our big data management platforms, we will generate a range of services based on these trending technologies, to recognise the passenger even before they travel to, or from, our airport. We will also mitigate their travel concerns and start to offer solutions suited to the passenger's habits and needs even before they arrive at the airport and, at the same time, allow for a much more enjoyable, comfortable and healthy airport experience.
Contactless and low-touch travel around the IST terminal
We plan to generalise our biometric applications. In particular, Istanbul Airport passenger processing systems will be reinforced with biometric solutions that incorporate facial recognition technology. Smart cameras will retrieve passengers' biometric face data from check-in desks and common-use self-service (CUSS) kiosks and process them for use at various control points, such as security, border control, lounges, retail stores and boarding gates. In addition, biometric facial recognition data will be used within the system through mobile devices. Once unique identification information is formed – comprising a combination of biometric data, flight information and passport or identity card information – passengers will not be required to present any documents while travelling at the airport. Thus, passengers will get a more convenient airport experience, the time that they spend at control points will be reduced and there will be a positive increase in their interest in commercial spaces, which in return will enable them to have a pleasant time at the airport.
In addition, we will be establishing our own marketplace platform, istbuy.com, which will contain infrastructures like AR and artificial intelligence (AI), which are among the latest technologies. Within this platform, we will be able to display and sell all of the products and services that are available at Duty Free before our passengers arrive at the airport. Thus, we will be able to allow our passengers to spend more of their time in other pleasant areas, such as food courts, special technological experience areas and lounges. We will be delivering campaigns and special offers that are customised according to our passengers' behaviours in commercial stores using different technologies.
Coronavirus testing at Istanbul Airport
We are also trying to deliver a seamless passenger experience throughout the pandemic; so, in these difficult times, we have set up a COVID-19 testing centre in the terminal. Istanbul Airport's Test Centre offers PCR testing services, as well as antibody and antigen testing, and serves passengers 24/7. Antigen rapid test results can be obtained in less than 15 minutes at our airport.
The 5,000m2 PCR Testing Centre has the capacity to carry out more than 10,000 tests per day. We have a daily testing capacity of 12,000 PCR tests and, currently, 1,500 PCR tests are performed per day within this capacity. PCR test results are rapidly available within two to four hours.
We know that people would like to travel, and so we are relieved by the news about the projected success rates of several COVID-19 vaccines, which are offering the aviation industry a light at the end of the tunnel. We will act with the understanding that we still have a great deal of work to do and will continue our role as the guiding light in our industry. 2021 will be the year that we get back what we have lost, but we must accept that there will be no way back to the pre-pandemic era.
Ersin İnankul started his career in 1998 and has worked as a Project Manager and Consultant in the fields of airport systems, telecommunication, complex system integration and process optimisation. Upon joining TAV Group in 2005, he was IT Project Manager of two airports in Georgia. From 2007-2010, İnankul served as IT and Integration Project Manager of two airports in North Africa. He subsequently took office as Infrastructure Manager at TAV Information Technologies and advanced in his career to become the Deputy General Manager of the company. He served as Chief Information Officer of IGA Construction Group – which constructed the world's biggest airport in Istanbul – to manage all IT packages from 2015 to 2018.  İnankul is currently focusing on developing a new digital strategy for commercial activities at Istanbul Airport to understand a deep and detailed view of the airport's customer behaviour across all channels. He is developing a unique open commercial platform for technology-enabled collaboration with all related parties to enhance the services that are offered and improve the passenger experience. He is continuing his career as Chief Digital and Commercial Officer to unite technology with commerce.