The 2021 airport playbook: Skate to where the puck is going
If the crisis has taught us one thing, it's that, while airports do need to focus on recovery, they must also put in place systems that give them the ultimate agility to survive future volatile events – and they need to do it now.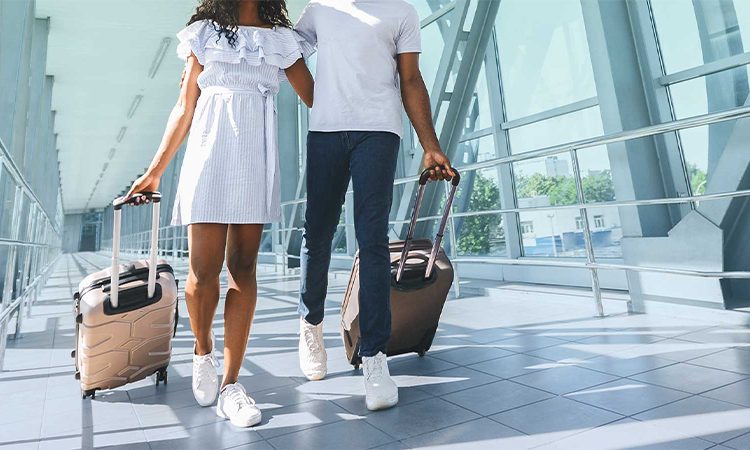 Ice hockey legend Wayne Gretzky once famously said: "I skate to where the puck is going to be, not where it has been." The quote has long been popular with corporates wanting to inspire their teams to anticipate the next move and stay ahead of the competition – and yet, when you're in a pandemic, that's a lot easier said than done.
Right now, we all wish we could sense where the puck is going to go. Having faced volatile operating conditions, there's been little choice but to skate from one place to the next, fixing the most urgent challenges in a survival mode.
However, the crisis has also triggered a change in thinking around conventional processes at a rate that we've not seen in the last 50 years of aviation. It's being driven by both the necessity and desire to recover as quickly as possible.
While many are talking about this as a positive in accelerating innovation, no one wants to discuss the thing we all dread: What if there's another pandemic? What then?
If the crisis has taught us one thing, it's that, while airports do need to focus on recovery, they must also put in place systems that give them the ultimate agility to survive future volatile events, and they need to do it now.
The new airport playbook
There's no going back to business as usual. Decades of operational knowledge based on pre-COVID-19 conditions is no longer relevant. Budgets have been decimated and changing travel patterns have created tough new challenges around predicting passenger flow and capacity needs.
Airports must be more resilient and serve their customers better – all with fewer resources at their disposal.
To build back better, we need a new airport playbook. The question is, what does this look like?
1. Dial-up, dial-down airport operations
Change may have been forced upon us, but so has the valuable lesson that adaptability and efficiency will be vital to building a sustainable travel future.
How do airports improve service models with fewer resources and at a more predictable cost?
Investment with the ability to dial-up and dial-down all aspects of airport services – technology, infrastructure, people and processes – is the only way to be able to fully flex to whatever crisis may loom around the corner, or scale quickly when needed.
2. Up-to-the-minute, shared data
If we've learned anything from last year, it's that experience and intuition aren't enough when faced with volatility. Airports can only make smart, safe decisions based on up-to-the-minute data.
Many airports are already gathering this data. They're just unable to glean the insights they need.
Why? Because much of the data remains in silos. Or, at best, it's heavily curated into a data warehouse where the focus is reporting, rather than putting it to work.
The most significant cause of this lack of insight is that new technology is often retrofitted into existing isolated operational processes. This makes it difficult to easily share or access data between aviation partners. More importantly, it makes it challenging to recognise and respond to events as they happen.
Better situational awareness, and its twin – better decision-making – need to be grounded in real-time data-sharing between all. It also needs to be available to enable more intelligent and boundary-crossing technologies. Data lakes filled with rich data on passenger, aircraft, baggage, and non-aero activities will drive innovation and smart decisions to separate the great airports from the pack.
Volatility vs predictability: Four core principles for holistic airport operational planning
3. Outcome-focused AI
With less staff and more uncertainty, airports are turning to automation technologies to get work done faster and better customer outcomes.
Artificial intelligence (AI) and machine learning have a lot to offer in this space, particularly in reducing human time spent on resource management and planning. While most operators have relied on experience alone to determine the best plan, it has become increasingly difficult to find that needle, especially if the goal changes frequently.
AI-driven optimisation, on the other hand, focuses on the goal itself. It taps into historical trends, considers the latest situation information (actual and predicted) and any constraints or priorities, evaluates all the options and then arrives at the best decision.
In short, intelligent automation reduces the effort needed to deliver an optimised and agile plan.
Pandemic sets the stage for AI take-off at airports
4. Joined-up decision-making
Recovery can only be realised when everyone across the airport works together to better meet the needs of passengers and each other.
This means considering the entire end-to-end journey in every decision. For instance, understanding the impact of one flow on another, such as the effect gate assignments can have on transfer times and crowding, or re-thinking security screening approaches based on real-time flight schedules, live processing rates, and income potential.
The 2021 playbook requires a decision-making framework that leaves no room for wrong decisions. A framework that actively rehearses potential scenarios and provides recommendations with a live view on the impact of overall airport performance and the customer experience.
Enabling smarter decisions at CVG Airport with curb-to-flight passenger flow management
5. Greater industry collaboration
Finally, the pandemic has underlined the importance of genuinely collaborative relationships. When upheaval strikes, the airports that have nurtured a true partnership with their suppliers can adapt the fastest. A bedrock of collaboration also makes tough conversations easier in the hard times and shared prosperity greater in the good times.
Perhaps the biggest change management challenge facing airports today is, in fact, how they evaluate and procure their systems. Competition may drive down the price, but collaboration is far more potent in speeding problem-solving, paving the way for faster innovation and a more resilient airport.
Perth Airport adopts new operational management system to boost efficiency for airline partners
Taking the shot
Markets, customer behaviour and, yes, viruses will always be unpredictable, but change doesn't have to be. One thing we know for sure – the ability to gather, analyse and put data to work will play a critical role in shaping a new travel ecosystem.
As airport operators plan for the return of passengers, many are seeking technology partnerships that allow them to test the possibilities. Others are beginning to harness software architectures that enable them to address urgent issues while laying the foundations for real, lasting change.
With scaled-back personnel and limited financial resources, investing in collaborative, machine learning technology can seem daunting in the current environment – and yet, by imagining the ideal future airport blueprint, more intelligent technology is the one thing that can take the 2021 playbook and put it into action.
Another great quote from Gretzky is: "You miss 100 per cent of the shots that you don't take." For today's airports, those shots are still out there, no matter how uncertain the future is. With the 2021 playbook, it's time for airports to take theirs.
Related topics
Airport crisis management, Airport development, Big data, Biometrics, COVID-19, Information technology (IT), New technologies, Passenger experience and seamless travel, Self-service, Sensory technology, Terminal operations
Related organisations