Utilising passenger insight in a post-COVID-19 world
Emanuele Calà, Head of Innovation and Quality at Aeroporti di Roma, details the passenger-focused approach that has taken a pivotal role during the pandemic, and the use of real time data at different points in the airport journey to truly capture passenger mood.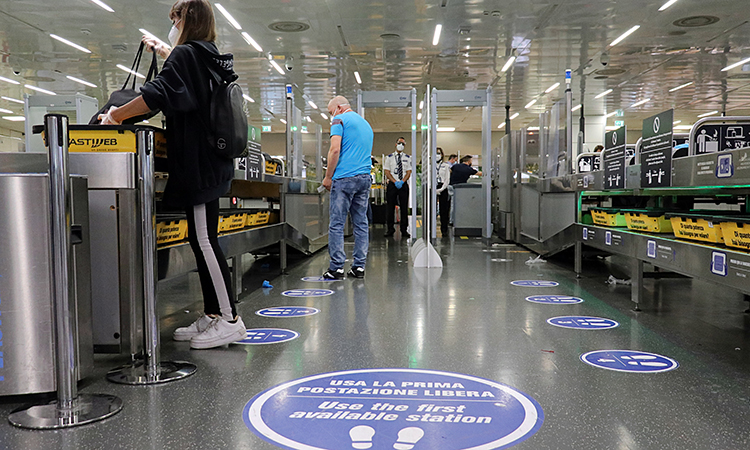 Credit: Aeroporti di Roma.
People have always been at the heart of our mission and strategy: our employees, our passengers and those who visit our country. Our focus is to ensure that all of our stakeholders, from local communities to national and international players, can reap the social and economic benefits that are generated by our airports.
Aeroporti di Roma (ADR) is the private company that manages Rome–Fiumicino International Airport (FCO) and Rome–Ciampino International Airport (CIA); unique gateways to Rome, to the whole Lazio Region – a large and wealthy market of approximately six million inhabitants – and to Italy, the homeland of art and beauty.
In 2019, Fiumicino and Ciampino handled respectively 43.5 million and six million passengers. Given its strategic geographical role, Aeroporti di Roma feels a higher responsibility to welcome passengers and to ensure that they leave Italy with beautiful emotions in their heart. At ADR, we truly feel like ambassadors to the treasures of art, history and wonderful landscapes of our country.
We take our people-centric commitment seriously, taking steps to actively listen to, engage with and understand their needs and expectations, and to create the best conditions for a wonderful airport experience.
As a natural consequence of the outbreak of the COVID-19 pandemic, passengers' expectations and priorities of that experience have dramatically changed: the main concern now is health.
Adapting to the pandemic
Since the outbreak of the pandemic, ADR has deployed all possible measures to minimise the risk of COVID-19 transmission at the airport. We have implemented strict protocols to protect employees and passengers' health, whilst also actively participating with international panels and focus groups to contribute to the relaunch of the aviation industry and to design the best solutions to restore passenger confidence and ensure a safe journey. For instance, ADR took part in Airports Council International (ACI) Europe's 'Off the Ground Task Force' to brainstorm alongside the industry's key actors and embraced the implementation of the European Union Aviation Safety Agency (EASA)/ European Center for Disease Prevention and Control (ECDC) Aviation Health Safety protocol.
The measures implemented at the airport to protect passengers and employees against the risk of COVID-19 transmission are comprehensive. They include a huge staff training programme; health screening; the sanitisation of all infrastructures and equipment; the application of mandatory behaviours, such as wearing face masks and maintaining physical distancing; as well as the deployment of the newest technologies to offer a touchless experience to passengers.
Technology for a touchless traveller experience
To minimise the risk of contamination, ADR offers passengers the opportunity to live a touchless experience during all of the key steps of their journey. Passengers can perform self-service check-in in a segregated and safe manner, with the guarantee that the facilities are constantly sanitised. They access the security control area by self-scanning their boarding card and going through passport control by using automatic border control equipment that utilises biometrics.
As identity card control upon boarding is still mandatory in Italy, a pilot test is currently being carried out to enable touchless boarding through self-boarding gates that are capable of reading passengers' identity documents. As for car parks, passengers can enjoy a ticketless experience by booking their space in advance and tapping their credit card to enter or exit the car park.
The sanitary measures deployed at Rome's airports, including their efficiency and their compliance with international rules issued by the World Health Organization (WHO), EASA, ECDC, the International Civil Aviation Organization (ICAO) have been certified by international bodies. Beyond the Italian certification RINA, Rome's airports have been awarded with ACI's Airport Health Accreditation (AHA) and the Safeguard Label. Fiumicino was also the first airport in the world to obtain the five-star anti-COVID-19 recognition by Skytrax, after an accurate audit onsite with chemical tests performed on surfaces of high contact.
A safe airport is a pre-requisite – but it is not enough. The journey to regain passengers' confidence is still a long one and, at ADR, we strive to capture how people are feeling as they pass through our airports.
Touchless real-time traveller mood monitoring
Amongst our initiatives to continually assess our COVID-19 protocols and resolve any hygiene – or other – issues before they escalate, we have implemented Forrester's FeedbackNow technology to collect on-the-spot data and deliver real time 'mood' analysis.
We've installed FeedbackNow terminals across Fiumicino Airport, in locations where we know that the customer experience is most critical. The terminals register touchless feedback from 2.5cm away and flash to register that it has been logged. It allows travellers to tell us how they feel in the moment and enables us to collect high volumes of unbiased and authentic data at the very point of the experience, which is critical for genuine insight and actionable information.
Making passengers feel comfortable and in control as they continue their journey means that we need to know what happens at each point, when the customers are there. A feedback report printed each week is of little use – it doesn't allow us to make adjustments and react quickly with corrective action. It only enables us to react to experiences in the past.
We're finding that the pandemic has not only raised concerns about customer experience, it has also increased willingness to give feedback on it. Knowing that the airport is interested and acting on the mood data that we collect is empowering for the customer. By collecting real time mood data, we can foster experiences that evoke positive emotions like trust, safety and reliability, which are critical in today's travel environment.
Part of the COVID-19 plan
Monitoring the mood of our passengers is the pinnacle of a much bigger plan for ensuring safe and positive experiences throughout our airport during the pandemic and beyond.
Our COVID-19 rapid testing facilities have the capacity to conduct up to 5,400 tests every day. In December 2020, ADR launched the first trans-oceanic 'clean corridors' on the routes Rome FCO-New York JFK and Rome FCO-Atlanta, in partnership with Alitalia and Delta Air Lines, respectively. Passengers are tested prior to their flight and upon arrival. If they tested negative, those flying on the 'COVID-tested' flights can avoid quarantine measures in Italy, as disciplined by a joint Order issued by the Italian Ministries of Health, Transports and Foreign Affairs.
The COVID-tested flights pilot projects have produced excellent results in terms of risk minimisation, passenger satisfaction, health effectiveness and suitability to support the traffic recovery. The United Nation's World Tourism Organization (UNWTO) has endorsed ADR's trial, regarding it as the most viable strategy to restart tourism and, therefore, choosing it as the reference benchmark worldwide to overcome the crisis of the aviation sector.
Staying focused, staying safe
ADR will continue to make all of the necessary efforts to be an active part of the global recovery of air transport. Our objective is to extend the safe corridors protocols to a wider range of destinations, in collaboration with airlines, institutions and airports.
A vital part of the route to recovery, we believe, is the digitalisation of processes as an essential element to relaunch the industry. This includes digital data on customer safety and experience, as well as a Travel Health Portal, where passengers can register certificates of negative tests results or vaccinations, providing a strong support for contact tracing, in full respect of privacy laws.
Far from forcing a step backwards, COVID-19 has provided opportunity for a step forward in the digital seamless travel experience. We believe that reassuring passengers of safety and hygiene is a big part of attracting customers back onto the airlines, and – by delivering a well-planned COVID-safe experience backed up by real time insight into customer mood throughout the airport journey – we can play our part in supporting the re-growth of the industry.
Born in Rome in 1981, Emanuele Calà graduated in Business Administration from LUISS Guido Carli University of Rome in 2004. He became Head of Aeroporti di Roma's Innovation and Quality departments in July 2020. Calà joined the Atlantia Group in 2004; since then, he has held positions of increasing responsibility within the Group's main companies, such as Autostrade per l'Italia, Atlantia and Aeroporti di Roma, in the areas of business controlling, programme management and quality.