Passenger experience and expectations during COVID-19
Nejat Kurt, Deputy General Manager of Operations at TAV Airports, looks forward to the aviation sector post-COVID-19, considering the actions undertaken by airports to ensure passenger safety and the role of contactless technology, which will remain key in regaining – and maintaining – passenger confidence.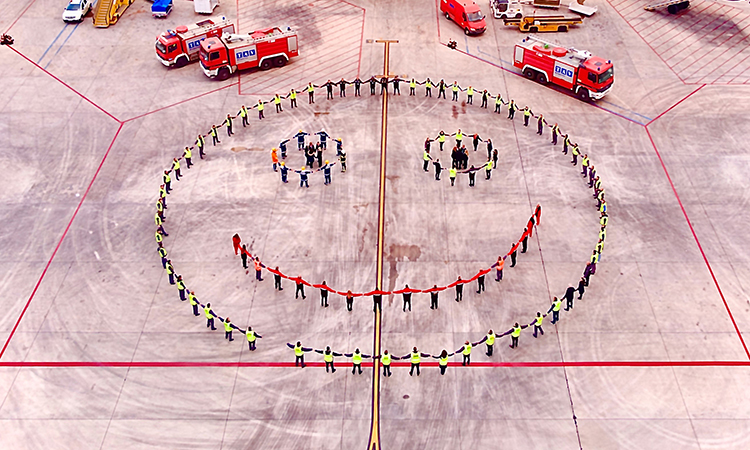 Credit: TAV Airports - Skopje International Airport (SKP).
It soon became clear that this pandemic could not pass by without causing dramatic changes"
With 2020 having passed by in a flash, we were all convinced that it would be a period that would pass, and that we would soon comfortably get back to our travel routines and day-to-day activities. But it soon became clear that this pandemic could not pass by without causing dramatic changes to the spontaneous lifestyle that we have enjoyed for decades. We were not ready for the enormity of such challenges over such a long period of time, and we can still not even anticipate when this will all come to an end.
Looking to the future
We can view 2021 and the following years ahead from the below hypothetical perspective:
2021
During the course of 2021, we are going to effectively and efficiently understand and learn how to continue with our day-to-day activities, travels and journeys amid the COVID-19 pandemic. The availability and implementation of passenger antigen tests, rapid PCR tests and so on will, at some point, enable travel from one country to another. Since some countries have already implemented it as a requirement, we hope that this will quickly become common practice.
2022
By 2022, we can anticipate that vaccines are in place and rapid tests are still applicable and ongoing. With agreed and coordinated regulations and recommendations applied and in force, passengers are gradually regaining the necessary confidence to travel again. The year 2022 would most likely mark the start of a recovery period.
2023
The recovery rate would rapidly increase, especially throughout the 2023 summer season, when more and more travellers would feel comfortable to fly again, while visiting their favourite destination countries. During 2023, passenger tests are still applicable, while vaccine distribution and vaccine availability largely increased throughout the globe.  
According to published information from Eurocontrol, we will see a full recovery by 2026.
While the world is rapidly adapting to the new normal, airports and airlines have implemented the necessary health and safety measures to ensure safety and comfort for their customers.
A new reality for passengers
A year ago, waiting in queues, gathering in groups and crowded areas and even being uncomfortable at security screening checkpoints was very common at airports. Back then, processing time was probably one of the main concerns for passengers.
With new habits established, passenger awareness has reached a different level"
With the pandemic in place, habits have changed and shifted in a completely different direction. Passengers are now avoiding crowded areas and queues. Nowadays, passengers are more observant, looking out for signage and guidance. Observation shows that duty free shopping notes a significant decline and that impulse shopping behaviour has vanished for now due to COVID-19. In addition, food and beverage courts are left empty.
With new habits established, passenger awareness has reached a different level. Namely, passengers are more inclined to use online check-in and self-check-in kiosks. Overall, they are more willing to use technology; even the unsecure traveller, who feels the need to have every single step of his journey pre-approved by any airport ID holder who is crossing his/her way. Now, even they are observing signage in more detail and are refrain from close contact and asking questions which they could figure out themselves.
What airports can do
Airports have demonstrated that they are ready to keep the pandemic under control, with all necessary standards, recommendations and requirements implemented and applied, ensuring that travellers can have a safe journey, from the airport building entrance, to boarding and accommodating their seats in the plane. These actions include:
Indicating the level of cleanliness, while making it visible, is a positive factor
Temperature screening points at the airport entrance (for both departing and arriving passengers)
Hand sanitisers are available across the airport, especially near and within the areas with frequently touched surfaces
There are signs and guidance, as well as public announcements and reminders for the passengers to wear protective masks, to keep physical distance and to frequently wash their hands
Only passengers are allowed to enter the terminal building, but not the 'meeters and greeters'. This way, airports are providing confidence and comfort to both travellers and employees.
According to the 2020 ACI Global Traveller Survey Report, which was published by Airports Council International (ACI) in November 2020, the majority of travellers responded that the applied COVID-19 health and safety measures should remain in effect long after the decline of the coronavirus pandemic, especially:
Wearing masks
COVID-19 testing (rapid antigen, PCR test)
Hand sanitisers
Contactless procedures.
Keeping all measures in place is certainly a confidence driver and a guarantee that the airport is a safe place for its customer, the passenger.
Employee wellbeing
It is not only signage and the option of a contactless experience that will help passengers to feel at ease, but the service provided by each individual working in the aviation system"
The most important part, which certainly plays a key role in regaining traveller confidence, are the airports and airlines' employees. It is not only signage and the option of a contactless experience that will help passengers to feel at ease, but the service provided by each individual working in the aviation system. Employee focus has shifted from engagement to safety.
The frontline staff, or employees whose work duties require closer passenger contact, and those employees who are generally exposed throughout high passenger traffic must be ensured that they are safe at work. This can be achieved through effective communication and applied occupational health and safety standards. In order for them to be fully engaged, this motivation is a necessity. Employees must also be made aware that they should stay at home in case they have been exposed to, or have been in contact with, an infected person.
The airports and airlines' top priority must be the health and safety of their employees, since, without their full engagement, it cannot be expected for passengers to feel comfortable and confident while travelling by air.
Another way to provide positivity throughout the process is to provide the necessary tools to airport and airline employees, such as ID badges showing their faces (since protective masks are covering their facial expressions).
Touchless or seamless travel
Airports have developed the possibility for passengers to check-in, drop-off their baggage and move from departure area to the boarding airside area with self-service available. Not all airports have reached such a level yet, but self-service is now required to transit from self-service to a contactless service. It is yet another concern of passengers to use touch screens, or self-service kiosks. A study in 2018 found that the dirtiest points in passengers' journeys were not the toilets, but the check-in touchscreens. For that reason, it is important that hand sanitisers are available at locations where the passengers are required to interact with physical touch, or until touchless or contactless travel is in place.
Nejat Kurt is an airport operations and management expert with over 19 years' experience. Kurt joined TAV Airports in 2000, working in various operation departments and successfully performing overall airport management in more than seven airports. Kurt's expertise lies in Operational Readiness Airport Transfer (ORAT), ensuring the readiness of staff and the facility while transferring from an old to new airport terminal, creating and implementing new procedures and disciplines while ensuring its successful implementation.
Related topics
Airport crisis management, Airside operations, Contactless / Touchless technology, COVID-19, New technologies, Passenger experience and seamless travel, Passenger volumes, Retail, Safety, Self-service, Terminal operations, Workforce
Related organisations
Related people