Contactless: The new norm in aviation
Murali Varadarajan, Senior Vice President and Head of Operations at Mumbai International Airport Limited, discusses how airports should tackle the challenge of improving efficiency in the face of COVID-19.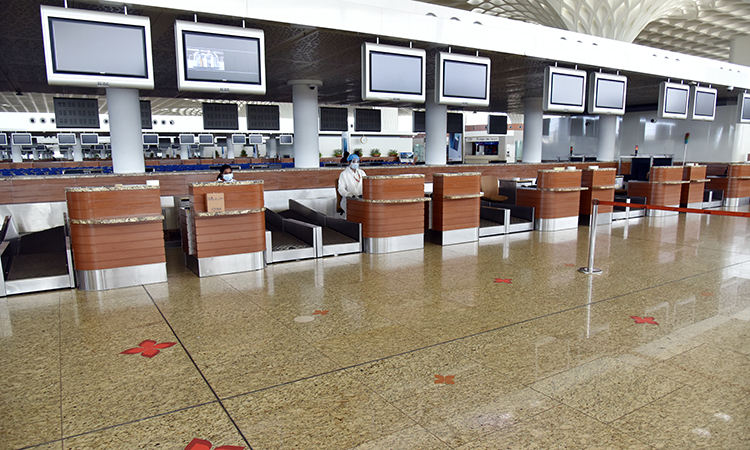 Alain de Botton, philosopher and writer, said a few months ago: "A breakdown is a prelude to a breakthrough." It is undoubtedly true that the air transport industry has been the worst hit during these times. However, aviation must focus on the breakthrough, and the need of the hour is crisis management. This is a great opportunity for both airports and airlines to come up with new solutions in order to emerge from this crisis with a new norm of air travel.
There is no one solution to a problem, however all solutions should emphasis on what I call 'The 3 S Strategy': Sustainability, scalability and smart technology. Government assistance may help in the short term, however a more sustainable approach requires aviation to restart, by re-imagining, re‑shaping and re-inventing themselves.
Major impediments to the scalability of ideas happen when there are knee-jerk reactions to problems, which work well in the short term but fail to address long-term problems. Airports are experimenting with many trial-and-error concepts to address the current situation, but a well‑established think-tank group is required to weave resilient yet agile solutions that would work well for the future. After all, we are looking to make airports 'future ready'.
Airports that do not envisage such digital transformation will be left behind"
This is the right time to move a step ahead and address the concept of a contactless passenger travel experience. Many airports and airlines were planning major digital transformation projects before COVID-19 hit. For example, Etihad Airways announced it would trial a range of contactless, self-service technologies that can estimate passengers' vital signs and allow for touchless, virtual health screenings at airport kiosks and bag drops. Airports that do not envisage such digital transformation will be left behind in the efforts to instil confidence in the minds of the traveller. 
The tall order: Operational efficiency
Many airports have already adopted measures to reassure and bring back travellers, ranging from social or physical distancing measures, to innovative tunnels with technologies that can disinfect people, baggage and airport trolleys. At Chhatrapati Shivaji Maharaj International Airport (CSMIA) we have adopted measures that are sustainable in promoting seamless travel within the future 'new normal' travelling experience.
A key element for this is communication, particularly by providing clarity on travel advisories. Most airports have disseminated many travel advisories on their social media, but to promote a seamless journey for a passenger, both airports and airlines have to work together and assimilate only relevant information, with frequent updates that are imperative from the customer's point of view.
Many countries have announced their respective methodologies to deal with tracing and tracking the travelling public in order to help health authorities identify potentially affected persons. The Indian government has developed an 'Äarogya Setu' app, which is a scalable technology that should be used with global platforms to aid seamless travel. If the World Health Organization (WHO), in coordination with the International Civil Aviation Organization (ICAO) and respective civil aviation authorities, can come up with a universal app to track and trace travellers, with all possible travel advisories updated on a real-time basis, the uncertainty factor in the travel experience would be reduced and, therefore, would subsequently help to promote travel. 
Enabling contactless airport processes
At Mumbai Airport, we have proposed an ID check‑free entry at the terminal to the Bureau of Civil Aviation Security (BCAS). In addition, all passengers travelling through the airport shall be thermally screened at the entry gates, and airlines have assured that they will push for more web check ins to reduce the use of common-use self-service (CUSS). By this process, we promote contactless travel, but also efficient processing.
Self-service bag-drops
The next step should be to generate bag tags during the online check-in process. Therefore, at the bag-drop point, passengers could scan their barcode/QR code and, through a biometric capture, drop their bags without needing to physically print any bag tags. The system should acknowledge and auto-print bag tags onto the passenger's baggage and process them into the baggage handling system (BHS). This reduces the need for airline agents to have any contact with luggage and passengers are not required to touch any surfaces.
Security
As a long-term measure, it is time for all Indian airports to upgrade to body scanners in order to promote touchless frisking processes. In the short term, the need to check all passengers can be re-evaluated by profiling and streamlining a robust scanning procedure. The world is moving towards 'check-on-the-move' principles by analysing passengers using facial recognition and artificial intelligence (AI) concepts, with adequate checkpoints to carry out more detailed verifications.
Boarding
At Mumbai Airport, e-gates pave the way for a seamless and touchless travel experience. The airport, in coordination with all domestic airlines, is ready for a contactless 'do it yourself' boarding gate experience for all travellers.
Social and physical distancing
Simple measures have been introduced to promote personal hygiene and social distancing at the airport. With airlines having taken a stand that it would not be viable for them to have seat restrictions and enforce social distancing on board the aircraft, it would also be difficult for airports to follow such norms once traffic returns to its peak threshold. Hopefully, by then, vaccines and medical improvements to combat the virus will have been stabilised, limiting the challenges airports will have to address.
The passengers' concept of retail and food and beverage is definitely set to change. Social distancing and hygiene factors will play a major role. As all domestic airlines are not currently planning to serve food on board, it is important for airport operators to have a robust app through which customers can view e-menus on their phones and book online. The ordered food can then be delivered to passengers at strategic and well‑designed dining locations throughout the airports. Standing in long queues and exchanging physical currency at the counter are the ways of the past.
Is virtual shopping to be the new normal? Transformation on the retail front would mean that most of the brick and mortar stores could be replaced with large video walls/contactless screens through which passengers can select and buy merchandise that can be delivered by the retail brands to any location in the world. Even duty-free shops may be moving towards a 100 per cent virtual service and delivery at the doorstep of the customer.
The smart use of airport infrastructure
Many airports have closed down multiple terminals due to a severe reduction in traffic, with some operating from only one terminal"
Many airports have closed down multiple terminals due to a severe reduction in traffic, with some operating from only one terminal, which brings about obvious cost savings. At the same time, it is important to maximise the use of those terminals to their fullest capacity. Most Indian airports have multiple infrastructure to run operations for domestic and international flights. Since airline slots are required to be reworked for the 2020 summer and winter schedules, airports should work closely in consultation with airlines on slots that can make full use of their unused terminal infrastructure. In the short term, Indian airports should determine curfew hours, within which domestic flights are operated in international terminals without the risk of mixing passengers. This exercise would enable airports to push for more flights in one terminal and also compensate for the greater block times utilised by the airlines for their fleet turnarounds, which are needed for additional aircraft sanitation measures.
While it is important to move towards a more preferred process model, major emphasis should be on the biometric space; adopting smart technologies that could improve operational efficiency, especially when traffic volumes reach pre-COVID-19 levels.
The importance of collaboration
Finally, collaboration is the key and all stakeholders will need to work more closely in order to come out of this situation victorious. As predicted by many economists, the shorter the U-curve is to bounce back, the better it is for the air transport industry. Companies will need to reinvent themselves with meaningful innovation, and passengers will have to adapt to the new technologies and health procedures that are being implemented at airports.
It is pertinent to note that, to bring back customers and make them feel safe and happy to travel, both airports and airlines will have to adopt quicker and more innovative methods of passenger processing. Customers should be made to spend more time in retail/food and beverage spaces, rather than adding more operational checkpoints. Any process delay in operations would adversely impact air travel and delay the optimism for growth. Crisis management is a detailed study on its own, and aviation think‑tank groups should risk assess and build adequate infrastructure in these times to become more resilient when facing the next wave of crisis.
Biography
Murali Varadarajan is the Senior Vice President and Head of Operations at Mumbai International Airport Limited (MIAL). He is responsible for the integrated terminal operations of T2 and T1 and the corporate aviation terminal. He oversees facility management and customer service divisions for the airport. His key responsibilities include stakeholder management, enhancing passenger experience and aiding seamless travel.