Istanbul Airport CEO believes aviation brings the world closer together
In the latest instalment of International Airport Review's exclusive CEO series, Kadri Samsunlu, CEO of Istanbul iGA Airport, discusses how far the newly-developed airport has come since beginning operation at full capacity in early 2019.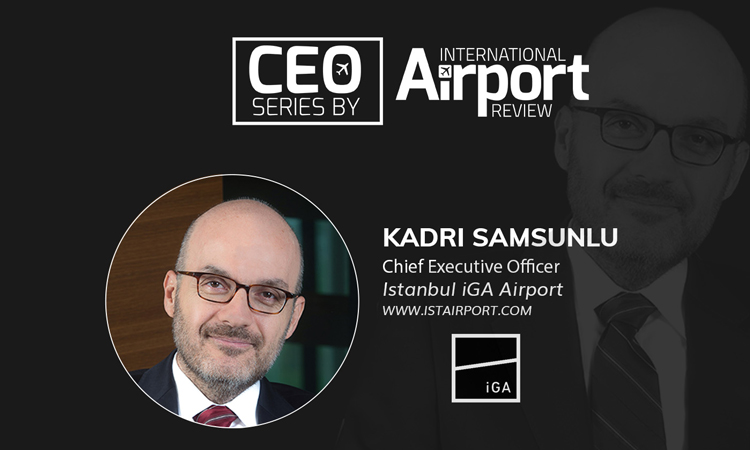 How did your career in the aviation industry begin?
Aviation has always been a fascinating sector for me. Throughout my career, I was involved early on in major infrastructure projects in various positions, including airport operations. In my previous position at Akfen Holding from 2009 to 2017, I led many processes ranging from the launch of the first infrastructure Eurobond to the realisation of various PPP projects, as well as finance management in the tourism, real estate, energy marine transportation and airport sectors. I also worked as a member of TAV Airport Holding's Executive Board and Audit Committee between 2009 and 2012.
Since my appointment as CEO at iGA Airport Operations in 2017, I have overseen the world's largest airport construction project to date from scratch; something I am very proud of. With Istanbul Airport, Turkey has made a decisive infrastructure investment in the future of aviation, and we are delighted to see its contribution.
What is the most rewarding aspect of being an airport CEO? On the other hand, what is most difficult?
The most rewarding part is the outcome I can look upon. I can sincerely say that we have achieved a lot at iGA. In just 42 months, we have built one of the largest airports in the world, which has now been in operation for more than a year, half of it at full capacity. At Istanbul Airport, between 6 April 2019 (when the airport began to serve at full capacity) and 31 December 2019, over 52 million passengers have been hosted and approximately 332,000 domestic and international flights have taken place. The results are great, and it is exciting to see how our plans are being turned into reality – we have all worked hard for many years to get there.
However, we have to push forward every day to ensure the highest possible passenger satisfaction, as well as the best and smoothest operations. It is not always easy, but we are passionate about making Istanbul Airport a great success in the long term: From its start to the completion of all phases and beyond.
Can you give us an overview of the three most exciting developments currently happening at Istanbul iGA Airport?
By the first half of 2020, the third runway at Istanbul Airport will be operational. This allows flight movements to increase from the current 80 take-offs/landings per hour to 120. Slot flexibility will also be improved and taxiing times reduced by up to 50 per cent. This will enable Istanbul Airport to run even smoother and offer even more connections without compromising on fast turnaround.
A total of 74 airline companies are arranging scheduled flights to and from Istanbul Airport. Since the transition to full capacity, 11 foreign airlines took off from Istanbul Airport for the first time – these are Ethiopian Airlines, Nouvelair, Indigo, Air Albania, Sichuan Airline, China Southern, Tassili Airline, Transavia France, Red Wings, Air Serbia and UR Airline. In addition to these, two other airlines will begin their aviation activities and Transavia Airlines began operation in October. Moreover, with Istanbul Airport's full capacity, airlines from different continents – including Europe, Middle East, Africa and Far East – have now doubled their number of available frequencies. Boasting 76.5 million square metres, Istanbul Airport is set to become one of the biggest hubs by enabling flights to over 300 destinations, with a 200 million annual passenger capacity once all phases are complete.
In November 2019, we signed a Memorandum of Understanding (MoU) with the Shanghai Airport Authority and Incheon International Airport, South Korea. With Beijing Capital International Airport and the recently inaugurated Beijing Daxing International Airport, we reached sister airport agreements. In a sense, through these agreements, we are building an aviation bridge passing through the main destinations of the historical Silk Road.
What is the biggest challenge Istanbul iGA Airport is having to tackle?
Istanbul Airport has set itself ambitious goals, but we are confident that we can meet them. Istanbul Airport aims to become the second busiest airport in the world, after Atlanta Hartfield-Jackson Airport, in two to four years, and, once all construction phases are complete, it aims to overtake Atlanta as the busiest airport in the world. Since there are no capacity constraints on growth, Istanbul Airport has a clear advantage over its competitors, who are often already working at their capacity limits. We can constantly expand our route network, acquire partnerships with new airlines and allow our existing partners to expand at Istanbul Airport. Becoming the busiest airport in the world is the ultimate challenge and there is no bigger one we could ever face. But we are 100 per cent ready to master it.
At this moment in time, what do you see as the biggest disruptor to the aviation industry?
On one hand, it is the use of biometrics at airports, especially facial recognition technology – this will take the travel experience to a whole new level. But, here, international solutions have to be found, not only between the big hubs, but especially between the nations. This is a difficult path for several reasons, especially data law.
Another disruptive moment is strongly linked to the issue of sustainability, which is becoming increasingly important for us and our passengers. The electric propulsion of aircraft is expected to be the next major shift for aviation. As airport operators, we must be able to provide the technological infrastructure for this in the future.
In your opinion, how does the aviation industry need to adapt to secure its place in the future?
Aviation is, first and foremost, a service for passengers. Passengers' needs are constantly evolving, and we must closely monitor changes in demand and anticipate their wishes. There are two developments that are central in passenger experience right now: Digital improvement of the passenger journey and environmental sustainability. Passengers want their journey to be as convenient as possible, and digital technologies are an integral part of providing the best possible passenger experience. At the same time, many passengers demand that the aviation industry must increase its efforts in environmental sustainability.
Therefore, we ensured Istanbul Airport encompassed both from the very beginning. Istanbul Airport is highly energy efficient and significantly reduces resource consumption compared to other airports. In addition, Istanbul Airport offers an integrated IT system that provides passengers with all of the digital assistance they may need, even with personal assistance robots. We will continue to meet the needs of our passengers in the future.
What does the future of the aviation industry look like to you?
The growth forecasts for aviation are still high, making aviation not only a future-proof industry, but also, essentially, a forward-looking sector that is bringing the world closer together.
We will witness some shifts, such as an increasingly strong Asian market with rapidly growing demand. This is why we have conceptualised Istanbul Airport as an international mega-hub between the traditionally strong aviation markets in Europe and North America and the emerging markets of Asia and Africa.
Together with one of the fastest growing domestic markets in the world and Turkey's flagship airline, Turkish Airlines, which offers the most connections of any airline in the world, Istanbul Airport is proud to be an integral part of this future. At the same time, it is a complex and demanding business that holds daily challenges. It requires stakeholders to stay ahead of developments. In the end, this is part of what makes the aviation industry so exciting for me.
Kadri Samsunlu has been the Chief Executive Officer of iGA Airport Corporation since September 2017. Samsunlu has been leading iGA Airport Operation as well as iGA Construction since 2018 and completed the integration of superstructure arm of iGA Construction into iGA Airport Operation in the beginning of 2019. Samsunlu aims to ensure that Istanbul Airport, Turkey's vision project, will be a leading regional hub.
Samsunlu worked as the general manager and the executive committee member of various investment companies from 1995 to 2006, acted as an investment and corporate finance counselor in Romania and Turkey for three years after 2006. Having been CFO of Akfen Holding from 2009 until 2017, Samsunlu led many processes in this period, ranging from the launch of the first infrastructure Eurobond, to the realisation of various PPP projects, finance management in tourism, real estate, energy marine transportation and airport sectors projects and mergers and acquisitions of the Holding Co. He also worked as part of the public offering and delisting process of Akfen Holding. 
If you are a Chief Executive Officer, General Manager or Director of an airport and would be interested in participating in this series, please contact Leah Hockley, Junior Editor of International Airport Review.