Investing in the future of aviation at Istanbul Airport
Kadri Samsunlu, Chief Executive Officer of İGA Airport Operations, details the current state of the aviation industry in Istanbul and discusses how the airport is tackling the challenges that are being faced.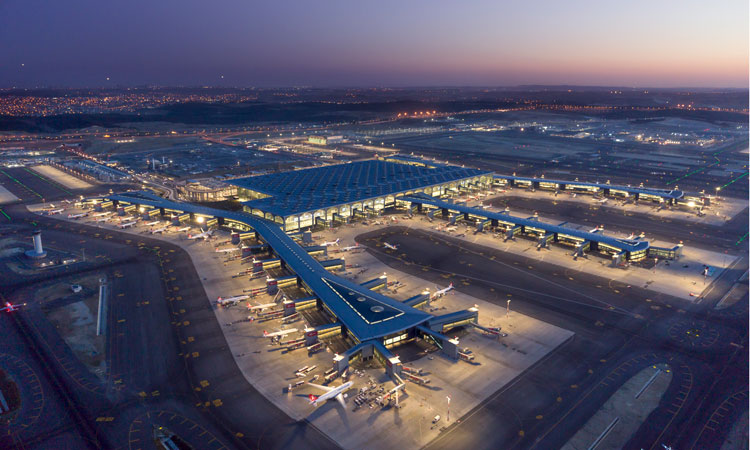 Turkey has been contributing important infrastructure investments into the aviation sector for the last 10 to 15 years, and Istanbul Airport has been an investment in the future, right from the start.
Istanbul Airport has been an investment in the future, right from the start"
Turkey has increased its connections by 386.1 per cent between 2009 and 2019, making it the sixth fastest growing airport in Europe. We have expanded our hub network by 353.3 per cent since 2009, ahead of Heathrow and Munich, thanks to infrastructure, convenient connection times and connection capacity.
To secure these airport investments, many challenging factors were considered simultaneously. These include high passenger demand, financing, tourism potential, strong local carriers, land without capacity problems and transportation. There are many large airports across Europe and many compete with Istanbul Airport. All are currently suffering from capacity restraints, which will only continue to increase over the years.
Aviation industry growth
Given this direction, we have built long-term operational infrastructure that will last for many years with the advantage of our geographical location and infrastructure. Istanbul is the GDP centre of Turkey and is the most populous city in Eurasia. Our core asset in building air traffic and attracting new airlines is Istanbul's perfect geographical location for an international hub, offering advantageous connections between large parts of the world. As the centre of an extensive flight network, Istanbul aims to be the most important air travel hub over an area spanning New York to Shanghai. With up to 2,000 flights per day, and an initial capacity of 90 million passengers which will be expanded to 200 million when all phases are complete, Istanbul Airport strengthens the entire aviation sector and paves the way for a new chapter in aviation itself.
In addition to the general growth of the aviation industry and the global economic impact, Istanbul Airport enhances Turkey's economic growth. The airport will provide employment opportunities for 100,000 people and a source of income for 1.5 million people through indirect effects. Considering the direct and indirect employment provided at Istanbul Airport, we enable thousands of job opportunities and, on a macro level, support the subsistence of tens of thousands of families with our broad ecosystem.
We employ people from all regions across Turkey. Considering averages, we have set ourselves a goal to further increase the number of female employees in the upcoming period. Our goal is to hire talented youth who will shape the global aviation sector in the largest airport of the world, invest in their individual development and develop the aviation professionals of the future.
Initiatives implemented
In addition to increasing air traffic growth, it is clear that the needs and demands of travellers are changing. The passenger of the future is tech-savvy, yet still demands basic industry values such as on-time performance, connectivity, safety and reliability. So, we wanted to build an airport that runs the latest cutting-edge technologies. We use various technologies and innovations that facilitate the passenger experience to be as seamless as possible, whilst exceeding passenger expectations.
Digital technologies
We are also working on further systems such as the first-ever airport data centre, the first virtual tower application in Turkey, domestic robots and unmanned passenger transfer vehicles"
We are continuing to implement state-of-the-art systems and software to smoothen the passenger's journey. Automation of touchpoints such as check in and immigration are already common practice. Our technological infrastructure helps us to optimise the use of all our assets. Big data and IoT enable us to intelligently perform and plan preventive maintenance so that airlines and passengers benefit from reduced impact and less downtime. Video and data analytics allow us to efficiently operate and manage resources along the entire airport system. We have developed a range of software for Istanbul Airport, from mobile applications and airport security systems, to an airline-messaging platform and a joint decision-making system. We are also working on further systems such as the first-ever airport data centre, the first virtual tower application in Turkey, domestic robots and unmanned passenger transfer vehicles. These domestic technologies, which will be developed locally, will set an example for all airports around the world.
Biometrics in aviation
Already, biometrics play a huge role within the aviation industry, and an additional security step is taken with facial recognition technology. In addition, at Istanbul Airport, a biometric integrated system has been designed for the passport control of passengers and an e-passport service commissioned as the product of joint efforts spent in collaboration with our police department. With this service, passengers holding a Turkish Republic passport will have the chance to complete border crossings automatically in approximately 20 seconds, thanks to fingerprint and facial recognition technology. Here we must find solutions together on an international level to offer international travellers the fastest and most comfortable travel experience.
Working with a passenger-centric mindset
It is crucial that all these measures and technologies ultimately serve to improve the passenger experience. For the comfort of our passengers, we have attempted to consider every detail. For example, more than 5,000 passengers are already members of the passenger programme İGA PASS. With the motto "The Most Enjoyable Time of Your Travel", it is not just another membership programme – it is a combination of services complementing one another, which makes the entire travel process a privileged experience.
So far, the İGA Lounge, İGA Fast Track and İGA Buggy services have been used by almost 400,000 passengers. In addition to our private passenger services, we also try to offer a unique experience to those who prefer our airport for duty free and food and beverage areas. In duty free, an area of 54,000m2, we are currently 90 per cent occupied, mostly with worldwide brands. In the 34,000m2 catering areas, we meet the needs of our passengers with many options ranging from international cuisines to local and traditional dishes. In addition, with 41,000m2 of advertising space, we offer first-class competitive applications for domestic and foreign brands. With 4,000m2 of digital advertising product planning, which includes the world's largest indoor LEDs, we also bring technological applications to the highest level and increase efficiency.
The future Istanbul Airport
With Istanbul Airport, we built the biggest airport from scratch"
We are about to mark the first six months of providing full capacity services. During this period, Istanbul Airport has come into prominence as the largest hub in the region, having 130 destinations in 60 countries, just three hours away. We have already welcomed nearly 39 million passengers, on over 230,000 flights.
The next major step will be the opening of the third runway in the first half of 2020. This will make Istanbul Airport the second in Europe to operate with three independent runways, directly after Amsterdam. The new runway will increase air traffic capacity from 80 take-offs and landings per hour to 120. Airways' slot flexibility will also improve and current taxi times will be reduced by 50 per cent.
With Istanbul Airport, we built the biggest airport from scratch. Winning International Airport Review's Readers' Choice Award for Airport of the Year 2019 is a great motivation to continue along our path. Now we work day after day to bring passenger satisfaction to the highest point and turn time spent at the airport into a unique experience. Istanbul Airport is looking forward to welcoming both new airlines and millions of guests to be part of this experience.
Kadri Samsunlu is the Chief Executive Officer of İGA Airport Corporation and has been leading iGA Airport Operation as well as İGA Construction since 2018. Samsunlu completed the integration of the superstructure arm of İGA Construction into İGA Airport Operation in the beginning of 2019, and aims to ensure that Istanbul Airport will be a leading regional hub.