Creating a truly seamless passenger experience by facilitating trust
We spoke to Annet Steenbergen, Chair of the IATA Facilitation Working Group about creating a truly seamless passenger flow by facilitating trust.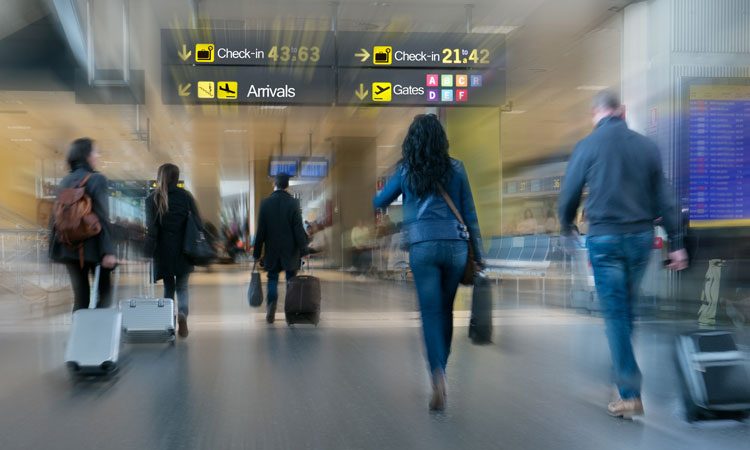 According to IATA, in order to reduce repetitive identity checks and create a seamless flow, its One ID concept seeks to introduce a robust, integrated identity management across the end-to-end passenger process that allows an individual to assert their identity online or in person. This should be done to the required level at every process step while maintaining the privacy of personal data. 
Annet Steenbergen, Chair of the IATA Facilitation Working Group, spoke at Airport IT & Security 2019 on this topic, and in 2017 wrote that "One ID aims to establish a trust framework between airport ecosystems to form a foundation for a dependable digital identity, including biometrics to be shared between stakeholders on a need-to-know and allowed-to-know basis. But how can such a trust framework with so many stakeholders be created?"
With the topic of biometrics in airports becoming more and more popular, and the age of the digital airport being closer than ever, we caught up with Steenbergen to discuss how, or if, the One ID concept is progressing.
Everybody is realising that, if we invest, we should invest in something that is ready for the future"
"We are getting a clearer picture of what we will need in order to have One ID or an envelope of information that travels with you, not just in one airport but connecting in another. We have that because there are quite a number of airports and governments and airlines that are working on these kinds of projects, and we have learned from that.
"Everybody is now realising that, if we invest, we should invest in something that is ready for the future to scale and to connect. Which is crucial. So we're seeing that we will need to have governments on board.
"Anything cross border involves the government. So your passport is still very important. The digital version of that. We will need to share data but in a way that is transparent and creates trust."
The concept of establishing a digital identity for passengers to create a seamless flow of passengers is obviously ideal for both airport and passenger. However, when discussing a digital identity, the inevitable topic of data security has to be addressed. 
"Privacy by design is absolutely crucial because if you don't do that from the onset of any IT project, you will never be able to change it. If you do that, you can register consent. I think consent is very important. Because if you are consensual, you are gaining trust, you're telling your passenger 'I need this data from you. If you give it to me, I will do this and this with it and then I will delete it. Are you okay with this?' That is extremely important because this will go across cultures and different legal systems.
At Airport IT & Security 2019, International Airport Review's annual conference, Annet presented the need for standards to attain global interoperability for the use of a digital identity and focused on how to tackle data privacy. Register your interest for Airport IT & Security 2020 now!
"Everybody wants to have their data, and especially biometric data, handled in a trusted way, and obviously data protection is extremely important.
"But trust is also extremely important. I need to trust that if I give that data and you're using it, that you are deleting it when you said you would and that you are only giving the data to the stakeholders that need to have it and are authorised to have it."
Everybody wants to have their data handled in a trusted way
But the situation on data privacy and who owns data in Europe has changed since 2017 when Steenbergen wrote her original article. As of May 2018, the EU entered into the application of the General Data Protection Regulation (GDPR), in which there is one set of data protection rules for all companies operating in the EU, wherever they are based.
The aim of this was so people have more control over their personal data and businesses can benefit from a level playing field.
"GDPR is a great benchmark because it is also privacy by design and every European airline needs to adhere to it. If you handle data, especially very sensitive data of people living in the European Union, you are required to be GDPR compliant. Which is good because it will help you create that trust."
Indeed, trust is a key factor in the One ID concept – not just for passengers but between stakeholders. Back in 2017, Steenbergen wrote that the "trust framework needs to be clear for all involved. Each stakeholder needs to benefit from an interoperable system that shares a trusted identity in an efficient and secure manner."
Breaking down silos to create an interoperable system is a heavily discussed topic within the industry and is incredibly important for the One ID concept. Has there been any progress in breaking down these barriers between stakeholders?
There is a lot to gain from establishing relationships with governments
"Working together is working for us in Aruba because we have a securely checked identity. This is done by working with the government and then we share it with the other stakeholders through biometrics. So we have one partner servicing the identity and the best one to do that is a government. If you do that, you're also ready for any cross border scenario because, in the end, we travel with a document, right? The passport.
"So if you don't have that relationship with the government then you will not create a seamless flow. You will create a bit of a flow but then you'll have a big hurdle. There is a lot to gain from establishing relationships with governments, from jobs to security and to passenger flow."
With airports across the world striving to improve passenger flow to cope with increasing passenger numbers, introducing new technologies like biometrics, facial recognition and establishing completely digital passenger identities seems an ideal solution. But with passenger numbers predicted to double within the next 20 years, is the industry ready to implement these new initiatives sooner rather than later?
"It takes people to do it. But we can do it. I would never have believed in rocket ships that can land on comets and be able to move through space but we're able to do that. But you need to get people around the table to agree and to understand what is happening.
"When they understand what is happening, they can go back to their organisations and preach it there. It's still work that is centered around people, because we already have the technology, they just need to be implemented. There are legal issues, of course, which is not a negative thing because legal is also protective. But what we really need is understanding and technology needs to be understood.
"We can achieve a lot and we have these really brilliant geeks – and I say geek in a positive sense – but we all need to understand what happens before we say: 'Okay, I'll do it.'"