Zurich Airport becomes first airport to use Google Maps Live View
Zurich Airport is the first airport to be equipped with Google's Live View feature in Google Maps, allowing passengers and visitors to navigate terminal areas using the camera function.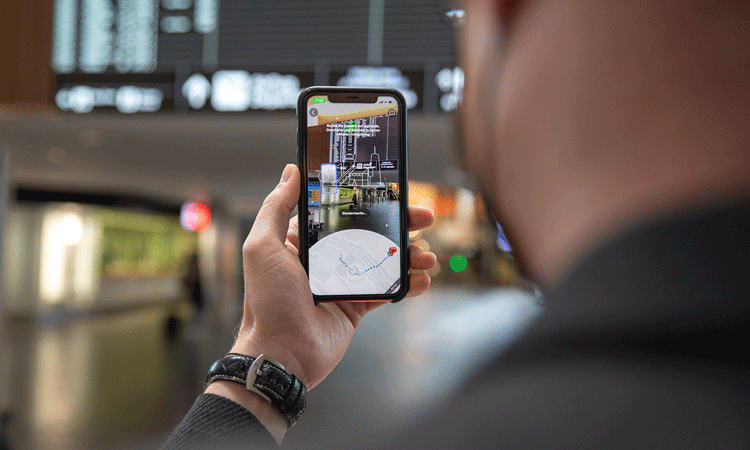 Credit: Zurich Airport
Google has activated the Live View feature in Google Maps at Zurich Airport (ZRH), making it the first airport in the world with this function. Using the camera and directions shown on the camera image, passengers and visitors can navigate to their chosen destination at the airport including finding a gate, check-in desk, or restaurants.
Google Maps Live View uses augmented reality (AR) to help you find your way even more easily. This shared goal led Flughafen Zürich AG and Google Switzerland to launch a project back in mid-2018 to improve intuitive navigation 'from curb to gate'. Recordings made of the interior of the airport, as well as exterior areas of The Circle, are now being used in the Indoor Live View function of Google Maps. Using Google Maps Live View, the recordings are compared in the background with the user's camera images to show the correct route in augmented reality view. 
Live View uses AR cues and is powered by a technology called global localisation that uses artificial intelligence (AI) to scan tens of billions of Street View recordings to understand your orientation. Due to new advancements that help determine the precise altitude and placement of objects inside a building, Live View can now also be used inside buildings such as airports. Live View can help users find the nearest lift, escalators, the right gate, the platform, baggage claim, check-in or the ticket counter, ATMs, and shops. Arrows and accompanying directions point them the right way.
Stefan Gross, Chief Commercial Officer of Flughafen Zürich said: "Google Maps Live View is a valuable aid in helping our passengers, who are often not familiar with the airport and also speak a different language, to find their way around Zurich Airport even more easily." 
"We welcome the partnership with Flughafen Zürich and are pleased that, together, we have been able to bring Indoor Live View to Zurich as the first airport worldwide. Travellers can use this to navigate intuitively using camera mode," added Petra Ehmann, Global Product Partnership Lead für AR, at Google.
New Google Maps functions and navigation are already planned for Zurich Airport in 2022. This will ensure constant advancement of intuitive navigation.