Emerging from the pandemic, our priorities remain at Phoenix Sky Harbor
Chad Makovsky, City of Phoenix Director of Aviation Services, talks through the ambitions of the city's airport as passengers are steadily returning.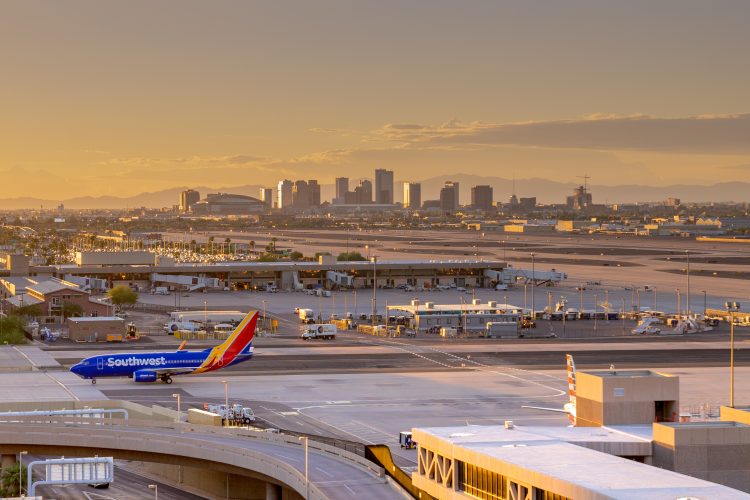 March of this year marked one year since I returned to Phoenix Sky Harbor International Airport and assumed the role of Director of Aviation Services. I have been fortunate to have come back to an airport system that has fared well in its COVID-19 recovery, with year-end passenger statistics representing a 77 per cent increase from 2020. More than 38.8 million travellers journeyed through Sky Harbor in 2021, representing a 16 per cent decrease from 2019, which was a record-breaking year for us. Recently, Airports Council International (ACI) released their preliminary rankings for passenger traffic, cargo, and aircraft movement. Phoenix Sky Harbor (PHX) was ranked 8th in the world for aircraft movements and 11th busiest in the world for passenger traffic. I find the resilience of our industry to be pretty remarkable given the unpredictable swings we've all experienced over the last couple of years.
Our priorities
In Phoenix, we have three main priorities – safety, security, and customer service. The pandemic has provided us with an opportunity to rethink how we are operating our facilities while finding new ways to enhance the customer experience. I'm proud of all our team has done to accomplish these objectives by enhancing our sanitation efforts, incorporating new technologies, and providing more accessible facilities and services.
I find the resilience of our industry to be pretty remarkable given the unpredictable swings we've all experienced over the last couple of years"
Even before the pandemic, the health and safety of our customers and employees was a key priority for us. However, during the pandemic, we understood that customer focus on health and wellness would be critical to building confidence in travel again. We placed extra emphasis on this, and our efforts were recognised. We have been accredited by ACI for providing a safe airport experience for all travellers. The ACI Airport Health Accreditation programme requires a thorough assessment of an airport's cleaning and safety practices measured against the international industry standard. We also received the Global Biorisk Advisory Council's GBAC Star™ accreditation in March 2021. The GBAC facility accreditation is an outbreak prevention, response, and recovery accreditation for facilities and represents a high level of achievement within the cleaning industry. The COVID-19 pandemic has not been easy for airports, and I'm pleased that PHX is one of very few airports to receive both of these prestigious health accreditations for our cleaning and sanitation practices. It truly showcases our commitment to provide a safe, secure and healthy airport environment.
A seamless passenger experience
Given the pandemic, businesses around the globe have looked at new ways to incorporate touchless technologies to create healthier built environments. At PHX, we really took this to heart with several important initiatives. We partnered with industry to develop a pilot programme to support common-use mobile bag tagging to create a touch-free experience for our customers at check-in. We offered new, interactive online maps so travellers can search for services and amenities and receive step-by-step progressive directions from their mobile devices. And recently, we became the first airport in the U.S. to offer passengers the ability to authenticate their driver's license on their phone at the security checkpoint using the Apple Wallet instead of using a physical credential. This innovative mobile ID initiative was the result of an incredible partnership with the Transportation Security Administration, Apple, and the Arizona Department of Transportation. And, we've even created touchless parking solutions where customers parking at the airport can enter and exit facilities by scanning reservation QR codes. All of these solutions are great for our customers and great for business.
Air travel for all
Improving accessibility has also been important to us. Our goal is to provide all customers with a welcoming, empowered, and inclusive experience while at our airport. The city of Phoenix is focused on being a dementia-friendly city, and as the gateway to our city and to Arizona, I'm pleased to share that our airport is also championing this important initiative. In addition to offering training for our volunteers and staff about how to help those with dementia, we have a incorporated a Compassion Corner with a Sensory Room and a special Compassion Cacti™ lanyard programme for those individuals who self-identify as needing extra assistance. The lanyard is free-of-charge and it signals to our staff that the customer may need some extra support as they are travelling through our facilities.
What the future holds
Of course, it is always important to look to the future. Given the significant impact the pandemic has had on our industry, we recently revalidated our Comprehensive Asset Management Plan (CAMP). This plan was adopted in 2019 after extensive stakeholder engagement. The process resulted in a 20‑year plan and a $5 billion capital development programme. Now, as we move forward and experience high passenger demand, our core goals remain: constructing new terminal space and renovating existing space to provide modern, sustainable, and comfortable, facilities for our passengers and airline partners; increasing airfield efficiency for passenger and cargo operators; and adjusting the airport's roadway system to relieve congestion and increase safety. Our plan update includes important near‑term goals, including a north/south taxiway on the west side of Sky Harbor, which will dramatically increase airfield efficiency. This project is in the planning and design phase, and I'm happy to say the first in the City of Phoenix to use Bipartisan Infrastructure Law funding. We are also proposing a second north concourse at Terminal 3, and a post-security walkway to connect our two terminals and allow passengers to access any gate at the airport through any security checkpoint. We are also excited about lengthening our primary departure runway and pursuing the development of the first high-end hotel in our terminal core.
In the short term, we're finishing some very critical projects over the summer, including the opening of a new concourse at our busiest terminal, which will provide eight new gates for Southwest Airlines, and the extension of our automated train, the PHX Sky Train® from the terminals to the Rental Car Centre. As the largest economic engine in the state of Arizona, Phoenix Sky Harbor is a vibrant campus, and I am excited for our future as we continue to look for ways to innovate and elevate our customers' experience.

Chad Makovsky was named City of Phoenix Director of Aviation Services in March 2021. He provides executive leadership and strategic direction for the Phoenix system of airports, including Sky Harbor International Airport (PHX), Phoenix Deer Valley Airport (DVT), and Phoenix Goodyear Airport (GYR). In his role, Makovsky leads one of America's largest airports with 21 airlines providing non-stop service to more than 140 destinations across North America and Europe. He is also responsible for implementing a $6 billion capital improvement programme and is committed to sustainability, setting a bold sustainability vision for the airport system to achieve net zero emissions nearly a decade ahead of the United Nations Framework Convention on Climate Change (UNFCCC) goal.
He is a Certified Member with the American Association of Airport Executives where he serves on their International Board of Directors (IAAE) and national Policy Review Council. He is also actively engaged with Airports Council International, where he served on the distinguished ACI/AUVSI Blue Ribbon Task Force tasked with identifying UAS Mitigation Measures for Airports.