Cleaner, Greener Airports: Making Aviation More Sustainable – Vancouver International Airport
Marion Town, Director of Climate and Environment at Vancouver International Airport, highlights how their sustainability efforts reflect their community and global concerns.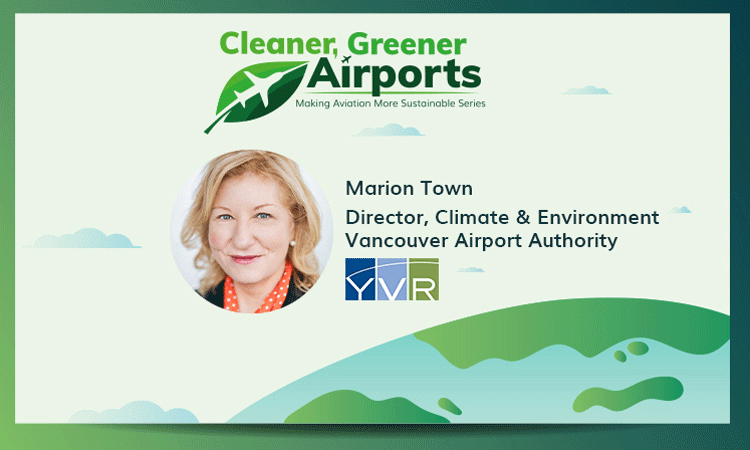 There is nothing like a crisis to show you what you are made of and who your friends are. Like so many, the last year and a half have put the Vancouver Airport Authority and the aviation industry under unprecedented stress. New health protocols; plummeting revenue prompting halts to construction projects and cuts in workforce for the organisation, tenants and business partners could have sent many into deep hiding. But when your foundation is solid, built upon good governance and trusted partnerships, the ethos of environmental stewardship, a powerful commitment to keep our community safe and connected and an innovative culture that looks for the creative solution, your footing is strong.
A broad definition of sustainability
Vancouver International Airport (YVR) has developed a broad definition of sustainability, reflecting the values of our community and industry, and has set progressive targets to measure our progress, more recently including alignment with the United Nations Sustainable Development Goals (UNSDGs). Those sustainability commitments are, in turn, woven into strong enterprise risk management (ERM) practices. Thoughtful environmental, social and governance (ESG) and informed ERM has led to leadership in accessibility, strong relationships with local indigenous peoples, creative empowered employees, and an immersive reflection of the region in art and architecture.
Playing a vital role in the region, facilitating the safe and efficient movement of goods and people who need to travel, became even more paramount in accessing vaccines, equipment, and masks. Our commitment to delivering a clean and healthy experience for employees, passengers and partners was recognised by a COVID-19 Airport Award of Excellence from Skytrax, for providing the highest health, hygiene and safety protocols during the COVID-19 pandemic, and that success was firmly rooted in our relationships. 
Connecting communities
The airport's financial and operational strength stems from a unique business model and prudent management. As a non-share capital private corporation, YVR operates in service of the community and the economy that supports it, connecting communities to key markets and destinations around the world. Recently, S&P Global Ratings affirmed our AA-long-term issuer credit and improved our outlook to stable from negative, making YVR the first airport in Canada to have its outlook favorably revised by the agency since adjustments were made at the onset of the COVID-19 pandemic. That stability reflects a commitment to create solutions for a greener, more resilient future while driving innovation with benefits in sectors outside of aviation.
While the last year forced a scaling back of many planned initiatives, our commitment to decarbonisation advanced an important investment in offsetting our carbon emissions and in 2020 Neutrality under the Airport Carbon Accreditation programme by Airports Council International (ACI), as the first Canadian airport certified at this level. It is equally exciting to be actively accelerating our commitment to become net-zero by 2030. As one of the pillars of our COVID-19-reflective strategic plan, getting to zero is ambitious and our roadmap includes a use of renewable natural gas and renewable diesel, electrifying more of our light and medium duty vehicles, as well as greener electrification of our terminal including advocating for clean carbon electricity offerings, on-site renewable energy supply including more solar photovoltaics, building conservation retrofits, such as improving lighting, building envelope and air systems efficiencies and then closing the remaining gap through carbon removals and sequestration.
Encouraging partners to reduce emissions
While we do not have direct control over emissions from outside of our operations—those of our partners and the airport community—we recognise that we can also support our partners in reducing their emissions. BioPortYVR is a coalition of the willing, who are working to advance the supply of sustainable aviation fuel (SAF) in British Columbia. This collective effort is intended to drive performance and sustainability across our supply chain, which ultimately benefits our industry, as well as our community and the surrounding environment.
Expanding impact through strong partnerships saw us financially supporting ACI in work to establish an ambitious long-term net-zero goal for carbon emissions under the control of airport operators, which will be a central focus of the aviation industry's contribution toward this global effort. 
Under Project Green YVR, many of our business partners are also demonstrating their commitment to addressing climate change. Since 2015, 62 Sea Island businesses have participated in our sponsored Climate Smart programme and many have signed on to be YVR Green Partners to focus on energy, waste, and water reduction goals. Our annual green excellence awards recognise exceptional tenant businesses for their commitment, enthusiasm, and innovation in improving the environment.
Improving water efficiency is a cornerstone of the Vancouver Airport Authority's Environmental Management Plan. With a study showing where water is used most as our guide, YVR has been delivering reduction programmes and retrofitting most of our terminal washroom and kitchen fixtures for several years with great success. This collective journey also involved investigations into water use across our leased land and supporting businesses on Sea Island, driving water conservation efforts within their facilities and operations.
Like so many, YVR is committed to reducing waste and use of disposable products. Launching an overhaul on removing all plastic straws, plastic bags and Styrofoam in the terminal, we have converted much of our food and beverage tenants from plastic to paper. This is a major win for us, our passengers, and the environment. Having tackled plastic straws, we are looking to address plastic cutlery and coffee cups in our future projects.
Enlisting the help of innovation and technology
Creative approaches in diverting waste from landfill has been a messy time sorting through waste bins, but that has resulted in an informed design of waste bins and an over 50 per cent recycling rate including compostable food wastes. In addition to installing tray drop areas in our food courts with employee waste sortation, YVR has also introduced Oscar, a self-sorting waste bin that uses artificial intelligence (AI) to ensure that waste is disposed of in the most eco-friendly and sustainable way possible. Using new local technologies, Oscar uses a combination of robotics, machine learning and computer vision to detect and accurately route disposed items into the correct waste category and provides for a fascinating airport experience.
Since 2016, YVR has also partnered with ChopValue, a local innovative product engineering and design company that recycles used chopsticks and transforms them into sustainable products. With waste bins to collect used chopsticks, in 2019 we celebrated officially recycling one million bamboo chopsticks, the equivalent of nine tonnes of diverted waste. Our latest terminal expansion included tables made from those same chopsticks, a totally circular achievement.
Working with the community
In the truly transformative realm, after years of building relationships, listening, understanding and negotiation, leadership from the local indigenous people from the Musqueam Indian Band and the Vancouver Airport Authority, signed a 30-year Musqueam Indian Band and YVR Airport Sustainability & Friendship Agreement in 2017. The Agreement has set new paths and has brought positive change across the business, despite the recent unanticipated impacts from the COVID-19 pandemic. The agreement is based on the four pillars of Sustainability—Social, Economic, Environment and Governance and recognises the evolving nature of the relationship between YVR and Musqueam through education, employment, revenue sharing, an engagement protocol for long-term development and a support of operations.
There are many ways to make an airport accessible for everyone. YVR has many physical accessibility features that help people with disabilities, as well as people with able bodies navigate the airport, which resulted in an Accessibility Certified Gold rating under the Rick Hansen Foundation Certification programme.  
It is also important to recognise the non-structural aspect of accessibility at YVR. Community investments with groups like the Spinal Cord Injury BC programme or the Autism Network create shared value in that we can support their initiatives, but they and others provide us with valued insight on how we can continue to evolve and improve accessibility at YVR, including pre-travel tours, the development of a travel guide and video series and other resources to ensure a smooth travel experience for individuals with accessibility challenges.
Since wearing a face mask has become a part of everyday life, for people who are deaf or hard of hearing, face masks create communication challenges as important facial expressions are blocked from view. That is why we are proud to be working with Wavefront Centre for Communication Accessibility and Tinkerine to address this challenge by researching, developing, and bringing to market clear face masks. At YVR, accessibility and inclusion are top priorities for us.
In wrapping, it has been especially exciting to reinforce our role as being a gateway to the new economy and an innovation hub, especially over the last year. This includes testing and trialling new processes and technology for a wide variety of applications, allowing us to drive an improved passenger experience and advance our cargo operations in a new era of travel and logistics. Partnerships with airlines, universities, tech companies and many others has led to innovations like conversion of our valet parking into a regional health testing facility, as well as an on-site rapid antigen testing study. These solutions, and others that will be borne of our Innovation Hub, have the potential to solve challenges outside of aviation and benefit our community or even other industries around the world. Sustainability is a team sport and at YVR we know we are in this together.

Marion Town has over thirty years of experience in government and consulting, working on a broad range of projects for municipal, provincial and federal governments, as well as private organisations. She joined the Vancouver Airport Authority back in 2014 and she continues to lead an innovative team of professionals, who are working to reduce the airport's environmental footprint. Marion is guided by YVR's Board of Directors and executive team, to ensure that high environmental standards are maintained and significant environmental and accreditation programmes such as Salmon Safe and Airport Carbon Accreditation, are successfully implemented. As a professional planner, her experience in environmental assessment, energy and emissions planning, waste management, sustainable transportation, fisheries renewal, sustainability, and collaborative governance has all been applicable to her work at YVR.