Bringing Italian style and design to Milan Linate Airport
Next June, Milan Linate Airport will inaugurate its renovation after undergoing important works to completely restyle the city airport. The terminal – managed along with the intercontinental airport of Milan Malpensa by Società per azioni Esercizi Aeroportuali (SEA) – is now worthy of a city like Milan, explains Alessandro Fidato, Chief Operating Officer of SEA Milan Airports.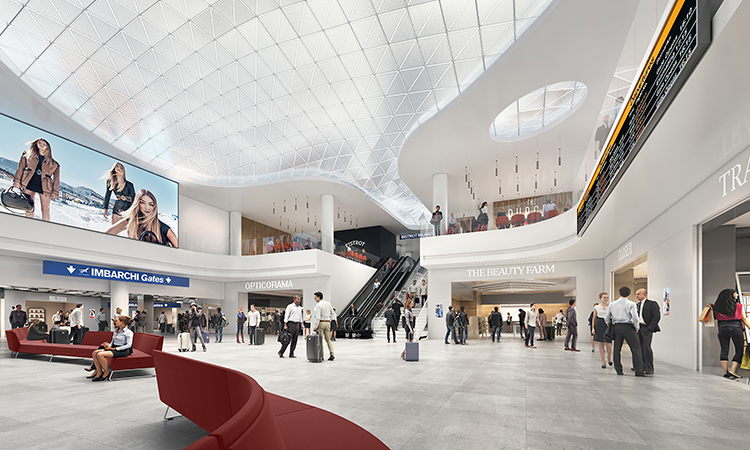 Credit: SEA Milan Airports - Corpo F: a new three-storey building with a new shopping gallery and a new food court thanks to a double-height space with an overhanging 'sail'.
The renovation of Milan Linate Airport's (LIN) terminal started when the airport was closed to air traffic from 27 July to 26 October 2019, allowing for the extraordinary maintenance of flight infrastructures and the functional upgrading to the new European Civil Aviation Conference (ECAC) Standard 3 for the baggage handling system. During this period, air traffic operations for both commercial and general aviation were moved to Milan Malpensa Airport (MXP) thanks to the so-called 'bridge project', a hulking relocation process successfully handled by SEA.
At the outbreak of the COVID-19 pandemic, construction works were necessarily halted from 22 March to 4 May 2020. In the same period, health protocols for a safe restart were implemented. 
Despite the serious economic impact following the sudden collapse of air traffic, with the consequent need to reassess investment plans, SEA has strongly committed to this project, completing the refurbishment on time. 
The revamping of the Linate terminal has involved architectural and functional refurbishment,  with a substantial change of the passenger flows and of a considerable part of the existing terminal (also including the check‑in, security and duty free areas) across 5,400m2, together with the construction of a new three-storey building featuring a new shopping gallery and food court at a total investment of €40 million. 
The concept
Linate Airport, dating back to 1950, has seen a varying array of architectural choices over the years, leaving it in a state of obsolescence not fitting the importance of the gateway to Milan – the city representing Italian design. 
After modernising the building façade in 2018, the 'Architectural Restyling and Ambience' project began, aiming to completely refurbish the terminal interior in order to improve customer satisfaction. The project fused architectural harmonisation and interior design, implementing a 'green' vision, with a particular eye on comfort and finish quality. Furthermore, a smooth passenger experience is ensured through the implementation of innovative technologies and the use of automation (smart security, biometrics, common self-bag drop, etc). 
To carry out the work and minimise the impact on airport operations, a temporary terminal was built in prefabricated elements on the aircraft apron close to the terminal to replace the gates that were being renovated.