From accessibility to inclusivity at Canada's YWG Airport
Kirk Goodlet, Director of Terminal Operations at Winnipeg James Armstrong Richardson International Airport (YWG), anticipates the needs of future passengers.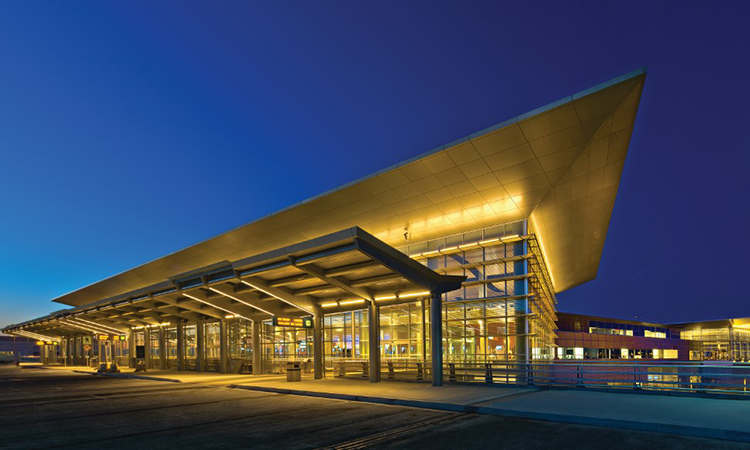 In 2020, the youngest and oldest 'Baby Boomers' in Canada turned 56 and 74 years old, respectively1. This demographic 'megatrend' is one of several factors that have a profound effect on how airports manage their businesses – not least because it compels airports to re‑evaluate traditional approaches to accessibility. But, the 'Silver Tsunami' is only one demographic force with which airports must grapple2.
As capital-heavy and long-term investments, airport terminals must adapt to meet the needs of passengers with intellectual, sensory and cognitive disabilities; such as Alzheimer's disease, multiple sclerosis (MS), or the range of characteristics subsumed within Autism Spectrum Disorder (ASD)3. Depending on the era in which a terminal was designed, accessibility may have exclusively referred to built environments, instead of aural or sensory ones. Winnipeg Richardson International Airport (YWG) in Canada effectively reconciles these considerations.
Winnipeg strives to provide an exceptional and inclusive passenger experience, with a strategy anticipating evolving needs and changing passenger profiles. Using the language of inclusivity and autonomy enables YWG to look at barriers through less prescriptive lenses. The airport's approach to inclusive passenger experience reflects the diversity of the region in which YWG is located and its one million residents. At its core, YWG's approach to inclusivity is driven by its community.
YWG accessibility programming
Processing 4.5 million passengers in 2019, YWG is a Class 1 Canadian airport, with all the complexities of a large one. YWG has both U.S. Customs and Border Protection (USCBP) preclearance for U.S.‑bound passengers, as well as Canada Border Service Agency (CBSA) services for international arrivals. As a result, YWG is an agile airport in which to trial new technologies and services with less risk to business.
Aira
In November 2019, Winnipeg joined two other airports in Canada to introduce the mobile app Aira, which uses an individual's mobile phone to guide passengers with reduced vision through the terminal.
Autonomous wheelchairs
In December 2019, YWG became the first airport in Canada to trial autonomous wheelchairs for passengers with reduced mobility (PRMs). Working in partnership with WHILL – an electric wheelchair specialist – YWG has focused on providing greater autonomy to PRMs and developing Mobility‑as‑a‑Service (MaaS) across airport facilities.
Accessible border control
YWG will be the first airport in Canada to introduce accessible border control eGates
By June 2020, YWG will be the first airport in Canada to introduce accessible border control eGates as part of the NEXUS modernisation project; a trusted-traveller programme for eligible U.S. and Canadian citizens.
Taken together, these are just three examples that highlight the crux of YWG's vision and mission. Our vision is to lead transportation innovation and growth, while our mission aims to provide excellent airport services for our community.
Consider the community
As a not-for-profit airport operator, YWG focuses on and introduces programming that reflects the needs of the community. The primary mechanism by which YWG measures these needs is through the 'mYWG Accessibility Committee'. Founded in December 2019, the committee consists of internal and external stakeholders. Members include two of our largest airline customers, as well as various interest groups that represent specific segments of the population. Representatives from the Canadian National Institute for the Blind (CNIB), Society for Manitobans with Disabilities (SMD) and Inclusion Winnipeg provide critical feedback on the experiences of PRMs and those who have special requirements. It affords the airport operator the opportunity to revisit the facility, services and passenger experience through a different lens. Additionally, the committee includes infrastructure and technology subject matter experts, meaning concepts can be assessed against the expertise that these individuals bring to the group.
Like many other airports, YWG hosts an annual event that allows members of the community to access the airport and participate in landside and airside tours. However, YWG recognised the need to offer more specialised tours, especially for those individuals who may require more time or have conditions that require special consideration. This can be the case for individuals with ASD or Alzheimer's disease, who may be sensitive to the many stimuli typical to airports, such as high‑frequency noises at security checkpoints or densely-populated hold rooms.
We noticed that a single, open-house event was not always the best way to cater to PRMs, and we recognise the diversity inherent in disabilities like ASD. In January 2020, YWG worked with the civil aviation authority, Transport Canada, to receive an exemption for the YWG Passenger Rehearsal Program (PRP). YWG is the first airport in Canada to offer an ongoing, individualised, passenger rehearsal. The PRP enables PRMs to familiarise themselves with the journey prior to the date of their scheduled departure. Passengers with a confirmed booking can contact the airport to arrange a date and time to rehearse their upcoming experience. YWG provides a barrier‑free and inclusive airport experience, and the PRP reinforces YWG's commitment to this principle. Each rehearsal is tailored to the experience that the individual, caregivers or family will encounter on their travel day. If, for instance, the individual is scheduled to travel to the U.S., then we will rehearse the entire process from kerb to gate, which includes taking passengers through security and then through the CBP Pre-clearance process. For inbound travel, the rehearsals take passengers through the CBSA process, including using a primary inspection kiosk (PIK).
In other ways, YWG also strives to provide inclusive services. By the end of 2020, for example, YWG's customer service representatives will have been trained in basic American Sign Language (ASL). This training aims to connect us with all passengers that choose to use our airport.
An inclusive future at YWG
In Canada, one in 66 children between the ages of five and 17 have ASD. Compounded by the demographic trends highlighted above, the needs of the Canadian public require airports to re‑evaluate their strategies in relation to accessibility. But there is more than just a customer service argument to be made when it comes to providing an inclusive experience.
In 2016, for example, the average household size in Canada was 2.5 people4. How many of these individuals may have special needs or be nervous about flying? How many families simply refuse to fly? These would-be passengers might forego air travel if a family member cannot travel comfortably, or if the process is wrought with anxiety. The decision not to travel is a lost revenue opportunity for airports. A greater focus on inclusivity results in a commensurate return on investment.
Importantly, investing in inclusive services or products can also incentivise stakeholders. YWG conducted a recent study in which traditional wheelchair services were compared to an electric vehicle (EV) or autonomous wheelchair. The study found that, while it cost $22.60CDN for a traditional wheelchair push, it cost $7.00CDN for the same service using an autonomous wheelchair. This could represent as much as $68,000CDN in savings per month when using an autonomous wheelchair5. As passenger volumes increase and demographics change, investing in these technologies provides greater autonomy to passengers and makes financial sense for airports.
Conclusion
Aviation, as IATA reminds us, is the business of freedom. Yet, for so many Canadians, travelling can be intimidating. The stress and anxiety are amplified further for those passengers with additional needs, as well as their families. YWG's approach to inclusivity prioritises the need for autonomy. The mYWG Accessibility Committee provides a backdrop against which these needs are evaluated. As the profile of Canadians change, so too do the services we offer. The demographic megatrend previously described means that airports must anticipate the needs of future travellers. After all, every flight begins and ends at the airport.
References
StatsCanada, "Generations in Canada: the Baby Boomers (1946-1960)," (accessed February 2020)
Sandy Smith, "Silver Tsunami: Will Your Airport Sink or Swim?" ACI-North America Centrelines Magazine (April 2018) 
Public Health Agency of Canada (PHAC), "Autism Spectrum Disorder Among Children and Youth in Canada, 2018," (March 2018) 
Statistics Canada, "User Guide for the Survey of Households and Average Household Size by Domain, Canada"

WHILL & YWG, Internal Study on Operating Cost at YWG, 2019

 
Biography
Kirk Goodlet, Director of Terminal Operations at Winnipeg Richardson International Airport, oversees all landside operations to deliver an exceptional passenger experience. In addition to his role at YWG, Goodlet is a member of the ACI World Facilitation and Services Standing Committee. Prior to YWG, Goodlet worked at the Greater Toronto Airports Authority at Toronto Pearson (YYZ). He holds a doctorate from the University of Waterloo and is a designated International Airport Professional (IAP) through the joint ACI-ICAO professional accreditation programme.