Learning to fly again: Canadians demonstrate a strong desire to travel
Daniel-Robert Gooch, President of Canadian Airports Council, details how the demand to travel in Canada is strong and how airports should strive to meet this safely.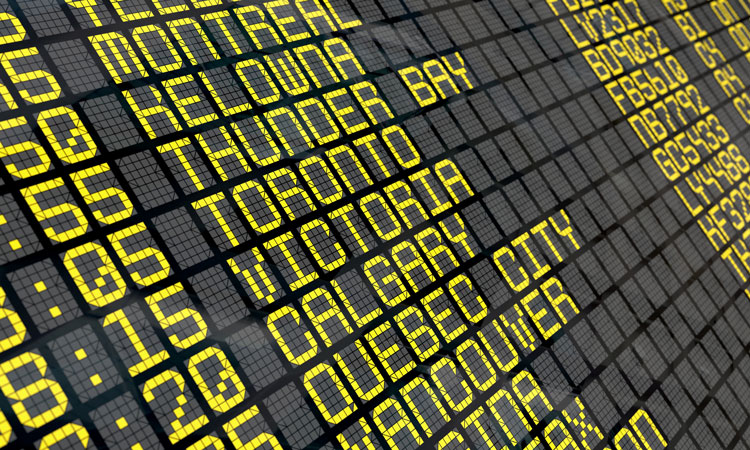 With the first wave of COVID-19 flattening in many countries, we are seeing glimmers of how the future – and aviation recovery – might unfold. The good news is that air travel may be diminished temporarily, but there have been a number of consumer polls that show a significant number of people are ready to fly once they get the green light.  
For example, in a survey of 2,391 respondents from Canada, the U.S., the UK and Australia – undertaken by the consumer research and opinion polling firm, STR – 60 per cent of consumers stated that they still intend to travel either the same amount or more in the next 12 months, in comparison to the past 12 months.
Canada leads the way
Compared with the other jurisdictions, Canadians demonstrated a stronger desire to travel (18 per cent versus the average of 13 per cent) and seemed to be a little less spooked by the impact of COVID-19 on flying, reporting only an 11 per cent decline in desire to travel, compared with 16 per cent among Australians, 17 per cent for Britons and 19 per cent for Americans.
New processes must be consistent and clearly communicated: Their implementation and success metrics must be a shared responsibility
With 160 million passengers – over four times our population – passing through Canadian airport terminals in 2019, our population's love of travel comes as no surprise to our airport community. Our great challenge is not to entice them back onto aircraft, it's to ensure that they understand that we will do our utmost to keep them safe and healthy as they move through the terminal.
Serving the demand for air travel
Canada's airports are grappling with the same physical challenges as our counterparts around the world: How to maintain social distancing, implement new hygiene processes and most importantly, how to coordinate with government agencies and regulators as well as airline and other industry partners to ensure a consistent and smooth trip for all passengers.
Potential solutions could include 'virtual queuing
Part of the solution is technology. While airports in Canada are looking at adopting many of the technologies being used in other countries, there are some differences. For one, our unique travel patterns – with heavy reliance on Canada-U.S. cross border services – as well as the long thin routes of Canada's hub-and-spoke system may affect how these technologies would best be uniformly applied. Alongside this, Canada's locally managed airport authorities are self-funded primarily through passenger and aeronautical fees. Without short-term government support, some airports could face severe challenges in securing financing for costly new technologies that must be put into place before they can regain cash flow from a resurgence in air travel.
Fortunately, much of the technology we need is already developed, tested and either in place or ready to go. Airports around the world are already either adopting or considering a wide range of options. For example, wider implementation of mobile boarding passes would increase touchless processing at security and at the gate, as would the greater use of self-tagging and dropping baggage. Passenger kiosks at terminals could be made safer to use by adopting voice activated and touchless technologies. 
Physical distancing is both essential and one of the greatest challenges airports, airlines and passengers face as we work to manage the space and reduce wait times. Potential solutions could include 'virtual queuing'; a way of being assigned a specific time to enter a queue: Much like setting a calendar appointment time to board an aircraft.
Improved screening processes are also under discussion, and some have already been implemented in Canada as part of the CATSA-Plus pilot in Edmonton
Improvements at screening could include a wider use of biometric data that could authenticate identity and travel documentation. Improved screening processes are also under discussion, and some have already been implemented in Canada as part of the CATSA-Plus pilot in Edmonton. Among other initiatives under discussion are the remote screening of baggage and greater adoption of trusted traveller programmes, as they require less direct interaction at security.
New technologies will also play a role in hold and boarding areas, with new boarding processes, the adoption of automated boarding gates and other measures.
Border agents could use thermal screening and advanced passenger risk assessments, as well as employing simplified arrival processes to streamline safe entry into Canada, including automatic capture, family processing, single-touch screens and reduced data entry.
Regulation requirements to recover air travel
These are only some of the new technologies under review. But regardless of which are adopted, there are a few guiding principles that must be followed. The new processes must be consistent throughout the system and clearly communicated. Their implementation and success metrics must be a shared responsibility between aviation partners: Airports, airlines and government transportation and health agencies. To the extent that it is possible, they must be scalable for airports of all sizes and they must be put into place as a matter of urgency and supported with government funding if necessary.
As we work together to implement these and other measures that will reinforce public confidence in our sector, there is an urgent need for federal government leadership on a coordinated national approach, and national standards for the safe restart of our sector; for domestic and international air travel.
These actions are not only important for the smooth recovery of the aviation sector; they will play a major role in restarting the economy. Our recovery, when it comes, will be airborne.
Related organisations
Related people