Improving an airport's approach to accessibility with Hack Access
Janice Valentine, CEO and founder of Hack Access – a non-profit organisation advocating for accessibility – discusses the 2020 Hackathon at Dublin Airport and how the organisation is working to make the travel experience for those with varying abilities a far smoother and more enjoyable experience.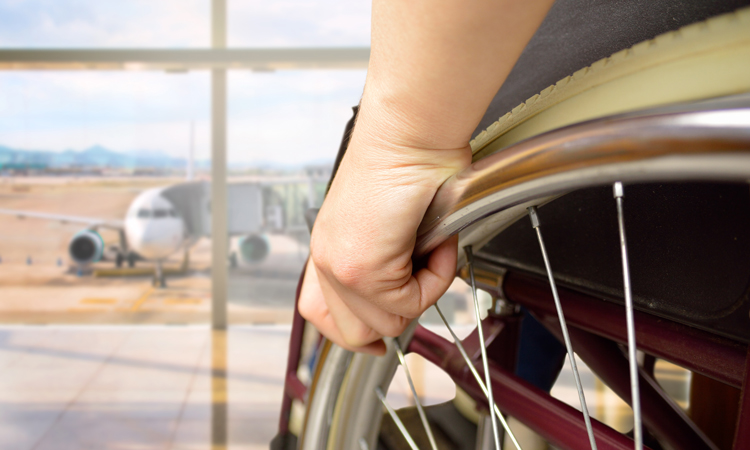 Hack Access 2020 was focused on how to create a better experience for people of diverse abilities who are travelling through Dublin Airport (DUB). 
The partnership came about midway through 2019, when Hack Access became a non-profit. Dublin Airport was the first organisation to join the Hack Access Partnership programme in its first iteration. For me, it was special: I was helping to make something I was passionate about – travel – more accessible and inclusive to everyone.  
Before I took my first transatlantic flight with my family when I was five, I'd already become enamoured with airports. To me, they were fun places to be; adventure-lands where romantic flights of fancy began. My parents would often take my two younger brothers and I on weekend outings to Dublin Airport. For hours, we would watch the planes land and take off, and talk excitedly about where they'd been and the faraway places they were going.
These trips and going on aeroplanes from a young age created fertile soil for a love of travel to grow, and my siblings and I grew up with a shared love of travel. 
My younger brother, Steven, had muscular dystrophy. By his early 20s, he was using an electric wheelchair to move around. However, he didn't let his reduced mobility stop him travelling and went as far away as Rio De Janeiro and Vancouver. Steven passed away at the age of 31. I firmly believe that travelling really added to the quality of his short life; knowing that he saw as much of the world as he did provided some solace to my family at the time of his passing.
However, it wasn't always easy for him. 
Connecting Dublin Airport with reduced mobility experiences
Part of the Hack Access 2020 programme involved sharing the experiences of people with a range of abilities travelling through airports; validating the challenges that Dublin Airport would present to hackers participating in the hackathon, which took place over 21-23 February 2020 at Google in Dublin, Ireland. 
How did we do that? 
A key feature of the Hack Access 2020 programme was a Validation Session in Talent Garden, the startup co-working space where Hack Access is based. This session brought representatives from Dublin Airport together with challenge experts – people with diverse abilities who take part in the hackathon as advisors, mentors or participants. 
This gave Dublin Airport valuable insights from travellers with reduced mobility and the challenges they encounter at airports. 
What did this session reveal?
They presented disability as something the environment causes, not something that is caused by differences in ability.
Many of our challenge experts felt that it is important to give as much freedom and autonomy to passengers with diverse abilities. Moreover, they presented disability as something the environment causes, not something that is caused by differences in ability. Katy Bourke –a mum of two young children, a business owner and wheelchair user – said her only challenge is when "there are specialised spaces for wheelchair users to go or you have to wait for someone to escort you to a specific area". She added: "You just want the airport experience to be as seamless as possible. The ability to move around the airport and shop and get coffee, rather than being stuck in one area, is essential."
Many people who have visual, hearing or physical impairments do not identify themselves as disabled. This point is often missed by stakeholders in the travel process – from online booking agents, to airports and other service providers – in their approach to the service they provide people with diverse abilities.
Cearbhall O'Meadhrais fully blind. As well as being a retired architect and computer programmer, he is a disability advocate. He explained that he is typically assisted at airports with a wheelchair, which he refuses to sit in on the basis that he is blind and "perfectly able to walk".  What typically happens is that, rather than sitting in it, he holds on to the handles of the wheelchair and walks beside the agent through the airport, which he describes as an "invisible and mystical experience with lots of noise and echoes".
The ability to move around the airport and shop and get coffee, rather than being stuck in one area, is essential.
How were these stories received by Dublin Airport?
In an interview with Travel Massive Ireland, Jenny Aarts, Innovation Project Manager at Dublin Airport, said: "Partnering with Hack Access was a great opportunity to find out more about the experience of people with diverse abilities travelling through the airport and the challenges they face, and then also to hack some of those challenges". She added: "It makes you realise how challenging it can be for people travelling through the airport with diverse abilities and that, sometimes, the answer is not a wheelchair. You really need to think about it in a broader way, and about different levels of abilities – from physical, sensory or hidden – and how we, as the airport, can do even more to support and empower those people to travel independently through the airport, if that's what they wish." 
Highlighting gaps in awareness
Although Dublin Airport already makes great efforts to ensure that the airport is accessible to travellers of all abilities, Hack Access helped the airport to understand where it could improve its service. Aarts said: "There are some services that we offer, such as a sensory room for travellers with autism, and dedicated assistance that our service partner One Complete Solutions (OCS) offers, but some people just don't know about them. Another good thing about this event has been getting the word out there about the services that we provide."
Accessing a pool of talent that is innovative and passionate about inclusion
The Hack Access framework supported Dublin Airport to access a diverse pool of multi-skilled, solutions-driven and creative participants who care deeply about accessibility and inclusion. The quality of solutions reflected our approach to team formation and educating the participants about the challenges through sharing the stories of the individuals who are directly experiencing them. 
The right approach to solving complex problems
Airports are complex systems, and accessibility and inclusion are highly complex challenges.  Our hackathon framework is designed to offer a dynamic, collaborative and inclusive approach to solving complex problems which require a multi-disciplinary approach. 
According to Hack Access mentor and advisor, Mark Lenahan, Head of Air and Rail Propositions at Travelport: "Unlike a lot of hackathons, this was not a coding contest. It was much more an education and ideation session, and I think it really succeeded. The focus of the hackathon was on the quality of ideas, rather than the ability to write code."
The Hack Access code of conduct makes our One Team One Vision approach clear. This supports participants from diverse professional fields and backgrounds to unite during the hackathon. Teams are well balanced, they work well together and there is a congenial and inclusive spirit amongst them, which I believe manifests in high-quality solutions.
Look at the context
Solutions are judged on the basis of how well teams have considered the context of the challenge they are looking to solve. They are supported to do so by expert technical mentors from a variety of fields, such as engineering, design, technology and business and disability.
One of the judges, Martin Codyre – an entrepreneur, engineer and a wheelchair user – said that he assesses solutions at accessibility events by looking at whether teams have thought in depth about who all of the stakeholders are, with regards to solving the specific problem they're addressing. He wants to see if teams have considered how different organisations need to collaborate so that their systems can integrate and make the travel process seamless for all travellers. Speaking after the pitch on 23 February 2020 at Google, Codyre said: "I think that was exhibited a lot by the teams here today."
But there can be only one winner. The team that won the Accessible Environment category was Reach Out – a team comprising of a Vice President of Business Development at a technology company; a UX design professional; a Senior Associate at a large multinational organisation; and two students, one studying Interactive Design and the other studying Mechatronic Engineering. This diversely talented team produced a chatbot that would contact the users of the service on behalf of the service providers and gather more qualitative data and information about any access needs at the beginning of the travel process.
The key benefit of this solution is in how it mitigates the problem caused by the narrow categorisation of people with diverse abilities by the current SSR codes, which essentially lock people into categories and tend to remove all of the contextual information. The idea behind the chatbot is that the minute you enter, if you require any kind of assistance, the chatbot solicits exactly what these needs are.
Implementable solutions
Ultimately, Hack Access is not looking to develop a framework that creates solutions that look amazing on paper – we want our partners to be able to implement them. On the basis of what Conor Halpin, Training Officer in the Aviation Team at One Complete Solution (the company appointed by daato provide assistance services to people with reduced mobility), said, following the hackathon, it looks like we have achieved this.
According to Halpin: "What Reach Out is seeking to provide is a platform of reassurance! An excellent idea to ease the panic of those travelling with reduced mobility or disabilities. The reassurance this platform will provide will, undoubtedly, be an excellent addition to Dublin Airport and One Complete Solution's passengers of reduced mobility service."
Innovation is a gradual process. It involves exploration, risk, experimentation and agility to pivot solutions and reshape approaches to problem solving. Hack Access 2020 has taken us one step closer to realising our vision of creating an accessible and inclusive world through hacking the environment of one industry at a time. There is now a great opportunity to build on what we've begun to accomplish in the travel industry. Our intention is to add another layer of collaboration to our Hack Access programme by bringing more stakeholders together in a spirit of openness, collaboration and cooperation to create a better travel experience for all travellers.
Our community is already talking about Hack Access 2021. The question to airlines, handlers and online booking engines is: Are you ready?
Janice Valentine is the founder and CEO of Hack Access. She holds a BA Honours degree in Marketing and an Advanced Diploma in Executive & Life Coaching and has over 20 years experience working in multinational corporate organisations, where she held a variety of roles from internal communication, executive support and employee engagement.
In 2016, Valentine created the Hack Access Dublin hackathon and secured a partnership with Google to host the hackathon in their European Headquarters in Dublin. To build on the success of the hackathon, in 2019, she set up the non-profit organisation, Hack Access, to work in partnership with organisations from various domains of the environment to support them create more accessible and inclusive physical environments for all their customers.
Valentine's mission is to use multi-stakeholder collaboration and innovation to create an inclusive world. Her personal goal is to do this in a way that empowers people of diverse abilities to be part of the solutions process through Hack Access community lead empowerment programmes, focused on building essential non-technical and technical skills.