Liverpool John Lennon aims to be the North of England's most accessible airport
Collaborating with multiple stakeholders and organisations, Liverpool John Lennon Airport has numerous initiatives in place for passengers with reduced mobility.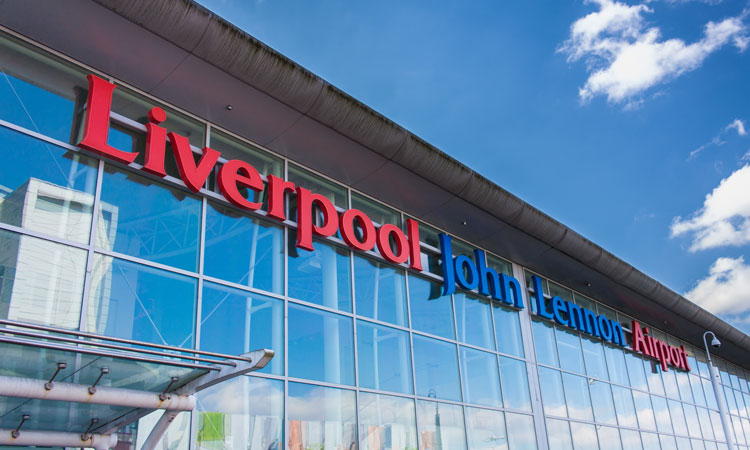 Liverpool John Lennon Airport (LJLA) currently handles over five million passengers per year with flights to over 70 destinations in the UK and across Europe.
With a growing range of destinations increasing passenger traffic, one million more passengers now choose to use Liverpool compared to four years ago.
The airport is the award-winning 'Faster, Easier, Friendlier Airport' of choice for passengers from across the region and has been recognised for its relaxed, hassle-free environment and best-in-class operational performance including the UK's only five-star airport rating for flight punctuality. Recent investments to improve passenger facilities and deliver an enhanced customer experience has seen positive passenger feedback now at an all-time high, with Liverpool recently having been voted as the Best Medium Sized UK Airport by the British Travel Awards as well as Best Airport (three to 10 million passengers per annum) by the Airport Operators Association.
Accessibility initiatives at Liverpool John Lennon
The airport consistently strives to create an easily-accessible journey for all passengers, regardless of any disabilities they may have and is aiming to be the North of England's most accessible airport.
Accessibility Consultative Committee
To help achieve this ambition, the airport has established an Accessibility Consultative Committee which is made up of a cross section of individuals with various disabilities, disability organisations, airport colleagues and management who meet several times a year to discuss passenger disability access and best practise. This committee is proving to be a great asset to the airport and a voice for passengers with reduced mobility, as well as a forum to work with the airport to develop and improve facilities. There is a wide variety of representation at these meetings from a diverse mix of organisations including Action on Hearing Loss, Autism Adventures, The Brain Charity, The Dementia Action Alliance, Guide Dogs.Org, The Spinal Injuries Association, Stomawise UK, Whizz Kidz and independent travellers. Working with these various charities and organisations helps the airport to consistently improve the services it provides as well as having opportunities for these organisations to train staff in how to deal with specific situations.
Open days and site visits
Familiarisation is key to helping people feel more comfortable and at Liverpool John Lennon Airport staff understand that first-time fliers can feel nervous, and that for those with reduced mobility this can hold them back from travelling at all. One of the airport's solutions to this is offering open days or site visits in which large groups or individual families can visit the airport and meet with staff before the day of travel.
Visits to the airport prior to travelling mean passengers can understand the different noises and environments they may be faced with, and prepare and feel more confident when they are setting off on holiday.
Recently the airport hosted a group of 16-18-year-old pupils from Abbot's Lea School in Liverpool who all have Autism. For many of them, the airport was new territory with the potential for sensory overload, so being able to have a tour around was extremely beneficial as they were able to take in the environment at their own pace without the added stress of having to catch a flight. This was a great experience for both the school and airport staff as the teachers were able to feedback anything that they felt would improve the boys' experience and help them prepare for going through the airport. By the end of the tour they all expressed how much they enjoyed experiencing the airport and many were eager to book a holiday, which was amazing to hear as many had never been abroad before.
The 'Quiet Space' scheme
One of LJLA's busiest routes is to the Isle of Man, with many passengers flying over from the island to Liverpool for medical treatment and hospital appointments. In partnership with the trustees of the Isle of Man Breast Cancer Support Charity, the airport has created a fully-equipped 'Quiet Space' in the Departure Lounge, with comfortable seating options, flight information screens and a television for passengers returning home after treatment. This space is due to be extended in the near future as it has been extremely popular with passengers, making a huge difference for them in terms of comfort and peace of mind, knowing that they can travel through hassle-free, confident that the journey will not cause too much stress or worry.
Improving facilities and experiences with collaboration
At Liverpool John Lennon Airport, we work and collaborate with charities and organisations to both understand and improve the facilities needed to maintain a high standard of passenger experience for all.
Stomawise
By working with Stomawise for several years, the airport is proud to have been acknowledged for this work and has achieved an Ostomy Friendly Airport status. Working together has led to upgraded accessible toilet facilities as well as improvements in awareness training for security colleagues. Fully accessible facilities at LJLA include a fully equipped Changing Place.
Dementia Action Alliance
The airport is also working closely with Dementia Action Alliance to offer a wider range of modules for staff to use to better understand the needs of those with Dementia and Alzheimer's. Put together by two individuals with Alzheimer's, who through their own experiences highlight the obstacles and challenges they face when travelling through an airport, the modules show how staff can further assist them. These are an ideal learning tool for staff as well as a great way to work with organisations highlighting the struggles passengers may face that an airport may be unaware of.
Autism Together
As a region, Liverpool is working towards becoming an Autism Friendly City and the airport is proud of its own collaboration with Autism Together having signed up to the Autism Charter whilst also influencing other regional businesses to become Autism Champions. Within this partnership LJLA has introduced the Butterfly Autism Voucher which became the Butterfly (Sunflower) voucher which has now transformed into the Sunflower lanyard. Introduced to help travellers on the ASD spectrum, these lanyards have far-reaching benefits for other travellers who also request the voucher to help to self-mobilise. This independence allows passengers to go through the airport on their own, or with family or friends, whilst with the added assurance that all staff are aware that they might need more time, have questions or need a helping hand at some point.
Liverpool John Lennon Airport is aiming to be the most accessible airport in the North West; with its collaborative efforts in engaging with existing and potential passengers, it is continuously improving and adapting to every passenger's need. As the 'Faster, Easier, Friendlier Airport' of choice in the North West, LJLA hopes to instil confidence and independence for all passengers, regardless of any disability, in order to be able to enjoy the airport experience and have the opportunity to travel.
Related airports
Related regions