Pioneering aviation and sustainability at Southampton Airport
Since beginning operation in 1910, Southampton Airport has been a consistent aviation pioneer, and has now shifted its focus to the development of sustainable operations.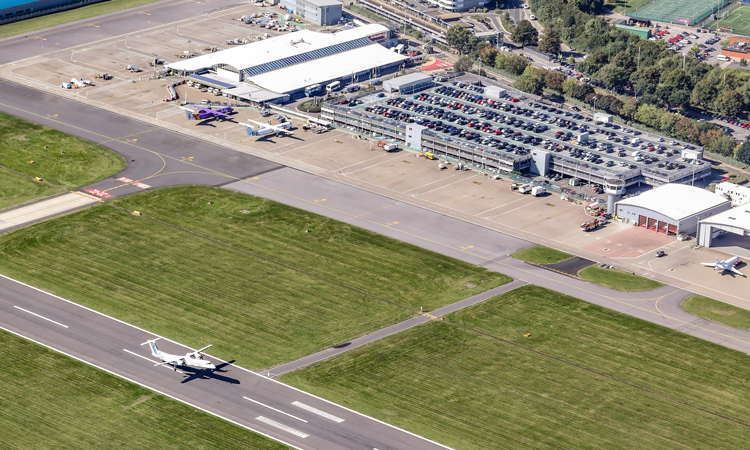 Credit: Southampton Airport
Southampton International Airport's (SOU) history began in 1910, making this regional airport one of the oldest operational airfields in both the UK and the world. During its lifetime, Eastleigh Airfield – as it was known back then – has witnessed pivotal moments in the history of aviation; from the first manned flight, operated by Edwin Moon, taking off from the site in 1910 to the first spitfire, an aviation icon, soaring from the lush, green field in 1936.
Southampton Airport now plays a vital role in connecting regions, countries and cultures
Since then, the airport has continued to thrive and remains operational. Unlike the days of yore – where the airport was private and mostly hosted general aviation movements until it was purchased by British Airports Authority (BAA) in 1990 – Southampton Airport now plays a vital role in connecting regions, countries and cultures. Similar to the past, the airport has remained a pioneer in the evolving aviation industry and has maintained this ethos, which is now firmly ingrained it its culture.
Developing sustainable operations
The airport has been at the forefront of sustainability and airport energy-reduction technology since 2013 – it was the first airport in the UK to install runway safety lighting powered by solar energy, saving the airport three tonnes of CO2 per year. Furthermore, with its advanced solar capacity, the use of this renewable resource is not just limited to runway safety lighting; it is also utilised for lighting the airport's belisha beacon lights at several pedestrian crossings based landside, as well as the many wig-wags on the airfield.
As aviation continues to grow and evolve, Southampton Airport and other industry leaders alike have had to question themselves: How do we keep people flying and not damage the planet? How do we make aviation green? Is there even a possibility of making aviation green? Although it is a continuous work in progress, this vital regional airport has been providing, and continues to provide, fool-proof solutions to the green revolution in aviation. Sustainability isn't just a convenient phrase for Southampton Airport, but integral to everything it is striving to achieve.
Another pioneering feat for the airport, that eventually paved the way for many UK airports to follow as a model, was Southampton Airport's use of energy-efficient LED lighting. Again, the first in the country to do so, Southampton Airport's introduction of LEDs was complementary to the airport's sustainability strategy and helped gain the airport the ISO14001:2004 accreditation – an international standard for environmental management.
Carbon neutrality
In keeping with its dedication to a greener future, Southampton Airport aims to be carbon neutral by 2030 and is taking continued action to reach this goal – including the recycling of all waste materials, into either materials or to energy recovery facilities. The airport's innovative approach to waste management enabled it to recycle 65 per cent of waste generated in 2016 – the equivalent of more than 300 tonnes of paper, cardboard, plastic, metal and electrical equipment.
From biodiversity to investing in skills, we see this all falling within our sustainability strategy and vision
Anna Wyse, Environmental and Corporate Social Responsibility Manager at Southampton Airport, provided further insight into the airport's 2030 carbon neutral target: "Our strategy is anchored in the United Nations' 17 Sustainable Development Goals (SDGs), which are 'a universal call to action to end poverty, protect the planet and ensure that all people enjoy peace and prosperity'. Right now, reducing greenhouse gas emissions is at the core of this, but we are always striving to balance the environmental, economic and social impacts of our operations in our vision. From biodiversity to investing in skills, we see this all falling within our sustainability strategy and vision."
She continued: "Southampton Airport has consulted widely over the past few years in developing our corporate social responsibility strategy and our masterplan. We first started to map our carbon footprint in 2012. This developed into early adoption of energy-saving technology, such as solar-powered LED runway lighting. Having top-down support from our shareholders has been vital to our success. We also have our eye on the bigger picture, and Southampton Airport supported Sustainable Aviation in developing its 'Decarbonisation Road-Map', published in February 2020. This sets out an industry-wide path to net zero encompassing improvements in aircraft efficiency, sustainable aviation fuel (SAF) and the more efficient use of airspace. However, at the end of the day, you have to put your money where your mouth is. Significant capital investment is required to achieve actual greenhouse gas reduction on site. We are fortunate that our shareholders hold the same aspirations and have been willing to make this investment in a greener future."
The pioneering attitude towards sustainability doesn't just stop with the airport, but has also been adopted by its business partners. Flybe, the airport's principal airline, operates idle taxiing, whereby only one aircraft engine is used to manoeuvre the craft on its journey from runway to stand – thus, reducing fuel burn and noise for the airport's many neighbours. Meanwhile, on the ground, ground handling agent Swissport operates electric vehicles, from baggage vehicles to pushback tractors, and plans moving to high-tech autonomous vehicles.
Electric aviation
More recently, Southampton Airport launched Fixed Electrical Ground Power (FEGP) on four stands, with the view of having all stands FEGP ready by 2030 – in line with its intention to be carbon neutral by that same year. The use of FEGP, which enables aircraft to switch off its Auxiliary Power Unit (APU) and instead receive charge from an airport's main power circuit whilst stationary at stands or gates, curtails the effects of noise whilst offsetting emissions. Switching off an aircraft's APU eliminates jet fuel burn, which also produces noise, and FEGP minimises the use of noise-emitting ground power units, which use diesel. Southampton Airport has already started reaping the rewards of FEGP; since it's completion at the end of 2019, the airport saved 15.8 tonnes of CO2 during the first 10 days of FEGP use in January 2020, meaning in excess of 600 tonnes of emissions will be offset by the end of 2020 through the continued use of FEGP.
In order to develop the airport's sustainable initiatives further, Wyse explained: "We already purchase renewable electricity, so driving down gas use is next on the agenda. 2020 will see the delivery of Phase 1 of electric ground power and the launch of a new surface access strategy to drive a modal shift from passengers arriving in cars towards public transport. We will also take delivery of electric vehicles, deliver community-approved airspace change and achieve Airport Carbon Accreditation Level 2."
Additionally, she emphasised the significance of Southampton Airport's role as a regional airport in achieving sustainable operations. "Flying regionally can take cars off the roads and is more carbon efficient. For example, a passenger living locally and flying to Bordeaux from Southampton emits 20 per cent less carbon than by driving to a major London airport. We are working towards a modal shift, moving passengers out of cars and into public transport, from boosting lift-sharing to mapping out how a new rail link at the north of our site would open up access to the east. We want to see the government supporting the commercial production of sustainable aviation fuel in the UK."
Southampton is in prime position to play a leading role in the green revolution of flight
Harmonising with its vision for 2030, the airport and a cohort of various aviation industry giants comprising of airlines, airports and manufacturers recently formed and launched Sustainable Aviation, a coalition which aims to achieve net-zero carbon emissions for the UK aviation industry by 2050. As a small, well-connected regional airport specialising in point-to-point journeys, Southampton is in prime position to play a leading role in the green revolution of flight, and is fully backing the research and development of electrified aircraft.
Wyse provided an insight into the importance of electric aviation and Southampton Airport's efforts towards making it a reality: "Southampton Airport is ideally suited to electric aircraft, with the majority of our flights being short-haul. We have already geared up for electric vehicles (EVs), providing EV charging points both on and off the airfield. FEGP is being launched on our most intensively used stands in February 2020. Considerable planning is going into the electric capacity required to support short-haul electric flights and large scale solar linked to on-site storage is likely to form part of the solution. Working closely with industry partners will be vital to its success."
Conclusion
Southampton Airport has always been a pioneer in the evolution of aviation, and its progressive outlook will ensure that spirit continues into a more sustainable future. For airports who have yet to determine a sustainability masterplan, Wyse offered some advice: "At every level of government, there's a far greener landscape compared to 12 months ago. The UK government became the first major economy in the world to pass laws to end its contribution to global warming by 2050. You need to respond to this and start planning now, particularly in terms of capital infrastructure. So, use your common sense. Respond to the needs of your passengers and business partners, be open, listen and don't be afraid to keep pushing boundaries. Set stretching targets. There is a wealth of guidance and information out there to help you, but you know your operations best."
Timeline of key dates in Southampton Airport's history:
1910: The very first aircraft to take off from the Southampton Airport site belonged to a local man, Edwin Rowland Moon. Edwin made and tested the Moonbeam II aircraft on the North Stoneham Farm Meadows – a single seat monoplane.
1918: The Air Ministry gave approval to set up a civil air transport system to serve both international and domestic routes with direct flights to Plymouth, London, Bristol, Bournemouth and a French port via the Isle of Wight.
1932: Southampton Corporation purchased Atlantic Park and renamed it Southampton Municipal Airport.
1933: The Hampshire Aeroplane Club moves operations to the Southampton Airport site from Hamble-le-Rice. One of club's members, RJ Mitchell, was the aircraft designer responsible for the renowned Spitfire.
1936: The Spitfire prototype takes off from Southampton Municipal Airport. The aircraft then went on to be designed and assembled locally in Woolston, Southampton.
1945: After having changed hands to the Ministry of Defence from 1939 – 45 as a Royal Air Force base, Southampton Airport resumed regular air services to the Channel Islands after the Second World War ended.
1950: Southampton Airport becomes one of the busiest airports outside London – signalling the upcoming growth that the aviation industry would experience.
1960: J N Somer secures the fruitful future of Southampton Airport by purchasing it from Southampton Corporation. Improvements are made, including the construction of 1,723m concrete runway. The first year sees an astounding 273,247 passengers passing through the airport – four times more than the previous year.
1970: A new control tower complete with surveillance radar is built.
1988: A consortium led by Peter Savary buys the airport from Mr Sommers and applies for planning permission for the redevelopment of the airport.
1990: British Airways Airports (BAA) purchases the airport and invests £27 million to complete redevelopment.
1993-4: Planning permission granted, and new terminal built – the airport is renamed Southampton International Airport.
2003: Southampton Airport celebrates the historic milestone of one million passengers in a year.
2006: Ferrovial acquire BAA plc.
2008-9: Southampton Airport named the European winner of the ACI airport People Award, twice in a row.
2012: The Olympic Flame visited Southampton Airport as part of the torch relay.
2014: Southampton is bought by AGS airports, which as a group, comprises Aberdeen, Glasgow and Southampton Airports.
2017: Southampton Airport celebrates a milestone of two million passengers.
2018: Southampton Airport launches free charging points for electric cars in its car park. The airport also signals its intentions for sustainable growth as it began its bid for a runway extension.
2019: Planning application for runway extension submitted and construction for FEGP starts.
2020: FEGP goes live at four stands.