Birmingham Airport CEO says sustainability must be a strategic imperative
Within International Airport Review's exclusive CEO series, Nick Barton of Birmingham Airport spoke about how the industry needs to embrace a sustainable existence.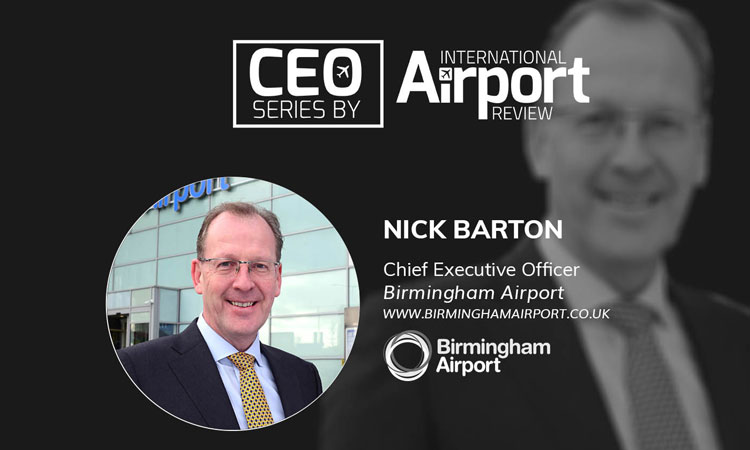 How did your career in the aviation industry begin?
Following a long stint in the property industry, I joined BAA Plc (now Heathrow Airport Holdings) to share my knowledge and expertise, providing a different approach and perspective to some of the challenges the business was facing in developing an airport estate under a new 2003 government 'whitepaper' for aviation. I was looking for an industry which would challenge me further and, with aviation being an area I'd never directly worked in before, the role with BAA did just this. My role stretched across several airports, with Stansted being a main focus due to its development plans.
The skills I gained over the years in the commercial property industry transferred relatively seamlessly into my new role and, with the deeper understanding I gained, it was apparent just how similar the skills needed for both industries were.
In 2014, I was appointed as CEO for Luton Airport, where the airport transformation was to add 40 per cent capacity, and later moved to Birmingham Airport, where I am currently the CEO.
What is the most rewarding aspect of being an airport CEO? On the other hand, what is most difficult?
The most rewarding part of being Birmingham Airport's CEO is having a responsibility which stretches far wider than the business itself. Being an airport CEO has real purpose and meaning – not only is the role valued by the people that use the airport, but also the surrounding local communities and wider region. An airport is an underpinning feature of a modern society and when things are done well, as a CEO, you can make a meaningful difference. Similarly, when things don't go as well, it is down to you to be accountable and make improvements where necessary.
The most difficult thing about being an airport CEO is pulling together a strategy which is not only meaningful and realistic, but one that addresses all the moving parts of an airport. The industry is complex and heavily regulated, and your business is in the public eye – all of the time.
Airports are ever changing and are affected by global events frequently. This can make formulating a strategy which works for the airport, its partners, airlines and wider community challenging.
Can you give us an overview of the three most exciting developments currently happening at Birmingham Airport?
New sustainability strategy
The new sustainability strategy has been developed around the theme of commitment, investment and progress, and outlines the airport's vision to maximise the economic and social benefits it brings to its region, as well as minimise its impact on its neighbours and the global environment. The main headline of the strategy is the airport's commitment to becoming a net-zero carbon airport by the year 2033. This is a very ambitious target and, as yet, we don't know how we will achieve it, but we feel this issue is too important for us not to stretch ourselves. 
Masterplan
The airport is making an investment of £500 million to transform its facilities over the next 15 years and provide a world-class service for a forecasted 18 million passengers a year. The first part of a terminal transformation has begun, which incorporates the extension to the departure lounge and baggage halls, creating a bigger security area and improving the check-in area.
Growth in technology
As the airport continues to grow, it is important that it keeps up with changes in technology within the industry. The rate of the evolution of technology is particularly extraordinary and key to improving the passenger journey. Birmingham will be exploring new opportunities such as artificial intelligence (AI) and machine learning, and will continue to invest in technology to assist with real-time passenger information. This will enable us to better understand queue times, the number of passengers coming in and out of the terminal, and the location and movements of assets such as trollies, vehicles and staff.
What is the biggest challenge Birmingham Airport is having to tackle?
The biggest challenge is to achieve our target of net-zero carbon by 2033, ahead of the UK 2050 target, because we don't yet know how we're going to achieve it. We have to challenge ourselves and set ambitious targets on this issue due to its importance. This goal is forcing us to think differently, pushing the business out of its comfort zone, stretching us to think of the best solutions to reach the 2033 target.
At this moment in time, what do you see as the biggest disruptor to the aviation industry?
Delivery of AI into our systems and embracing digital innovation is going to be significant. It will help drive improvements in processing; giving us real-time data to optimise operations. We have already introduced over 70 'BLIP' sensors to provide 'kerb-to-gate' measurements, and we're using this data to improve operations, ultimately enhancing the customer experience.
In your opinion, how does the aviation industry need to adapt to secure its place in the future?
The industry needs to embrace a sustainable existence and determine what this looks like. Airports need to include sustainability in all aspects of their strategy and be realistic about how changes in consumer consciousness around climate change and behavioural changes will impact it. For example, our car park strategy needs to incorporate future requirements for electric and autonomous vehicles. Sustainability needs to be a strategic imperative, covering all aspects of environmental mitigation to ensure we meet the challenges together as an industry, head on.
Good progress is being made, with the aerospace and aviation industries investing £22 billion in green technology since 2005. This has helped to reduce the carbon emissions from the UK's aviation industry, even as demand has grown by 28 per cent.
Over the next six months, we'll be working to revise our existing carbon management plan. This will prioritise genuine carbon reduction objectives rather than carbon off-setting schemes, which we see as the least favourable option.
What does the future of the aviation industry look like to you?
Technology is changing at some pace, so I imagine it will be using more renewable or self-generated energy, biofuels, even battery-powered hybrid aircraft someday. Sustainable aviation fuels will have an important role in reducing aviation's climate impact.
Technology and the drive to a net-zero economy itself is driving innovation across the energy and transportation industry, and I'm sure other airports will take advantage of this, as will we.
The aviation industry has an exceptional track record of innovation, adaptation and ambition – this is an exciting industry for us all.
Nick Barton joined Birmingham Airport in January 2019 as CEO to manage the implementation of a £500 million programme to upgrade and expand the capacity of its terminal operations, aircraft stands and support facilities, substantially enhancing the customer experience.
Barton held various roles for BAA Plc (now Heathrow Airport Holdings) and was part of the senior management team at London Stansted for eight years, latterly as Managing Director. He then joined Luton Airport as Chief Executive Officer in 2014 until December 2018 where, during his time, he oversaw the delivery of a £160 million terminal transformation project, combined with passenger growth of 60 per cent.
Barton is equipped with over 27 years' experience of of managing and leading infrastructure and property operations.
If you are a Chief Executive Officer, General Manager or Director of an airport and would be interested in participating in this series, please contact Leah Hockley, Junior Editor of International Airport Review.