Southampton Airport calls for stronger regional connectivity
Following a visit from the UK Aviation Minister, Southampton Airport and local business leaders are calling for work to strengthen regional connectivity.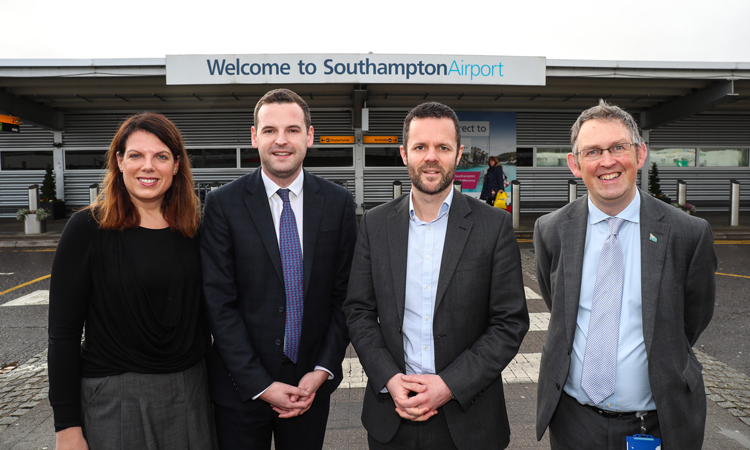 Credit: Southampton Airport
Following a visit to Southampton Airport (SOU) by the UK's Aviation Minister, Paul Maynard, regional connectivity – and the importance of the role the airport has in delivering it – has been highlighted by local businessmen and women. 
In a bid to strengthen connectivity within the region, business leaders from some of Southampton's top companies came together at Southampton Airport in support of and to emphasise the vital role regional connectivity plays in stimulating growth and prosperity for the city.
Managing Director of Southampton Airport, Neil Garwood, said: "Strengthening regional connectivity is absolutely crucial to enabling growth, developing business links and bringing prosperity to our region. We are pleased that the government is recognising this and urge our local authorities to recognise this too. The city needs to make the right choices about investment, and smart, forward-looking decisions that will enable the region to grow and prosper in a balanced and sustainable way. As one of the UK's most important regional airports, we know that we have a vital role to play in this."
The visit was part of the Department for Transport's Regional Air Connectivity Review, which is seeing the Aviation Minister travel across the country, touring regional airports. The review, which was launched in early January 2020, is part of a series of measures to support regional connectivity across the UK, ensuring that people in all corners of the country can benefit from prosperity and economic growth in the future.
Garwood added: "The support of leading local businesses shows that Southampton needs improved connectivity; it wants to reinforce its rightful place as a prosperous business hub on the national map and bring greater investment and skills into the city. Now is the time for us all to come together and support each other to secure the investment and growth needed to provide a prosperous future for this fantastic city. As we look ahead to our City of Culture bid, let's ensure our city is well and truly open for business."