CEO of Western Sydney International is planning for future technologies
Through its CEO series, International Airport Review spoke to Graham Millett, CEO of Western Sydney International, about how the airport is set to be a disruptor in Australian aviation.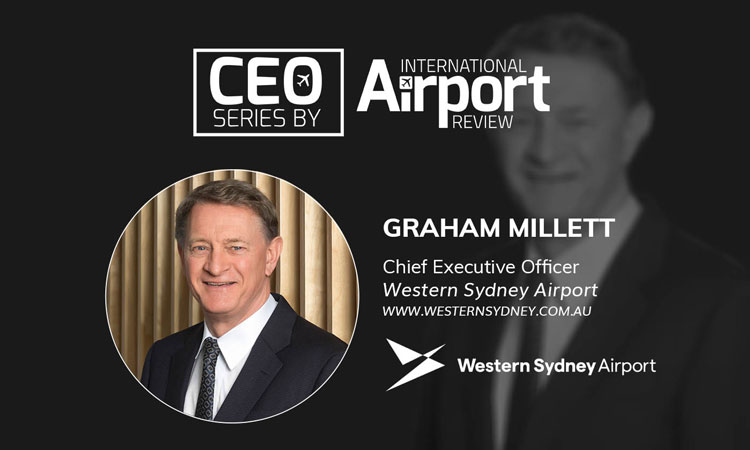 How did your career in the aviation industry begin?
My long history with aviation is both personal and professional. I've been involved in the industry for the better part of two decades, having previously been Group General Manager of Qantas' Property and Procurement divisions. That involved managing the terminal redevelopments at Sydney, Melbourne and Canberra airports, as well as the procurement of Boeing 787 Dreamliners. But I also have a personal love for aviation, and being a trained pilot helps me to understand aviation from all perspectives.
What is the most rewarding aspect of being an airport CEO? On the other hand, what is most difficult?
Being the CEO of the Australian Government-owned Western Sydney Airport has many rewarding aspects but, if I had to choose one, it's leading a once-in-a-lifetime project that will form the heart of a new city within Sydney.
We've been set a unique and mammoth task by the Australian Government – to build a greenfield airport and the first major airport development in Australia in decades, all while working with industry, the community and all levels of government to ensure the project is a catalyst for the transformation of Western Sydney; a bit like Incheon in Seoul or Schiphol in Amsterdam.
Having grown up in Western Sydney, I'm proud to be part of the team delivering a project that will bring so much economic growth and opportunity to the region, but also to Sydney and to the nation overall.
It's been a little over a year since construction began on Western Sydney International, and we've hit the ground running. We have a big responsibility and my team and I are determined to get it right.
Can you give us an overview of the three most exciting developments currently happening at Western Sydney International?
We recently released the initial concept designs for the Western Sydney International terminal, giving the world a preview of Sydney's new international airport. Our teams are now busy working with all our key stakeholders to understand what their requirements are to make this terminal the best it can be.
We began early earthworks in September 2018, which involved working on six per cent of the site to get the project moving and test ground conditions. I'm pleased to say early earthworks have gone very well and that major earthworks will commence on the airport site in early 2020. This involves flattening the 1,780-hectare site in preparation for the construction of the terminal, runway and airport business park in what will be one of the biggest earthmoving projects in Australian history.
Last, but not least, is the recent opening of the Western Sydney International Experience Centre, which is free for the public to attend to learn about their new airport. The community is at the heart of everything we do and we've been so pleased with the strong community response, having welcomed more than 3,000 visitors within the first three months of opening.
What is the biggest challenge Western Sydney International is having to tackle?
One of the challenges that I don't think is unique to Western Sydney International is planning for future technologies. Retrofitting new technology to existing systems is a significant challenge for modern airports and one that our Chief Technology Officer is pleased not to have to contend with. While a clean slate without legacy issues is certainly an advantage, it brings about its own set of challenges. We don't have a crystal ball and if you ask five futurists or tech specialists to outline the best way to set up a futureproofed technology framework in an airport that won't open for almost seven years, you'll likely get five different answers.
We're using that enormous opportunity to ensure we give passengers a stress-free journey. We want an airport that passengers love using and that offers airlines an efficient and reliable product. Expandability and redundancy in our technology solutions are essential to delivering this.
There are several inputs in this process, but our Memorandum of Understandings (MOUs) with the Qantas Group and Virgin Australia Group are key. Not only are we starting early discussions about potential routes and services, we're drawing on their experience and insights to design the airport; collaborating with them to identify their needs in terms of technology, innovation and sustainability solutions. We've also signed MoUs with 10 major freight companies and are working with them in a similar capacity in terms of planning our freight precinct.
At this moment in time, what do you see as the biggest disruptor to the aviation industry?
In terms of the Australian aviation industry, the biggest disruptor is without a doubt Western Sydney International. When people around the globe think of Australia, they think Sydney. Sydney Airport has enormous advantages in terms of its proximity to the city, it will always be an important part of the city's aviation landscape, but it is constrained.
Western Sydney International represents a new approach to Sydney. Our airport will be designed to be a seamless, stress-free experience for customers – it will be designed from the ground up, with the input of airlines and freight companies to maximise the operational advantages it offers them in terms of turnaround and other efficiencies. Most importantly, our 24/7 status will provide a flexible injection of slots into the market that will not only support growth in existing service types, but opportunities for new products that will grow the local market.
In your opinion, how does the aviation industry need to adapt to secure its place in the future?
The industry will be experiencing an enormous amount of change in coming years, not just from technological advancements but also regulatory changes, sustainability and evolving customer expectations. Aviation is ever-changing and the industry has proven its adaptability over many decades. The key will be to ensure we keep listening to our customers and keep moving with technology.
What does the future of the aviation industry look like to you?
We know IATA is forecasting 7.8 billion passengers to travel by 2036 and the biggest driver of that demand will be the Asia-Pacific region, which will be the source of more than half the new passengers over the next 20 years. By the 2060s, Western Sydney International will be comparable with today's Dubai International, Hong Kong International and John F. Kennedy International in the U.S. We also have the prospect of ultra-long-haul services on the horizon, opening up new market opportunities for Western Sydney International.
We're in the right place, at the right time, and the future is looking very bright, indeed. Western Sydney International is on track to open to international, domestic and freight flights in 2026.
Graham Millett arrives at the challenge of overseeing the delivery of the $5.3 billion Western Sydney Airport with more than 20 years of senior executive experience across aviation and telecommunications infrastructure. Millett's time working in the United States, Europe and Asia means he is well placed to combine local knowledge with international experience to bring the region to the world through Australia's next-generation airport. 
Millett has previously worked as Group General Manager of Qantas' Property and Procurement Divisions and Head of Facilities and Fleet for NBN Co. His experience in complex airline operations and infrastructure is supported by his personal love of aviation. As a trained pilot, Millett understands aviation from every perspective, helping him lead a team to deliver an airport experience that will be as transformational for airlines and freight operators as it will be for passengers. 
Millett holds a Bachelor of Economics and Master of Business Administration. He is also currently a Director on the Board of St George Community Housing and has previously been a member of the Advisory Panel of the Board of Airline Representatives Australia and Chairman of the International Air Transport Association's Australian Airports Consultative Committee. 
If you are a Chief Executive Officer, General Manager or Director of an airport and would be interested in participating in this series, please contact Leah Hockley, Junior Editor of International Airport Review.