Innovating Swedish airports with chatbots and AI video analysis
In Swedish airports, new technologies are being tested and installed to drive innovation and improve the passengers' experience.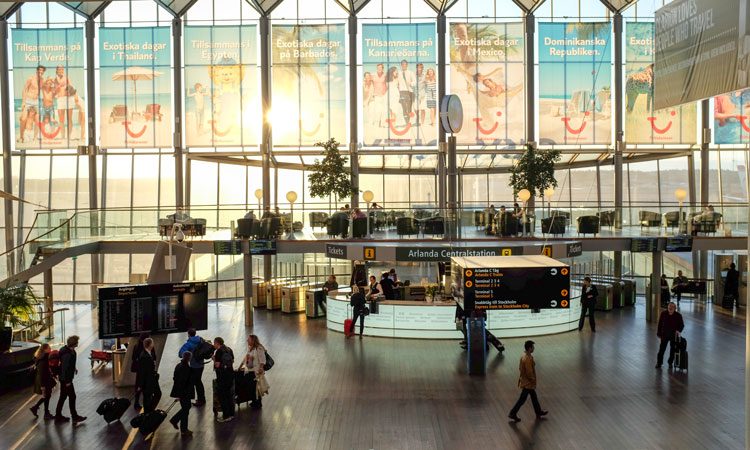 Within this digitally-lead era, airports across the world are experimenting with different technologies to determine the best way to secure innovative growth and optimise processes.
To gain a perspective of the digital approach within airports across Sweden, International Airport Review spoke to Karin Gylin, Head of Innovation at Swedavia AB, during Airport IT & Security 2019 regarding how new technological applications are benefiting passenger service.
What is the most successful innovation that you've implemented at Swedavia AB over the last year?
In December 2018, we implemented the chatbot. It's been working very well and has been well received by passengers. Another new innovation is our queue measurement system. We now can provide queue times for security checks both at the airport and through digital channels; in our app, in the chatbot and on the website. 
The chatbot is based on Facebook Messenger and passengers can download it from our website. It offers flight information, queue line information, and contains details on all of the services offered within the airport, and the transport options that are available to and from the airport.
What positives have you seen from the chatbot?
The chatbot helps with customer support and the feedback we receive from passengers is very good: It has been given a rating of four out of five stars, demonstrating how passengers like the experience. This is especially useful when something unexpected happens because we can let the passengers know straight away. When a situation occurs, our customer service gets flooded immediately and passengers can't get through. So the chatbot is a service that passengers can access information from straight away, around the clock. They can ask questions, follow their flights and get updates if something happens (for example if a flight is delayed or a gate has changed).
Airport IT & Security, International Airport Review's annual conference, gathers industry leaders from across the globe to discuss hot topics within airport IT, including digital identities, automation, data-sharing, seamless travel and smart-airport concepts. Register your interest for Airport IT & Security 2020 now!
What does Swedavia AB have planned for the next year?
We are working on a lot of different things at the moment. We're doing a lot of tests and concepts around machine learning, predictive analysis and AI video analysis, but also how to use IoT and the data that you gain. Innovation is creating value, so our focus is: What do we do with this technology? Technology is just technology – it's what you get out of it that's important.
For example, we are looking to see how we can use data, or data combined with data from suppliers, regarding the temperature and the climate; controlling the airports to see if we can optimise how and when we increase or decrease ventilation in a better way. Therefore to be more energy-efficient and more sustainable.
That's something we're working on as well – how to share data. Some data is restricted, of course, but we see a need for increased collaboration and working together by sharing data. This creates better services. We already have a couple of data lists available for airlines, like flight information or about airport services.
What do you think are the biggest technological trends in the airport sector right now?
We hear a lot about biometrics and different types of AI, from machine learning and predictions, to video analysis and IoT, but I think the future is more about a combination of all of these. We've seen how they work, and the technology has now matured. I think the real value comes from how we connect them; using a digital twin. It is when you connect the data from all the different parts – like video analysis and sensors and data from scanning your boarding pass – when you connect all of this, that is when you will create the most interesting services and products and value for all customers.
Are there any negatives to using new technology? 
I believe there are negatives when it comes to legacy systems and legacy ways of thinking and working. Within the airport industry, we have the need for a very high level of security that must be maintained. How do we create enough momentum and accelerate innovation whilst remaining safe? I think that's a real challenge. With a lot of new technologies we have to ensure IT security and make sure all this information doesn't get in the wrong hands.
But I think if airports learn from each other and collaborate and share information, insights and learnings, then we will certainly set the momentum to move innovation forward, quicker and safer.