Sustainability Series: European airports sign NetZero2050 agreement
A number of European airports have entered an agreement to comply with the Paris Accord, thereby committing to becoming emission-free by 2050 at the latest.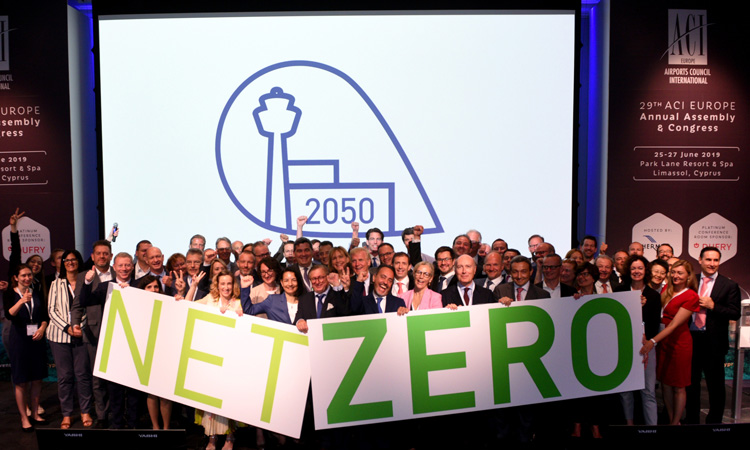 The 194 airports, spread across 39 airport operators, have committed to reducing CO2 emissions under their control to zero ('net zero') by 2050.
Thomas Woldbye, CEO, CPH, said: "It is essential to CPH that there is now agreement at European level to live up to the Paris Accord. We launched our own climate strategy earlier in the year outlining the vision that the entire airport is emission-free by 2050. I am very satisfied to see that the parties now agree to pursue the same goal at European level. As an international airport, we operate in an international market, meaning that it does not suffice to devise ambitious climate objectives locally in Denmark. Committed international collaboration is, therefore, absolutely essential."
Robert Sinclair, Chief Executive Officer of London City Airport, said: "I am delighted to announce this incredibly important commitment and undersign this major initiative from ACI Europe. Our industry, from global hubs to regional airports, has a long and proud history of innovating to provide better, safer and a more sustainable service for our passengers.
"This commitment is not only the right thing to do for London City Airport, but more importantly it's the right thing for our environment and our communities. What we are doing with UK Power Networks Services as part of our current development programme demonstrates how we are putting sustainable practices at the heart of our decision making. We look forward to working with partners and thought leaders in this space as our ambition is to achieve and exceed industry standards on carbon emissions."
Nazareno Ventola, CEO of Aeroporto G. Marconi di Bologna, said: "At Bologna Airport, we are proud to undersign this commitment and unequivocally state our engagement. We have invested significantly in environmental management over the years. We have already been working to reduce our carbon emissions since 2010 and are certified at Level 'Reduction' of the Airport Carbon Accreditation programme. We recognise it's time to move up a gear in our efforts.
"We take note of the recent IPCC report and of the shift in public perception of air transport. People are demanding more ambition from government, from business, from mobility and we are keen to deliver. The NetZero2050 agreement is not a promise we take lightly and we are confident that through research and investment, knowledge exchange and partnership, we will be able to identify the best solutions to decarbonise our airport operations."
Dr Michael Kerkloh, President of ACI EUROPE and CEO of Munich Airport, commented: "Europe's airports have been leading climate action with annual reductions announced every year for the past decade. Forty-three of them have actually become carbon neutral, supported by the Airport Carbon Accreditation. However, the commitment brings a new dimension to this – no offsets. Crucially, with its NetZero2050 agreement, the airport industry is aligning itself with the Paris Agreement and the ambitions of the vast majority of EU countries.
"Europe's airports have already started delivering, and I am confident that many will reach net zero before 2050. There are already three net-zero airports in Europe: Luleå, Ronneby and Visby – operated by the Swedish airport operator, Swedavia. Swedavia aims to achieve net-zero emissions for all its airports including Stockholm-Arlanda by 2020 along with Hamburg airport by 2022 – while Amsterdam-Schiphol, Eindhoven and Copenhagen airports have set this goal for 2030."
Patricia Espinosa, Executive Secretary, UN Climate Change, said: "The IPCC Special Report from October 2018 is unequivocal about the need to achieve net-zero emissions by mid-century. We need all sectors of society working towards this ultimate goal. It is therefore encouraging to see the airport industry voluntarily raising its ambitions and we look forward to working with this vital sector."