Sustainability Series: Copenhagen's green ambitions
As passenger numbers at Copenhagen Airport continue to increase, the airport is now accelerating its climate ambitions to mitigate the wider effect of this increase.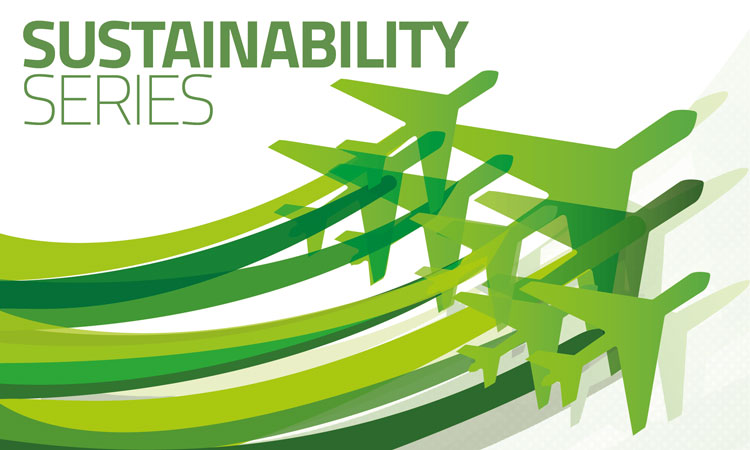 More than 30.3 million passengers travelled through Copenhagen Airport in 2018; 1.1 million more than the total recorded in 2017. The growing passenger totals were accompanied by significant growth of the airport itself, powered by DKK 2.1 billion of investment into expansions and renovations.
Full focus on climate
CPH is part of the aviation industry, and thereby also part of the overall climate impact of air travel. Efforts to reduce CO2 emissions have been on the airport's agenda for years – and CPH will further intensify these efforts in 2019.
Thomas Woldby, CEO of Copenhagen Airport, said: "In 2018, we implemented energy saving measures totalling 7.2 GWh. Since 2013, our energy savings amount to 30.8 GWh. As a result, CO2 emissions declined from 1.3kg of CO2 per passenger in 2013 to 0.96kg in 2018 – a 26 per cent decrease.
"International travellers arrive at an airport where growth and sustainability go hand in hand. In 2018, we continued our efforts to reduce the airport's carbon emissions. Many energy-saving activities are underway, including a transition to LED lighting and the installation of a new ventilation system. In Magleby, we replaced a large, old gas boiler with a modern new hybrid system with an integrated heat pump, which will eventually provide heat using clean, green solar power.
"The first major goal of our new climate strategy is eliminating all carbon emissions from the airport – including land traffic to and from the airport – by 2030 at the latest. From 2019 until we realise this goal, we will make the airport's operations carbon-neutral by compensating for our emissions. We will uphold this policy until we reach our 2030 goal. We have a lot of progress to make, but in collaboration with the rest of the Danish aviation industry, we will take the lead in making Danish air travel climate-friendly."
Plans to expand
Copenhagen Airport plans to expand the terminal building by 80,000m2 in the busy area between Gates B and C, which is set to accommodate 40 million passengers. This means that passengers, staff and airlines will acquire more space and improved conditions in the baggage reclaim area and the busy passenger area in the terminal between Gates B and C.
Innovatively, over the next 12 months, the airport will join the selected architects, engineers, contractors and suppliers with the goal of co-designing and developing the final project based on the principle of 'Co-Creation'.
Co-Creation with a green purpose
Woldbye commented: "We are very optimistic about this close partnership in terms of the development of the project. It will be a building that presents the very best of Denmark: Stunning Nordic architecture, environmental consideration, connectivity, spaciousness and uncomplicated service, with everything within easy reach. Even if the airport grows, passengers in CPH will still get that feeling of having everything under one roof – unlike many other airports elsewhere in the world."
The new project is part of Copenhagen Airport's expansion plan, which involves an investment of DKK 20 billion in building the airport of tomorrow with room for 40 million travellers and the many staff, airlines and ground handlers who handle the flights.
Woldbye continued: "Our task is to unite Denmark with the rest of the world in the best possible way. The competition to retain and develop new routes in cooperation with the airlines is extremely tough. That is why we need to evolve if we are to retain our position as the leading gateway in Northern Europe." 
More room for a significant expansion of the baggage reclaim area
The new project will unite the existing terminal area between Gates B and C with a future 270m-long, 60m-wide extension. The new building will make room for a significant expansion of the baggage reclaim area and an expansion of passport control for passengers departing and arriving at the airport's C gates.
Woldbye said: "Passenger journeys through the airport should be exciting, efficient and safe. The new project also focuses on arrivals, with a much larger baggage reclaim area with far more space, light and air."
Building in the very heart of the airport will take place as flights, staff and passengers make use of the airport as per usual. It goes without saying that such a large construction project in the core of the airport will not be without its challenges. Errors may occur, leading to delays or inconvenience. Naturally, the goal is to realise a project that will benefit everyone that uses Copenhagen Airport. 
This is a challenge, which makes this expansion not only one of the biggest current construction projects in Denmark, but also one of the most complex.
Focus on sustainability
The Programme Director, Finn Bloch, is responsible for ensuring that the construction causes the least inconvenience for passengers, airlines and staff.
Bloch commented: "This time, we will have to draw on our extensive experience of major building projects in the heart of a busy airport, which operates 24 hours a day, 365 days of the year. In this close partnership with architects, engineers, contractors and suppliers, we also plan to involve users – our staff, the airlines and ground handlers, and everyone else operating on a daily basis in the area – not only in the building but also in the entire process. For us it is important for the new terminal area to be top quality, and for the expansion of the terminal to be future-proof, flexible and, most of all, sustainable in any aspect we can. It should be both beautiful and functional and we must also build on the basis of environmental consideration. Accordingly, everyone involved in the collaboration has signed a sustainability manifesto, which obliges us to opt for sustainable solutions and materials wherever that makes sense."