Sustainability Series: How is Schiphol doing its bit for the environment?
In the first of a new series examining how the airport and aviation industries are working to mitigate the damaging environmental impact of air travel, Denise Pronk, Head of Sustainability at the Royal Schiphol Group, speaks exclusively to International Airport Review to detail Schiphol's plan to reduce its environmental impact.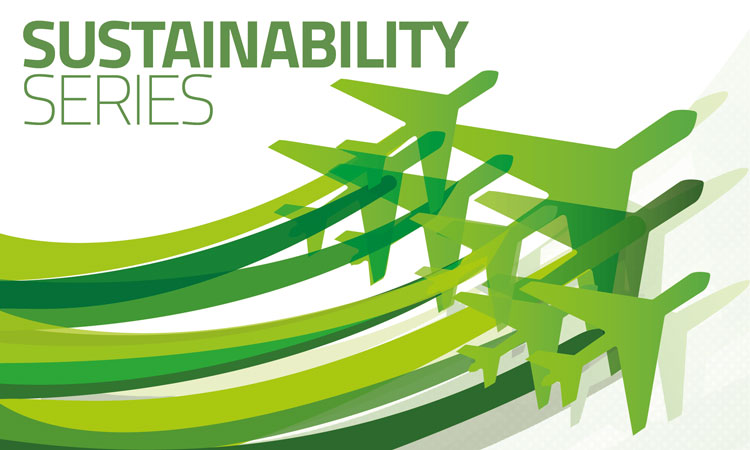 Royal Schiphol Group is an airport company with an important socioeconomic function. By connecting the Netherlands to the rest of the world as effectively as possible, we contribute to prosperity and well-being in the Netherlands and elsewhere.
Sustainability and safety are fundamental principles that govern the actions and activities of all aviation and non-aviation activities across the Group. Schiphol Group aims to lead by example when it comes to sustainability in the aviation sector. The ambition is to become the most sustainable airport operator in the world. We focus on four key topics: sustainable aviation, zero emissions, zero-waste and well-being schemes. These themes are interconnected via our long-term goals: the airports operated by Schiphol Group aim to be zero-emission and zero-waste by 2030.
Our role
Schiphol Group plays a coordinating role in driving supply chain responsibility, and we share the ambition of our partners to create a clean and healthy environment. At an airport, many activities are operated by third parties. This complicates carbon management within the group, since many of the emission sources are not under the control of the airport operator. Other users of the airports, including airlines and ground handlers, must also play an important role in improving overall emissions.
Our activities and achievements
For our own operations, we focus on energy, circularity and mobility to lower our negative impact on the environment. Since our airports are located near cities, we have always felt that it is our responsibility to operate as sustainably as possible. In 2007, we published our first Climate Plan including long-term reduction goals. Since then, our ambitions have grown and we have accelerated the execution of our plans. 
Energy
Schiphol Group is climate-neutral in its own activities and is transitioning towards zero-emissions. One of our corporate key performance indicators is to reach zero-emissions by 2030. This goal means that no carbon will be emitted in the use of energy or fuel for our own operations as well as ground operations at airside. Since the emission reduction of airports is covered by the Paris Agreement, we are exerting ourselves to achieve zero-emissions by 2030.
Electricity is the largest chunk of our emission footprint. Since 2018, our airports have run on Dutch wind power, generated by newly-built wind farms. We are investing in generating renewable energy – mainly solar – on-site and we have committed ourselves to the National Action Plan on Solar Power. As buildings and assets fall in our direct scope of influence, we have a strong focus on improving their energy performance. We are decreasing the use of natural gas by installing Aquifer Thermal Energy Storage (ATES). In this transition period there will still be a need gas at the airports, during this time we will be shifting to the use of bio-gas.
Mobility
The main focus of our mobility and transport policies is clean travel, which comes as a result of reduced road traffic from, to and from, and within our airports. We encourage the use of public transport, to help cap the number of vehicles arriving and departing from the airports daily. Our vision is that everything which can be zero-emission should be zero-emission. We are working on a zero-emission fleet, achievable via clean power trains and the use of clean fuel within the necessary airport vehicles. In each case, we balance the operational performance with the impact on the environment and safety.
Since 2015, 35 electric buses have been operating on the apron, with a total of 15 million passengers transported to and from the terminal and aircraft over the past three and a half years. In the spring of 2018, 100 electric buses were put into service in and around Amsterdam Airport Schiphol, as part of a public transport concession, representing the largest electric bus fleet in Europe at the time. Airside, we use now electric ground power units E-GPUs, the supply zero-emission power to aircraft on the ground, offering an alternative to traditional diesel-based units. Our investment directly supports the CO2 emission reduction targets for Dutch airports, as outlined in the aviation industry's 'Smart and Sustainable' action plan.
Circularity
We take a responsible approach to natural resources and the use of other materials. 2030 may seem like the distant future, but our assets have long life cycles. That is why we have already spent a number of years working on achieving our ambition for 2030. In 2013, we launched our first zero-waste plan which included targets. We work according to our zero-waste principles, which we apply to the design and construction of new buildings, the renovation of existing assets, and the procurement of products and services.
We gain experience bringing circularity principles in practice. Often it is not 100 per cent circular but every action gives us new insights. For example, the 'light as a service' concept involves  Schiphol paying for the light produced, while Philips and Cofely remain the owners of the lamps and fittings. Schiphol built a new mortuary according to the cradle-to-cradle principle. When a structure's lifespan has ended, the materials can be easily reused in a new project. It is the first 100 per cent cradle-to-cradle building at and belonging to Schiphol. The P1 car park was extended in 2017; at Schiphol, we requested a demountable structure in the invitation to tender because we anticipate expansion will be required in another 15-years time. The construction is not yet circular, and we are working hard to make this happen. As the car park is demountable, however, it will be possible to reuse the materials in the future, when the expansion becomes a necessity. 
Towards zero-emission aviation
Worldwide, the demand for aviation doubles every 15 years. To facilitate this growth, we need natural resources and materials. People like to explore the world, travel for work or meet family and friends. The aviation sector is responsible for two per cent of the CO2 emissions globally, and seven per cent of the emissions of the Netherlands. While the aviation sector has made aircraft more energy-efficient in the last few decades, the demand for aviation has outpaced the efficiency activities of the sector. As a result, no absolute CO2 reduction has been realised. To keep the rise in temperature well below two degrees – the degree of change in the global temperature that sustainability projects aim to keep the changing climate within – CO2 emissions have to be cut in the coming decades. There are several ways to reduce emissions. Two instruments that internalise the external costs of aviation are the European Union Emissions Trading Scheme (EU ETS) and the Carbon Offsetting and Reduction Scheme for International Aviation (CORSIA).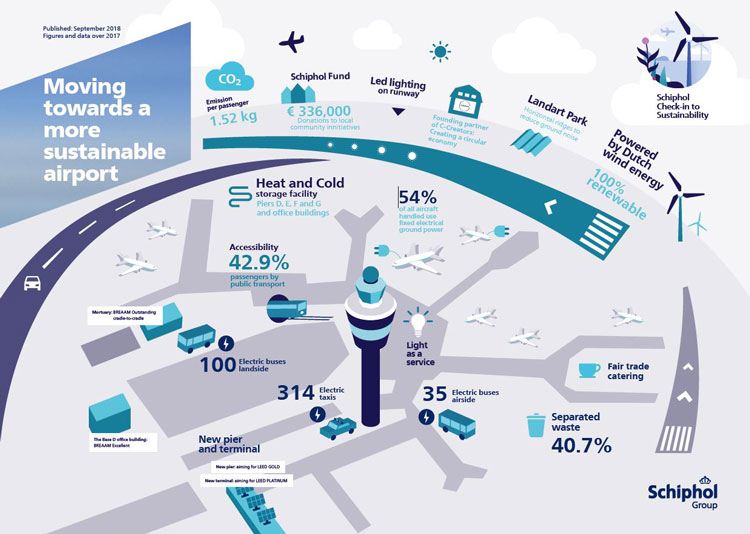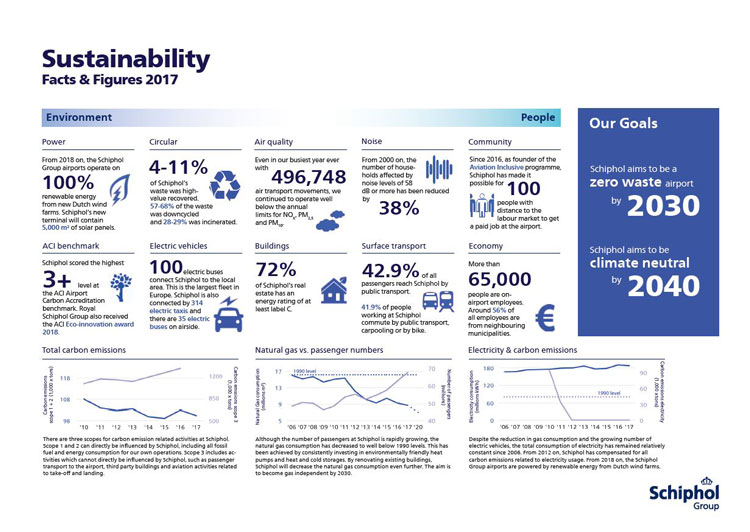 Team up
20 Dutch transport organisations, including research institutes, knowledge institutions and Schiphol Group, have joined forces to express their concerns about climate change, specifically the environmental impact the aviation sector has. In 2018, we set up the action agenda 'Smart and Sustainable' to decrease the level of aviation emissions in the Netherlands to the 2005 level by 2030. We will achieve this reduction by tackling seven themes:
Optimising flight paths and procedures
Incentivising the use of cleaner aircraft via airport charges
Greater utilisation of sustainable aviation fuel
Radical fleet renewal
Use of international train services and other sustainable modalities for short distances
Working towards zero emission airports
A swift and sustainable journey to and from the airport.
We have already begun taking steps to address these ambitions, however, realising this plan will require a joint effort.
Our vision is that clean aviation is possible. The development of sustainable aviation fuels is an important measure to lower aviation emissions. In the coming years, we expect an increase in the production of biofuel. Schiphol Group researches the options to develop clean synthetic kerosene. A pilot plant for the production of synthetic fuel will be installed at Rotterdam The Hague Airport. Radical fleet renewal is another method to reduce emissions. It involves using newer aircraft types but also accelerating the development of hybrid and electric propulsion. Two-seaters, which are used for general aviation are already available in an electric variant and multiple suppliers are working on larger general aviation aircraft. For large commercial planes, we expect to welcome hybrid aircraft first.
We are accelerating the development of sustainable aviation technologies and partnering with the aviation sector to contribute jointly to achieving global emission goals, reducing noise and improving air quality. While clean aviation will become a reality, it does not mean that the aviation sector can grow without limits. We have to balance which routes and destinations have an added value for people's well-being and the economy. Especially for short distances within Europe, the train could be a good alternative to air travel.
Newer aircraft types are quieter and more fuel-efficient. Better fuel efficiency leads to lower CO2 emissions. In order to become the world's most sustainable airport, we have built a strong sustainability element into the new airport charges structure. Take-off and landing fees will give preference to aircraft that are quieter and more environmentally friendly. 
Biography
Denise Pronk is responsible for sustainability at Royal Schiphol Group. She is an acclaimed Sustainability Manager, who is working around the clock. Her vision is that sustainability is an integral part of the business. Denise is based at the strategy department. Focus areas are the embedding of sustainability in the long term vision, development of joint action plan how to make the Dutch aviation sector more sustainable and integration of sustainability in the business planning and control cycle.