Passenger experience: Delta, pioneering a seamless experience
In December 2018, Delta – in partnership with U.S. Customs and Border Protection (CBP), Hartsfield-Jackson Atlanta International Airport and the Transportation Security Administration – unveiled the first biometric terminal in the United States. In a growing world that's getting increasingly complicated, airports and airlines are turning to technology to streamline processes and Delta's breakthrough is a shining example.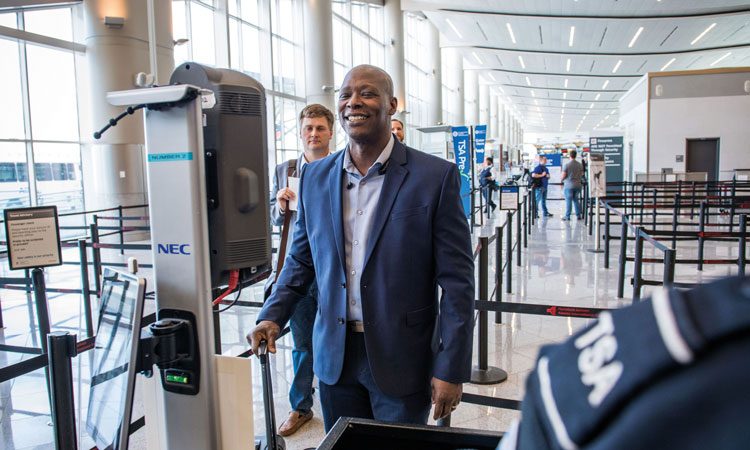 Once successfully identified, passengers can pass through to boarding
The terminal – at Maynard H. Jackson International Terminal (Terminal F) in Atlanta – enables customers flying direct to an international destination on Delta, Aeromexico, Air France, KLM or Virgin Atlantic Airways to use facial recognition technology from kerb to gate, including to:
Check in at the self-service kiosks in the international lobby
Drop checked baggage at the counters in the international lobby
Serve as identification at the TSA checkpoint
Board a flight at any gate in Terminal F
And, go through CBP processing for international travellers arriving into the U.S.
Touch points throughout the terminal started coming online in mid-October. Travellers have an opt-out option, but to date nearly all the 25,000 customers who travel through Terminal F each week are choosing the facial recognition process, with just two per cent opting out.
Popular with passengers but also proving its worth, based on initial data the facial recognition option is saving an average of two seconds per passenger at boarding, or nine minutes when boarding a wide-body aircraft.
"Delta's successful launch of the first biometric terminal in the U.S. at the world's busiest airport means we are designing the airport biometric experience blueprint for the industry," said Gil West, Delta's COO. "We're removing the need for a customer checking a bag to present their passport up to four times per departure – which means we're giving customers the option of moving through the airport with one less thing to worry about, while empowering our employees with more time for meaningful interactions with customers."
On the heels of Atlanta's successful rollout, Delta – in partnership with CBP and the Wayne County Airport Authority – expanded the facial recognition boarding test which had been running since July 2018, to all 14 international gates at McNamara Terminal in the Detroit Metropolitan Airport (DTW). With this move, any customer flying direct to an international destination from DTW will also have the option of using facial recognition technology at boarding. This year, Delta will be rolling out the facial recognition technology at DTW from kerb to gate.
"It is a great honour for Detroit Metropolitan Airport to become one of the nation's first biometric terminals," said Chad Newton, Wayne County Airport Authority's Interim CEO. "We are continuously seeking ways to enhance the customer travel experience, as a world-class airport. We look forward to partnering with Delta, CBP and TSA to provide passengers with the option to utilise facial recognition throughout their entire travel process."
The expansion of the facial recognition option with Delta Biometrics is a natural next step following CBP and Delta's optional facial recognition boarding tests at ATL, DTW and John F. Kennedy International Airport over the past several years. In addition, Delta recently tested a self-service biometric bag drop at Minneapolis-Saint Paul International Airport for international customers. Delta has also tested biometric boarding at Ronald Reagan Washington National Airport, and has launched optional biometric check-in for all domestic Delta Sky Clubs, facilitated by Delta Biometrics.
Innovative heritage
Delta's biometric credentials first came into the fore back in May 2017, when the airline introduced a biometric boarding pass at Reagan Washington National Airport. The pass experience enabled eligible Delta SkyMiles Members to forego a paper or mobile boarding pass and hard copy ID in favour of fingerprints as proof of identity before checking in a bag or boarding a flight. At the time, West commented: "We're rapidly moving toward a day when your fingerprint, iris or face will become the only ID you'll need for any number of transactions throughout a given day."
The success of the pass was soon followed by the introduction of self-service bag drop machines at Minneapolis-St Paul International Airport in June 2017, following the airline's pledge to transform the passenger experience with investments that make travel easy and enjoyable. The $600,000 investment in self-bag drop enabled passengers to securely and easily check their own bags, eliminating friction points and empowering the passenger.
These initial breakthroughs, which are joined today by many airports around the world who are embracing the use of biometric technology to expedite passenger flow and enhance passenger experience, were followed back in 2017 by the launch of next-generation biometric CBP eGates in Hartsfield-Jackson Atlanta and New York-JFK airports. Just one month later, in July 2017, Delta was proud to become the first airline to launch biometric boarding at Reagan Washington National Airport.
Industry-leading solutions
Over the past several years, Delta has led the industry on a number of customer solutions aimed at making the journey through the airport more efficient and enjoyable. These include the following:
RFID baggage handling and bag tracking
Delta implemented an RFID bag tracking solution on a global scale to further improve its reliability for checked bags. A recent IATA study showed that an industry-wide global RFID solution could reduce the number of mishandled bags by up to 25 per cent by 2022. With the Delta solution, push notifications as part of the Fly Delta app integrate inform a passenger when their bag has been successful loaded on to an aircraft, which carousel it will arrive at for pick-up, and more.
Automatic check-in
This has been added to the Fly Delta app to streamline the check-in experience for customers to take the guesswork out of accessing a boarding pass. The functionality automatically checks in eligible customers 24 hours prior to their scheduled departure. Customers receive an alert via email or push notifications then open the app, acknowledge the Federal Government mandate for restricted items, and their boarding pass appears. Eligibility is generally available to customers with domestic-only itineraries who already have a seat assignment or are auto-assigned a seat at check-in.
"Our customers have told us Delta can eliminate some of their stress associated with upcoming travel if they know their boarding pass is ready and can see their seat assignment," said Rhonda Crawford, Vice President – Global Distribution & Digital Strategy. "Auto check-in provides that peace of mind in a simple, automated solution that also saves valuable time."
The Fly Delta mobile app – the common connection between these advancements – is a cross-industry alliance that Delta believes will empower customers with a seamless in-cabin connectivity experience, more efficient and high-tech automated screening lanes, and will help Delta pilots avoid turbulence for a more comfortable flight.