The digitisation of cargo across aviation, as told by Delta
With the age of digitisation racing forward we asked Delta how the digitisation of cargo transport has, and will, affect the customer. Vice President of Delta Cargo, Shawn Cole, provides a glimpse as to what the future holds for cargo transportation.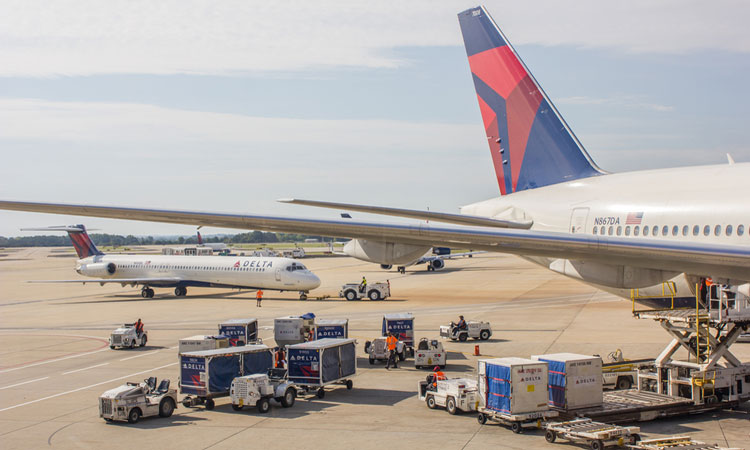 How will the use of e-AWB revolutionise air cargo? 
Delta is focused on increasing our digitalisation offering, and a key part of that is looking at ways to increase the take-up rate for electronic air waybills (e-AWB). The aim is to transition from paper air waybills to e-AWB which provides customers with a streamlined digital experience to book all domestic product shipments. The use of e-AWB also contributes to a more environmentally friendly and simpler booking process.
Delta Cargo launched a new website in November 2017, and this has been critical in providing our customers with visibility through the shipment process. The totally re-designed website, deltacargo.com, now provides customers with a one-stop shop for all their cargo needs, making the shipping process easier than ever before. Customers can submit electronic air waybills for free on the website which eliminates air waybill preparation fees and significantly improves the speed of the customer experience. Through the website our aim is to 100 per cent e-AWB domestically this year and internationally next year, where permissible by local authorities. Delta ranks number one (out of the U.S. carriers) in volume and penetration of e-AWB.
The team has also trialled self-service iPad kiosks in Atlanta and Boston, where customers have to submit e-AWB as a standard operating procedure. Kiosks were first tested in Atlanta at all shipment acceptance counters, including DASH offices. Since the start of the trial, Delta Cargo has recorded a 94 per cent increase from paper to e-AWB bookings for domestic shipments in Atlanta. Following positive customer feedback, these kiosks have now been rolled out in Boston, and will shortly be available in New York – JFK and Seattle cargo acceptance counters. Delta's current e-AWB penetration rate is 81.6 per cent year-to-date (1 January to 30 September), which is above IATA's global goal of 68 per cent e-AWB for 2018.
Can you explain more about the Bluetooth ULDs, and what it will mean for the industry?
With the introduction of new Bluetooth tracking technology, Delta will soon become the first U.S. passenger airline to provide, real-time tracking for unit load devices (ULDs). This comes as a direct results of our customers telling us they want improved tracking and immediate transparency for ULD shipments, and this best-in-class product will deliver exactly that. Real-time ULD tracking information will also allow Delta's cargo control centre to more accurately monitor and re-route shipments that are delayed due to irregular operations, like inclement weather.
This offering has now been extended to cargo businesses based off airport.
Since March 2018, Delta has deployed readers at 80 Delta and partner airline warehouse locations across six continents, including all U.S. hubs and major trucking stations with 70 locations remaining. Nearly 40 per cent of the ULD fleet has been tagged with Bluetooth asset trackers. By January 2019 the tracking system will be available on nearly all of Delta's ULDs with customer reader installations anticipated to be completed soon after that. For Delta, this will enable customers to have end-to-end tracking of the ULDs starting in their own warehouses throughout the journey to the final destination. This new service provides a number of customer benefits by eliminating all paperwork at the dock door when units are loaned out and producing a digital Uniform Control Receipt (UCR) which is emailed directly to the shipper.  In addition, customers will receive customised push notifications with full tracking available on deltacargo.com in 2019.
When implemented, the new tracking system will also enable Delta to produce electronic unit control receipts, which is required by the International Air Transport Association when ULDs are transferred between parties – making Delta the first airline to offer a fully automated solution for customer transactions.
How has tracking technology evolved?
Delta is focused on best-in class customer experience and operational reliability, with differentiated products and services that are tailored and developed to make it easier to do business with Delta Cargo. Our customers have asked for increased transparency in the shipment process as well as the ability to track their shipments.
In 2017, Delta launched DASH Critical & Medical the first fully GPS-enabled, same-day product offered by a U.S. freight and passenger carrier. The service provides real-time tracking and monitoring of any eligible shipment, and customers can ship items up until 45 minutes prior to scheduled flight departure. DASH Critical & Medical is now available from 18 locations in the United States with service to 89 mainland U.S. destinations and Hawaii. Further expansion is planned next year.
Equation Critical, was launched earlier this year as a new service for international shipments. This premium GPS-enabled service for the transportation of highly time-sensitive shipments that must travel on the next available flight, offers GPS tracking on deltacargo.com and moves with the highest priority across Delta's global network. Customers will know where their shipment is, anywhere in the world, real time.
With GPS tracking and 100 per cent service level guarantee, we are introducing a service that ensures important domestic and international shipments are in the right place at the right time, throughout the shipping process – giving our customers complete confidence when shipping critical and time-sensitive shipments across our network.Initially, Delta's Equation Critical service will launch for international shipments originating in Atlanta, Savannah and London, destined for Bogota, Colombia; Johannesburg, South Africa; Quito, Ecuador; and Seoul-Incheon, South Korea. Atlanta, Savannah and London will also accept import shipments. These routes allow fully GPS-enabled shipments. Equation Critical will be progressively rolled out in other international markets across Delta's extensive network, subject to customer demand and regulatory approvals.
What projects are Delta cargo working on that will support industry digitalisation?
Delta is focused on operational reliability and providing products and services that are focused on our customers. To support that, Delta Cargo opened the Cargo Control Centre last year.  This has been a game changer for cargo operations and for the logistics industry. The Atlanta facility provides comprehensive coverage of all aspects of cargo transportation and management, with the ability to track air shipments, trucks, mail, and freight – domestically and internationally. The team in the CCC know exactly where freight is at all times, anywhere on the globe. With that information, we can be far more proactive in predicting potential service issues and providing freight solutions to our customers, and that really is a game changer in the logistics industry.
Delta is also implementing new handheld scanners in Boston, Minneapolis, Los Angeles, Seattle and New York-JFK. Delta Cargo agents now have a mobile workstation with access to full shipment information in their hands. These devices, similar in look to a smartphone, are intuitive to learn. They also allow agents to load images of shipments, for example, at acceptance, damaged freight, shipping documents or live animals in transit to verify their well-being throughout the route. Images are loaded through WebVISion for any Operations and Cargo Customer Service Centre agent to view and reference.
Biography
Shawn Cole is Vice President of Delta Cargo, responsible for ensuring that the airline's logistics division continues to deliver on superior commercial, financial and operational performance. In his most recent role, Shawn served as Vice President – Financial Planning and was responsible for the annual planning process, rolling financial forecast, capital expenditure reporting & analysis, long-term plan development and maintaining a world-class financial system. Since joining Delta in 2008, Shawn has served as Managing Director in Financial Planning and as a Division Controller. Before joining Delta, Shawn was a Director of Supply Chain Value Management & Strategy for Coca-Cola Enterprises, responsible for actionable performance indicators to manage $12 billion in supply chain costs.