India's answer to a capacity problem country-wide: Digi Yatra
As passenger numbers continue to rise, airports are developing solutions to pressure points. In India, the use of Digi Yatra has ensured that despite the increase in passengers, efficiency and reliability have not been compromised. This can only continue to aid terminal operations and create a more seamless journey for passengers as the density of airports increase. Suresh Khadakbhani, General Manager of the Innovation Lab at Bangalore International Airport Ltd, reveals how the project took flight.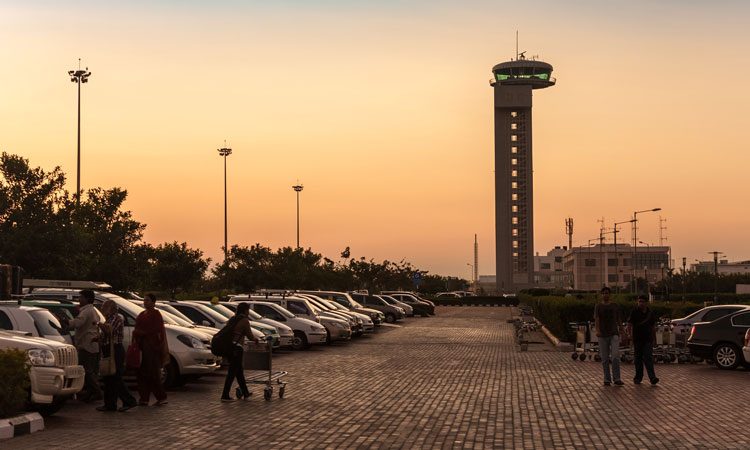 Background: BIAL and its Loyalty Programme
Bangalore International Airport Limited (BIAL) is a public limited company under the Companies Act formed to build, own and operate the Kempegowda International Airport (KIA). Private promoters hold 74 per cent while the Government holds the remaining 26 per cent. BIAL is responsible for the KIA's operations, commercial activities and infrastructure development in line with growing air-traffic.
The first phase of the KIA was concluded in March 2008 and became operational on 24 May 2008, 33 months after construction began. KIA was originally planned to accommodate 12 million passengers a year, but based on the unprecedented traffic trends, the airport was redesigned to handle 20 million passengers per year. The redesign resulted in an increase in the size of the terminal, number of aircraft stands, new taxiway layouts and supporting infrastructure. Passenger traffic has continued to grow at KIA, and the airport handled approximately 32 million passengers in 2018, officially making it the fastest growing airport in the world that year. With this growth expected to continue in the foreseeable future, BIAL has already begun further expansion projects which will result in airport capacity reaching more than 65 million passengers per annum. This will all be possible with the addition of a second runway (expected to be completed by October 2019) and a second terminal, Terminal 2 (T2), that is expected to be ready by March 2021.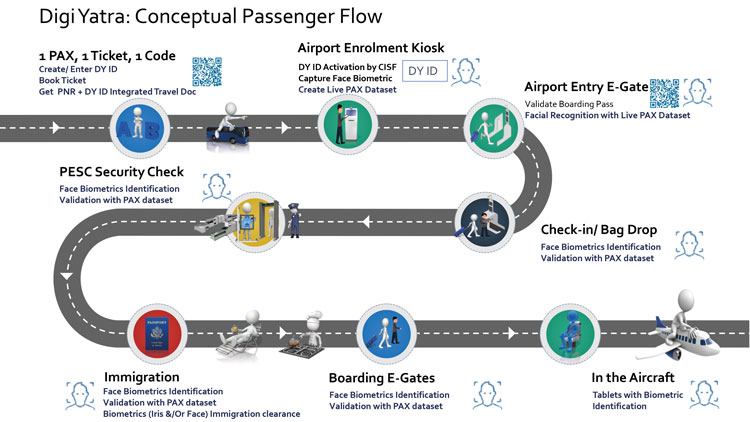 As the airport continues to grow at this rapid pace, BIAL is continually seeking to drive value creation at KIA, by undertaking strategic initiatives and a major digital transformation to increase operational efficiency, generate additional sources of revenue and most importantly, to enhance customer experience.
The Digi Yatra (Digital Journey) concept was initiated during a brainstorming session held for the design of T2. Multiple BIAL internal departments participated in a three-day workshop, discussing the future of the passenger journey across T2. As part of discussions, ideas to enhance the passenger experience at KIA were raised. We proposed a passenger process based on a single biometric token using facial biometrics. Our mantra was 'my face is my boarding pass'.
The intent was to give passengers a seamless, paperless and hassle-free journey, using facial biometrics as a single token for passenger verification and identification, while also having a digital process to validate tickets and boarding passes at the airport. The Innovation Lab at BIAL then began to develop the concept further and started interactions with some of the leading biometric service providers of fingerprint, iris and facial biometric identification solutions. Once the end-to-end process was conceptualised, we selected a global vendor to carry out a proof of concept and started passenger trials on live flights in January 2017.
Passengers loved the simplicity and convenience of the biometric process, especially getting rid of some of the bottlenecks at certain points of the airport, such as showing multiple documents (identity, e-TKT/ boarding pass, etc.) at multiple checkpoints inside the terminal.
We immediately realised the potential of this process and began discussions with authorities. BIAL demonstrated the new passenger process to the officials from the Ministry of Civil Aviation (MoCA), the Bureau of Civil Aviation and Security (BCAS), Central Industrial Security Force (CISF) and other sovereign agencies, who were all impressed with the simplicity, speed and the convenience that this new process offered to the passengers, while enhancing security at the airport.
 Drafting the Digi Yatra Policy
After numerous meetings and workshops, MoCA decided that a national framework needs to be created to draft the Digi Yatra policy.
The Framework for Digi Yatra has the following constituents:
At the apex is the Secretary of Ministry of Civil aviation
A Steering committee (Digital Cell) comprising CEOs of major Indian Public Private Partnership (PPP) airports, (including the MD and CEO of BIAL), Airports Authority of India (AAI), BCAS and CISF
A technical working committee (TWC) which comprises subject matter experts from airports, including members from BIAL, and the BIAL Innovation Lab.
The TWC conducted a series of workshops with all stakeholders including airlines, online travel agents, regulatory bodies, airports and the Unique ID Authority of India (UIDAI), to explain the concept of Digi Yatra and gather consensus among all stakeholders.
One of the initial challenges was the fact that we could not use the Aadhaar validation process due to regulatory issues that were raised by the Government of India. Aadhaar is a 12-digit number issued by the UIDAI to the residents of India once they have satisfied a verification process laid down by the Authority. Although being unable to use the process was a setback, we decided to continue our journey with the facial recognition-based process.
A decision was taken to form a not-for-profit joint venture company (JVC), with shareholders comprised of the AAI and other PPP airport operators across India.
This JVC was tasked to create an 'on-the-cloud pan-India, Identity-as-a-Service' platform called the 'Digi Yatra Central Identity Management Platform (DYCIMP)'. This was envisaged to be the world's first, truly scalable national level trusted-traveller programme based on a single-token biometric identity. This platform would serve all airports across India for the identification and validation of passengers.
Objectives
The objective was to ensure that every passenger (both Indian citizens and foreigners) would become a 'Digi Yatri' and would be able to enjoy the privileges and benefits of the Digi Yatra programme. The main objectives of the programme were:
To enhance the passenger experience and provide a simple experience to all air travellers

Deliver a seamless, paperless and hassle‑free experience

Achieve better throughput via existing infrastructure using a digital framework

Walk-through process facilitated by advanced facial biometric solutions

Result in lower-cost operations 

Remove redundancies at checkpoints and improve enhance resource utilisation 

Digitise current manual processes and bring better efficiencies

Get real-time notifications about congestion and delays to have greater visibility throughout the journey

Navigate seamlessly through the airport using digital guidance systems, interactive kiosks and augmented reality
Enhance security standards and improve current system performance

Enhance security at Indian airports using Digi Yatra ID-based verification and identification with real-time facial biometrics, validation of boarding pass or e-tickets with the airline system in real‑time.
Goals
The goals of the project were twofold. Firstly, to set the standards/standard operating procedures for digital transformation of the Indian aviation industry. And secondly to create the DYCIMP with 'Digital Identities' like Aadhaar, passports and other forms of official ID, enabling biometric boarding process for all airports across India.
Biography 
Suresh Khadakbhavi is General Manager of the Innovation Lab at Bangalore International Airport Ltd. He has a BEng in electronics and communications and is a certified project management processional. Suresh has 26 years' ICT industry experience including nine years in the aviation industry. He was a key architect of the revolutionary Digi Yatra project and is responsible for shaping and developing the vision, strategy and roadmap of BIAL and managing and fostering an innovation culture at BIAL Airport.