Interview spotlight: Charles Hendriks, Schiphol's Digital Architect
With over 320 destinations served by 111 airlines, Schiphol Airport's network is huge. Despite in 2017 welcoming 68.4 million travellers at Schiphol, with numbers still rising, the airport must do more to develop. Ahead of groundbreaking in early-2019 for construction of a new pier, followed by a new terminal, Charles Hendriks, Digital Architect at Schiphol explains they will also be investing in innovations such as biometric border control, smart assets and mobility services, and with effective use of these solutions, the airport will connect with its passengers to provide even better services.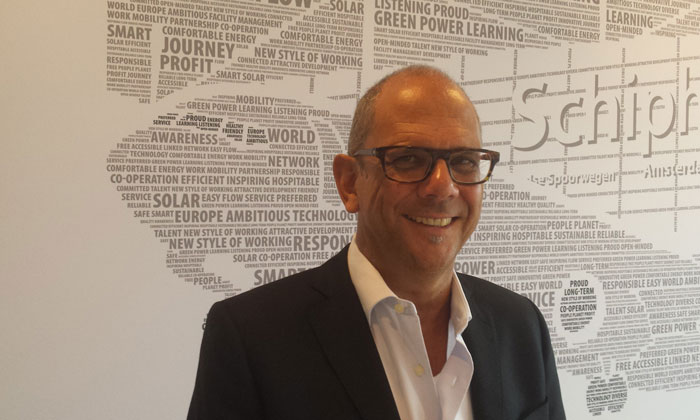 TREND SETTERS: Schiphol is leading the way for seamless travel
How is Schiphol Airport taking a holistic approach towards seamless passenger experience?
Adding biometrics to the passenger journey is the next step in self-service evolution. A lot of airports are trialling biometrics with goals to make the passenger journey more seamless and to reduce hassle when clearing check-points in a secure and reliable way. At Schiphol we believe that an integrated approach, where each check-point reuses the same passenger profile (combination of identity from passport, flight from boarding pass and biometrics supplied by the passenger), is the way forward. Eventually all check-points will use the same biometric profile. The IT platform supporting the journey must be designed with this approach in mind and to securely interface with the systems of all public and private stakeholders involved.
The biometric component is a huge step forward in making the passenger journey more seamless. The necessary combination of technology and procedures (and agreements making them possible) to make it work are completely new and could be a stumbling block if not approached in a holistic and integrated way. Attention must be paid to people, platform and processes in equal parts to create a solution that truly benefits passengers, meets compliancy demands and has a positive cost-benefit relationship.
When the first train was introduced in the Netherlands, a man bearing a red flag had to walk in front of it. The whole concept was new, and society had to get used to it gradually. With this in mind, we have chosen to develop a complete basic solution (a so-called minimal viable product) and introduce it step-by-step in an agile way. We started with a small team, delineated installations of the platform at checkpoints (i.e. boarding, border) enabling a few processes at the time, involving limited staff and with volunteering passengers. Parallel to these proofs of concepts we have gradually expanded the team and stakeholder involvement which is essential; at airports, public-private cooperation is paramount to success. As the example of the red flag has shown, developing a fitting legal and privacy framework must be seriously addressed. Without buy in from legal authorities and consumer groups, change will not be supported, and progress will stagnate.
In designing the platform and its components with our supplier and advisors, we have made sure that privacy of passenger data and (IT) security meet the highest demands and can be further developed during the rollout. Our integrated and agile approach will ensure that many factors have, and will be, considered. The so-called 'poldermodel' (consensusbased decision-making) is part of our genes and helps us to keep our feet dry (the airport at ground level is 7m-below sea level), make progress and not leave anybody behind.
How is Schiphol using digital solutions to adjust capacity on, for example, security lanes to make journeys more seamless?
The Passenger Journey Manager is part of our approach, and enables real-time measuring of arrival patterns. Via API's (IT speak for methods of communication) or direct updates, changes are made available to the Airport Control Room, which in turn adjusts capacity when needed.
What does the airport industry need to do to make journeys more seamless?
For 2018 I believe the message is to share experiences (including failures), and work together with government agencies and interest groups to create the requirements for proofs of concepts to be successful.