Streamlining security: A Q&A with Point FWD's Robert Schuur
Robert Schuur, Consultant at Point FWD discusses the company, its relationship with Amsterdam's Schiphol Airport and what he's most excited about in the field of airport security.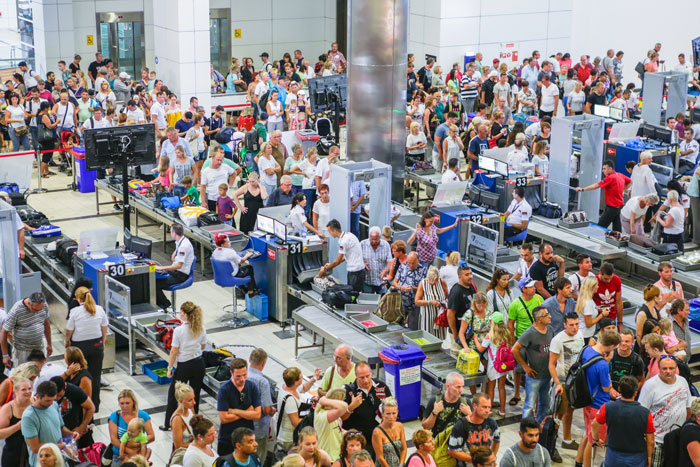 PEAK TIMES: Robert Schuur prioritises keeping up with growing passenger numbers
First and foremost, who are Point FWD?
Who Point FWD are is a question with answers from a personal and a professional stand point, I think first and foremost we are a close-knit team with extreme focus on performing to the best of our abilities. We are led by Gunther van Adrichem, who is an industry leading subject matter expert when it comes to aviation security and technology. The rest of the team consists of Bachelors of Engineering with a specialisation in Aviation Security & Technology, most of us know each other from university even before working for Point FWD. I think it is fair to say most of us actually were friends before working together here. This underlying friendship in my opinion results in a team that pushes each other and is willing to work for each other.
On the professional side, Point FWD is a consultancy firm specialised in Aviation Security processes. We are believers in the strength of data and base our advisory work on thorough data analysis. Our primary focus area is the passenger security process, a process in which so much progress is obtainable through the smart use of readily available data sources. This progress is on the operational side (increase in throughput, reduced queuing, etc.) but also on choosing the right functional design option in a security checkpoint (re)design, all too often we see combinations of components that are supposed to result in a fantastic operational performance, but when doing the actual math certain sub-components can never deliver the promised performance. Executing a design modulation in such a situation can serve as a very welcome sanity check for airports in advance of multi-million euro investments. 
What is your relationship with Amsterdam Schiphol?
Amsterdam Airport Schiphol is literally in our backyard and Gunther worked for Schiphol for over 10 years so a close connection is there. Schiphol is world renowned for its innovative strategy, it welcomes new concepts and ideas for the future with open arms. On a regular basis, we work with or in an advisory position for the various departments at Schiphol.
What is the single greatest challenge we face as an industry at present?
Keeping up with growth, considering Airports are often buildings with very limited possibilities to expand. To accommodate growth whilst maintaining high security standards in a world with shifting and changing threats to aviation would be in my opinion the greatest challenge for the industry.
As an industry, we should work together in creating a situation where measures are not only added but incorporated into the whole security ecosystem. Cooperation between involved parties is crucial in accommodating the passengers of the future, and perhaps the security check as we know it is approaching the end of its era and we are on the forefront of a revolutionary new approach.
In terms of technological developments, what are you most excited about for airport at present?
I'm most excited about automation, the automation of processes in favour of the passenger. This in my opinion entails being able to register at one point during your journey and going through all the sub-processes (check-in, baggage drop off, security and border control) without hassle. But also entails stand-off security measures such as a walk-through MM-wave scanner or a UV-explosive scanner and Border control on the move through advanced biometrics. 
Imagine we are having this conversation in a year's time, what will have changed?
I hope several Explosive Detection Systems for Cabin Baggage have been C3 certified by ECAC, which would be a big step in enabling a more automated security process since passengers aren't required to divest extensively anymore. Furthermore, I hope that in a year the first trials with walk-through MM-wave scanners are being held at European airports and significant progress is made with stand-off explosive detection solutions.