Budapest Airport – Keeping pole position in Europe
Budapest Airport, the capital city gateway of Hungary, is perfectly located as a gem of Central and Eastern Europe and among the most easily accessible areas in the region. Holding its position as one of Europe's fastest growing airports, Budapest welcomed a robust average 14.5 per cent year-on-year increase in passenger traffic last year. Far outperforming the entire EU market average 7 per cent growth, the gateway experienced its third year of double digit passenger traffic growth and broke the 13 million passenger mark in 2017. Following on from the airport's success, Kam Jandu, CCO at Budapest Airport, reveals the plans to ensure they remain one of the best connected, and top performing, in Europe.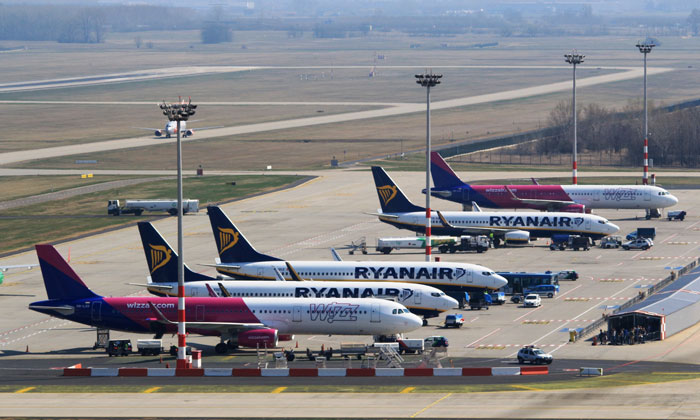 HUNGARIAN HUB: Budapest has opened more than 50 new routes in the last two years
At the end of 2017, Budapest Airport offered more than 850 direct weekly flights to over 130 destinations on 44 carriers – the most the Hungarian gateway has ever had in its airline portfolio. To maintain and support our route development opportunities, Budapest has recognised that, while still needing to bring in new airlines and new routes, it is just as important to retain the number of destinations the airport has.
As an uncoordinated airport – any airline which satisfies all ICAO regulations are able to fly from Budapest as long as they have relevant permission – so we can be subjected to questions by our incumbent partners whenever a new entrant arrives, but we have incentives for all new services we attract, whether it be with current or new partners.
The days of monopoly routes are long over, meaning the airport is more connected, with greater frequencies than ever before and we continue to build on this. In 2017 alone, we welcomed three new airlines and 25 new routes. We've also recently announced eight new services in the face of strong competition from other airports.
Growth, development and partnerships
With a range of options such as landing fee discounts, marketing support programmes and recognised data sets including research to help airlines make more informed decisions, Budapest continues to target new route development, while also strengthening existing operations.
We encourage frequency increases with all our partner airlines as we ourselves focus on Budapest as a popular destination. Working with tourism boards, the travel trade and stakeholders to increase the awareness of Budapest will ultimately lead to higher demand.
Although we have welcomed over 50 new routes in the last two years, some important white spots on our route map do remain, including: Bangkok; Belfast; Chicago; Delhi; Los Angeles; Mumbai; Newcastle; Seoul; Shanghai; and Tokyo.
While intra-European traffic forms an established foundation of Budapest's development, we recognise that long-haul routes are part of our future. Records show that direct services not only make connections easier for the consumer but also stimulate high demand, applying to both short- and long-haul sectors. A good example of this follows the launch of Emirates' daily service from Budapest to Dubai three years ago: initially with a potential market size of 20,000 passengers, today the market has grown by 450 per cent to 90,000 passengers.
It is important that we cover all markets and we hope to replicate this level of success in both transatlantic and European white spots.
Development strategy: Low-cost or legacy carriers, short- or long-haul routes?
While Budapest expects to remain above the EU average growth, realistically we expect the vigorous expansion rate to slow in the coming years – partly due to the consolidation of airlines. Although the large quantity of carriers in operation is driving fares lower, which is a positive for the consumer for the airline business itself the sheer number of competitors is effectively producing a contracting market – the troubles at Alitalia, Air Berlin and Monarch Airlines being just three recent examples – which ultimately leads to a slow-down of the growth cycle.
As a maturing market, strong cooperation with all carriers is important for our development. While short-haul airlines will react quickly once an opportunity is identified and continue to fill the gateway's route map with new destinations, long-haul carriers' interest rises as the appeal to feed more traffic to their hubs grows along with Budapest's potential market size. At the same time, point-to-point airlines such as easyJet, Norwegian, Ryanair and Wizz Air have added more new routes, while airlines such as Air France, British Airways, Emirates, Finnair, KLM, Lufthansa, Qatar Airways and Turkish Airlines have recorded an average 20 per cent capacity increase in the last five years, the end result being that the complete airline portfolio has delivered an equal increase of seat capacity.
Notable new connections
In a significant piece of network development, in 2017 Budapest secured the resumption of U.S. services. Feeling the loss of the U.S. market seven years previously, we have consistently been the largest unserved European destination from New York since. Seeing the market potential – close to 150,000 passengers between Budapest and New York – LOT Polish Airlines will launch a four-times weekly service to New York JFK in May 2018, as well as a twice-weekly operation to Chicago O'Hare – the number two sought after destination in the U.S. from Budapest. 
Just weeks after confirming the initial reconnection with the U.S., we confirmed the welcome return of American Airlines, which ceased operations in Hungary in 2011. Strengthening our transatlantic links from summer 2018, the oneworld member will return with a daily service to Philadelphia.
As a result of the new links, Budapest will immediately offer close to 6,000 weekly two-way seats direct to the U.S. throughout summer 2018, and with 300,000 U.S. tourists expected to visit the country during 2018, the routes will help serve the high demand and enhance inbound traffic to Hungary.
Benefits of BUD
Budapest is dynamically progressing as one of Central Europe's fastest expanding airports, but we cannot be complacent for a second. Alongside the airport's superb achievements, the city itself is experiencing outstanding results and recognition. For example, its Foreign Direct Investment (FDI) 2016 results showed over $10,000 more per capita than other Central and Eastern European capitals. Also emerging are Budapest's tourist attractions – hosting many great sporting events including the FINA World Championships 2017, the F1 Hungarian Grand Prix, the Red Bull Air Race, and the World Judo Championships, as well as one of the largest music festivals in Europe, the Sziget Festival.
While Budapest can find itself competing against airports such a Vienna, Prague and Warsaw for new short-haul routes as the gateways try to attract the same airlines, the Hungarian capital city has to vie against most of Europe for long-haul operations, so the need to differentiate our product is considerable.
Working in close cooperation with the Ministry of Foreign Affairs and Trade, tourism boards and stakeholders, we focus on the increased awareness of Budapest around the world, emphasising the attractiveness of Hungary, not only to airlines but also business and leisure travellers alike.
We have to showcase our country in facts and figures as well as commercially. We have our USP which no other airport can offer right now. I like to call it our 'liquid gold' – the River Danube. Gracing the centre of our beautiful city and the booming river cruise trade, which has developed from 2,000 to close to 250,000 visitors per year from North America, Australasia and Russia (to name just a few) flying through Budapest, it has become our new premium leisure market.
Alongside the thriving river cruise business, Hungary is also home to the world's leading site for natural thermal water spas. Budapest's popularity is continuously being strengthened by the growing number of international tourists arriving at the capital city airport, with an 8.6 per cent year-on-year growth of visitors in 2017 alone. In order to accommodate the growth, we are investing €180 million during the next three years to expand and modernise our infrastructure – with projects including a new pier, check-in extension, parking upgrades and a new airport hotel – ensuring Budapest remains one of the most successful airports in Central and Eastern Europe, in terms of passenger growth, service quality and operational efficiency.

Kam Jandu has been Chief Commercial Officer at Budapest Airport since 2013, responsible for all passenger and business related commercial and marketing activities. Prior to this he was Director of Aviation at Budapest for four years. Before joining Budapest, Kam gained 21 years' experience working in both the airline industry with bmi and Star Alliance GmbH, and the car rental industry working with Hertz and Budget.