One of easyJet's earliest bases has celebrated 20 years with the airline
Liverpool John Lennon, easyJet's second base, has held a little celebration to mark 20 years to the day since the airline's first flight set off from the airport.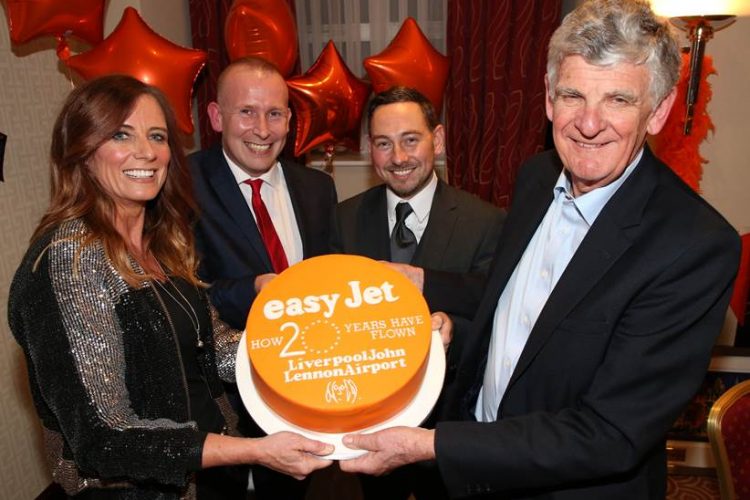 THERE'S CAKE: (L to R) Tina Milton, Head of Cabin Services for easyJet, Paul Winfield Air Service Development Director for LJLA, Phil Jones Cabin Services Base Manager for easyJet and Robert Hough Chairman of LJLA with a celebratory cake.
On October 27, 1997, the first flight to set off from easyJet's newest Northern hub, Liverpool John Lennon, to land in Amsterdam. 
Since then easyJet has carried over 39 million passengers from Liverpool and flown over 300,000 flights. easyJet's combination of affordable fares, commitment to customer service and innovative new technology such as mobile boarding means that over 2.3 million passengers every year fly easyJet from the airport.
To provide a cultural reference, as the very first flight was rolling down the runway 20 years ago at Liverpool John Lennon, Barbie Girl  by Aqua had just knocked Spice Up Your Life off the number one spot in the UK single charts, New Labour was in full swing. easyJet has grown rapidly since those Brit-pop days and now has an unrivalled network of over 28 routes served from the airport.
Liverpool continues to be a key base for easyJet in connecting the North West and the airline employs 375 pilots and crew at the airport. The airline has confirmed a move to expand at its Liverpool base, with the introduction of an additional Airbus A320 aircraft for next summer – the eighth aircraft to be based in Liverpool.  easyJet remains committed to providing easy and affordable connections to and from Liverpool by offering customers low fares and a convenient schedule for both leisure and business travellers. Venice is the latest new route which starts next Tuesday.
Ali Gayward, UK Country Manager at easyJet said: "We're delighted to be celebrating easyJet's operation over the past two decades from Liverpool today.  20 years ago easyJet changed the way Europe travelled. We challenged the high price monopolies of the legacy airlines and enabled a new generation of people of all ages, incomes and interests to enjoy Europe. 
"We started with fares from Liverpool from £29 – or as we advertised at the time, the same price as a pair of jeans.  A pair of Levis 501s will now set your back £75 while our fares to and from Liverpool start from £23.49.
"I have to thank our fantastic customers who travel to and from Liverpool for their loyalty and support.
"Although today we're celebrating 20 years of easyJet in Liverpool, we're even more excited about the future.  We will continue to challenge conventional thinking and we look forward to where the next two decades could take us." 
Paul Winfield, Air Service Development Director for Liverpool John Lennon Airport commented: "easyJet has been instrumental in taking Liverpool from being an airport with just under 700,000 annual passengers when they first arrived in 1997 to 5 million passengers today. They have helped to give passengers from the Liverpool City Region and the wider North West and beyond, the opportunity to be able to choose to fly from a convenient, hassle free airport, offering great customer service with value for money air fares.
"Their recent decision to base an eighth aircraft here next year, will help to develop our long term partnership further benefiting not just the airport but the local economy too."