Do airports and airlines really deserve their bad rep when it comes to sustainability?
In this exclusive article, Enoch Opare Mintah, PhD candidate at Kingston University, London and Associate Lecturer of Governance at the University of Lincoln, UK, argues that the aviation sector is inarguably one of the proactive and forward-looking industries when it comes to sustainability.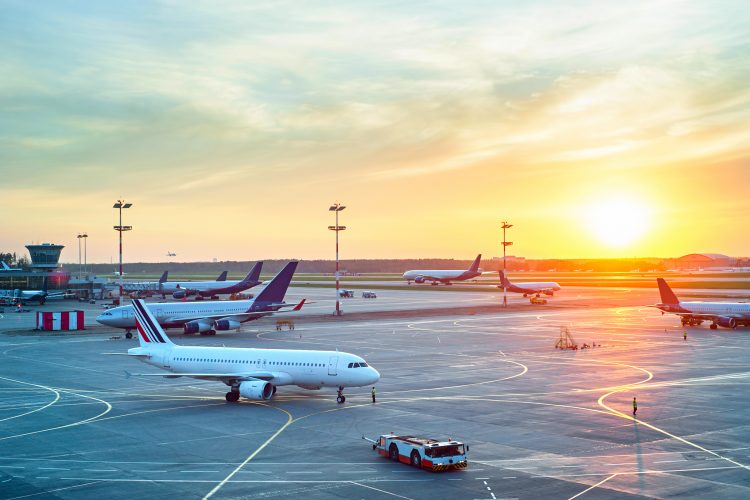 Accountability and transparency for sustainability and climate change actions of airports and airlines have come under intense pressure as the argument for realism of the industry's ambition and authenticity of campaigns have not been received favourably by some stakeholders.
Depending on your ideological posture, whether you are interested in the sustainability conversation or not, the climate change crusade has unconsciously brought all of us to the table of awareness in regards to the need for pro-environmental behaviour and sustainability cognisance. Waking up every day to the mere thought of being a product's customer provides that self-regulatory instinct for companies to assess their products and services both from a producer and end user perspective in the sustainability context. Industries across the world have set ambitious sustainability targets which have been seen by a "sect of society" as overly ambitious, giving rise to culprits of woke washing, blue washing and the popular greenwashing, landing some companies in a legal tussle, reputational damages and court and regulatory fines.
Across the industries, the aviation sector has still not been able to garner enough trust, socio-economic and political acceptance, and goodwill from stakeholders like other industries have, especially with regulators and customers when it comes to the subject of the authenticity of their sustainability actions. A simple Google search of "what are the most sustainable industries?" will show that out of the top 15 industries, aviation is noticeably absent. Perhaps, try Googling "which industries are leading sustainable innovation?" and the first results show the transportation sector at the bottom of top five industries. Interestingly, the narrative is dedicated to the automotive industry and the electric car successes with no mention to the countless sustainability innovations and initiatives in the aviation industry.
To bring this home, news readers might have happened upon the latest ban of Lufthansa's green advert "Connecting the World. Protecting the Future" by the UK Advertising Standards Authority (ASA) deeming this caption as a "misleading impression of its environmental impact" to its customers and the wider stakeholder population. For those interested in Google searches or other's engrossed in reading the news, results of this nature put the aviation industry in a bad light when it comes to the conversation of sustainability.
The aviation industry is under increasing pressure to reduce its carbon footprint as jet fuel dependency and waste management issues of airlines, cum expansion activities of airports requiring more energy usage for new terminals, ground transport vehicles and infrastructure development is not just contributing immensely to climate change, but to biodiversity loss and deforestation. However, for an industry that is contributing 2.5% to global CO2 emissions with figures far less than that of road transport, shipping, industrial energy usage, coal, iron and steel, fashion, oil and gas industries etc., the position of this article backed by empirical facts and evidence is that the aviation industry is inarguably one of the proactive and forward-looking industries. Through a multi-faceted approach to mitigating its negative impact on society and reducing its carbon footprint, the industry has been intentional in building individual and collective efforts through a host of blueprint initiatives with a few outlined below.
Sustainable aviation fuel (SAF) investment
SAF is not simply an alternative fuel, but the materials used for its production are simply sourced from waste including but not limited to used cooking oil, feedstock, household waste. Apart from reducing CO2 emissions by up to 80%, the sustainable sources for its production means there is no impact on biodiversity, no water pollution and no deforestation. As of now, more than 45 airlines have used SAF for over 450,000 flights mixing with jet fuel at a 50% industry blend limit. Earlier this year, Emirates operated its first milestone demonstration flight on a Boeing 777-300ER powering one of its engines with 100% Neste SAF. This is evidence for an industry's readiness to push the regulatory bar of 50% forward to accelerate sustainability action. United Airlines for example have not only created the new and ambitious $100m+ Sustainable Flight Fund to support start-ups focused on decarbonising air travel by accelerating the research, technology and production of SAF, but have also introduced the world's premier human resource strategy for sustainability and climate action with the creation of the Chief Trash Officer portfolio. This evidence shows a commitment of human capital, finance, and innovation strategy to decarbonisation. 
Building eco-friendly airports
Most airports around the world are becoming eco-friendly through the adoption of greener elements into their infrastructural designs, operational strategies and most popularly subscribing to eco-friendly initiatives and programmes. The Airports Council International's (ACI) Airport Carbon Accreditation programme is currently assisting more than 200 airports in achieving carbon neutrality through the management of their emissions. For example, while Boston Logan International, Terminal A has roofing and pavement surfaces that reflect heat away from the building, Galápagos Ecological Airport infrastructure was built using about 80% of recycled materials. In fact, Stockholm Arlanda Airport is one of the prime facilities in the world to achieve carbon neutrality in 2009 with a carbon dioxide emission cap in its environmental permit. Singapore Changi Airport recently opened Terminal 4 and features a green wall with over 20,000 plant species aimed at improving air quality around the airport.
Carbon calculator effect
Placing in the hands of customers the power to contribute at a personalised level to climate change mitigation by calculating the CO2  footprint of their flight journey is a remarkable breakthrough in the aviation industry in the race to net-zero by 2050. This innovation led by the International Air Transport Association (IATA) can be used by customers by simply searching for flights, selecting departure and arrival airports, the aircraft type and then pressing the calculate button which provides customers the opportunities to contribute to individual carbon offsets.
Sustainable waste management
The airline industry faces challenges associated with the improvement of cabin waste management and the substitution of single-use plastics (SUP) products with sustainable alternatives. The partnership between Alaska Airlines and Boxed Water has resulted in the replacement of single-use plastic water bottles with plant-based cartons and recyclable paper cups on their flights, similar to Etihad's 2019 ban on single-use plastic products on long-haul flights. Emirates' zero initiatives include the use of blankets, the provision of complimentary toy bags, baby amenity kits, and stuffed toys made from recycled plastic bottles, as well as the recycling of plastic bottles sold on flights. All these initiatives reducing SUP by huge margins.
With these few elaborated sustainability and climate change related initiatives by airports and airlines, it is very awkward to think of the bad reputation the industry has suffered in the past few years. The question now is whether the unpopularity of these authentic industry efforts is a PR function failure on the part of airports and airlines or as the adage goes, that "bad news travels faster than good news".
Whichever be the case, the position of this article reiterates the industry achievements and calls for a fair and open-minded approach to appraising the sustainability and climate related efforts of this industry while encouraging same to reconstruct their sustainability reporting strategy in a tailored way which enlightens and engages stakeholders.
Have an opinion on the article? Let us know in the comments below!
About the author

Enoch Opare Mintah is a PhD candidate at Kingston University, London and an Associate Lecturer of Governance at the University of Lincoln, UK. He holds an MBA (University of Liverpool, UK), MSc Governance (University of Lincoln, UK), Cert. Hospitality and Tourism Management (Florida Atlantic University, USA) and BA English (KNUST, Ghana).
He is a member of the British Accounting and Finance Association (BAFA), European Accounting Association (EAA), Institute of Corporate Responsibility and Sustainability (ICRS-UK), Chartered Governance Institute UK and Ireland (GradCG) and Association of MBAs' (AMBA).
His research interest revolves around environmental, social and governance (ESG) disclosures; sustainability reporting; corporate social responsibility; non-profit leadership and education for sustainable development.
Enoch has worked with multi-nationals, including large and small for-profit and non-profit organisations across the globe. Continents include Africa, Europe and Asia and he has successfully delivered several international projects – to global recognition.