Munich Airport's CEO discusses the Gateway to the Alpines
For International Airport Review's revived CEO Series, Editorial Assistant, Lily Mae Pacey spoke with Jost Lammers, Chief Executive Officer at Munich Airport, who outlined the summer recovery, digital transformation, and how the airport ensures to accommodate each individual passengers' needs.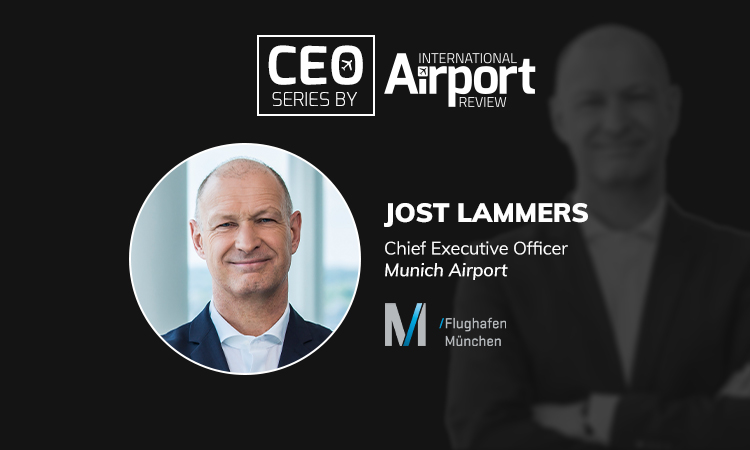 What is your airport's most distinguishing feature that gives passengers a sense of place?
I would say that 'creating a uniqueness through imposing regionality' is our most distinguishing feature that gives passengers a sense of place. With its location in the heart of Bavaria, the airport positions itself as the gateway to the Alpine region. At Munich Airport, passengers can 'inhale' the famous Bavarian spirit. The typical Bavarian hospitality reflects in signature restaurants, retail areas, the infamous Munich food market (Viktualienmarkt), the airport brewery Airbräu with beer garden and events such as the authentic Christmas and Winter Market.
Did the summer results meet your expectations?
With the reopening of the markets, traffic has come back very dynamically. Passenger volume is now at 75 per cent compared to pre-pandemic levels. We were able to handle 10 million passengers in the third quarter. It is no secret that we had to deal with irregularities such as flight cancellations and reduced capacities this summer. Nevertheless, we are looking to the future with hope and expect a total of 31 million passengers for the entire year 2022. In fact, U.S. traffic is already above pre-COVID-19 levels. United Airlines has even increased its service and currently operates six daily flights to the U.S. – one more destination from Munich than in the pre-crisis year of 2019.
How does the airport provide and pivot to accommodate a personalised passenger experience?
At Munich Airport, passengers enjoy the unexpected – experiencing and joining playful events and entertainment as part of their vacation trip. Exciting events strengthen the Munich Airport brand and develop the airport into a renowned event location. Furthermore, we try to create inspiring and innovative retail and entertainment offerings by new technologies such as virtual reality (VR) and augmented reality (AR). The optimisation of the customer experience through artificial intelligence (AI), for example conversational commerce through AI shopping assistants, are also developing.
Through digital tools and the passenger's own devices we can ensure continuous engagement through personalised travel information, interaction, follow-ups, gamification elements and community building. Targeted pre-trip shopping offers (online), gate delivery or home delivery add to our personalised offers.
What are three future challenges you foresee for the aviation industry?
I consider the biggest challenges for the aviation industry to be the continuous recruiting of skilled workforce, the ecological transformation with the goal of achieving Net Zero by 2050 at the latest, and the infrastructure expansion to create new capacities.
How is the airport leveraging digital transformation to improve the airport experience?
A few examples of how we, as an airport, can make travel more comfortable for our passengers is through the introduction of digital offers and solutions: contactless check-in processes including bag drop-off, automated processing with biometric support for passport or boarding card control and boarding gates. Digital screens informing on waiting times at security control, online booking of express slots for security checks, as well as touchless and contactless payment solutions.
Where are you on your sustainability journey?

CO2 neutrality is a key component of our modern and sustainable corporate strategy.
To achieve our general climate targets, the plan is to reduce the CO2 emissions, which the airport can influence by at least 60 per cent with technical measures. The remaining 40 per cent will be offset through appropriate projects located within the region. We are investing a total of €150 million to reach this goal. The long-term goal is to completely reduce all CO2 emissions and become Net Zero by 2050 at the latest.
The use of sustainable aviation fuels (SAF) is one significant step closer to our goal. The use will make the aviation industry in general more sustainable. By approving our refuelling facilities for sustainable aviation fuel, we are enabling airlines to reduce their emissions on flights from Munich by using SAF.
How crucial is the workforce to the airport environment and overall ecosystem, and how can we abate the current issues around lack of staffing and skilled workforce?

As an employer, we are once again noticing an increase in attractiveness. We must continue to drive this trend with the introduction of new technologies and digital solutions that simplify work processes, increase productivity and support employees in their work. Regarding remuneration especially for lower salary groups in the core operational areas should be expected to balance consumer price index (CPI) increases for cost of living.
What would you advice smaller airports to capitalise on the most?
We do not want to tell smaller airports what they should do better as they have a very different business model in comparison to large hub airports. But what I can say is that smaller airports should keep their agility and their simple processes. That's what makes smaller airports attractive to passengers.
What do you feel are the three upcoming industry trends that will change the future of aviation?
The digitisation of processes is, and remains, a top issue, especially regarding the passenger journey. SAF will also change the future of aviation. Here, politics must ensure a level playing field and strict avoidance of carbon leakage. Advanced air mobility will bring about a further big change. Electrically powered air taxis – so called eVTOLs and drones for freight transport will become part of the mobility offering at airports. Vertiports will have to be integrated into the airport scenery, new regulations and guidelines for this future mode of traffic will further be needed. In the further future, airports may take on the role as intermodal mobility hubs integrating aviation, hyperloops, autonomous vehicles, rail connectivity and eVTOLs.
Biography

Since January 2020, Jost Lammers is CEO of Munich Airport (Flughafen München GmbH), as well as the President of the German Aviation Association (BDL). Since January 2020, the experienced aviation manager has been the CEO of Flughafen München GmbH.
Lammers became involved in national and international industry associations at an early stage, and for two years, starting in June 2019, he served as President of Airports Council International (ACI) Europe, the European umbrella association for international commercial airports.
Related topics
Airport development, Airside operations, CEO series, COVID-19, Digital transformation, Emissions, Passenger experience and seamless travel, Passenger volumes, Recruitment and training, Security, Sustainability, Sustainable Aviation Fuel (SAF), Sustainable development, Terminal operations, Workforce
Related airports
Related regions