Accessible travel is possible at iGA Istanbul Airport
Hilal Kahraman, Passenger Experience Chief of iGA Istanbul Airport, discusses the award-winning accessibility practices that the airport has introduced and is continuously expanding to provide a positive experience for all passengers.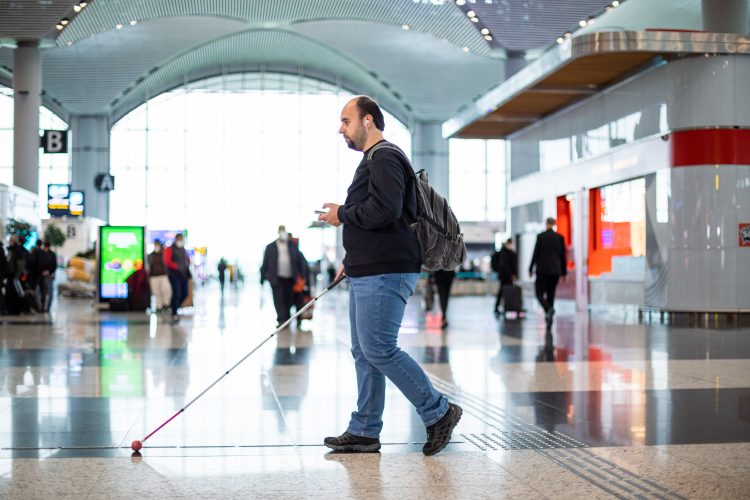 Credit: iGA Istanbul Airport
iGA Istanbul Airport is a global hub where people from all countries, cultures, and ages meet. We want all guests visiting our airport to have the best airport experience with our friendly team and the easy and convenient services we offer in every corner of our airport. At Istanbul Airport, we design the experience for people, and we always consider the human touch.
With our pioneering accessibility practices and our national and international awareness efforts to draw attention to the relevant issue, we aim to provide independent services that appeal to disabled individuals not only in Turkey, but across the world.
At Istanbul Airport, we design the experience for people, and we always consider the human touch"
We are very proud that in 2021 iGA Istanbul Airport received the 'Accessible Airport' award by ACI Europe for our accessibility culture and barrier-free airport concept we have created since our design stage.
Focusing on greater autonomy for passengers with disabilities
In line with our motto, 'Accessible travel is possible at Istanbul Airport', we have focused on the right to accessible and independent travel for all individuals.
To understand passenger needs and expectations, we met with NGOs working with different disability groups. Together with individuals who are visually and/or hearing impaired, have cerebral palsy, or autism, we explored the airport as though we had a flight to board, and discussed with them the measures we could implement at each step.
Exceeding the standards for a more accessible and independent airport experience
Two things are important for every passenger at an airport: directions and the ability to get the information they need as quickly as possible. Ensuring accessibility in these two areas means that independent travel is highly supported.
With this in mind, we implemented many accessibility measures at our airport and brought all these services together under the umbrella of 'İGA Cares':
Loud Steps indoor navigation
Today, visually impaired guests can find their location in the airport using the Loud Steps, which was specially developed for them, and available on the Istanbul Airport mobile application.
Sign language services
Guests communicating in sign language receive services in sign language from the digital information kiosks or via the Video Call Centre, available on our website and mobile app.
Sunflower Lanyard
Passengers with invisible disabilities are provided with a Sunflower Lanyard, free of charge, from the information desks, which will easily identify them to our staff members. In this way, our trained personnel will attend to them more sensitively and provide the help and support that they need.
Special passenger service points
Those passengers who are sensitive to noise and crowds have the option of resting in a quieter area at the Special Passenger Service Points located at the check-in area.
Very special guest cards
Passengers who require a quieter environment away from the crowds due to conditions such as autism, Down's syndrome, dementia, and cerebral palsy can apply on our website for a Very Special Guest Card. With this card, they can use Very Special Guest Rooms and iGA Buggy vehicles free-of-charge with a companion. Travellers in wheelchairs can also use the Adult Changing Rooms if required. 
We care about education and awareness exercises
With the importance that the human factor has on all service and product improvements, we are enriching our accessibility awareness training courses with videos where disabled individuals, or their relatives, share their own expectations and experiences. Specialised personnel are also learning Turkish and international sign language.
Collaboratively working with our disabled colleagues
We maintain an inclusive attitude to promote the active involvement of individuals with disabilities in everyday life. For example, we employ individuals with disabilities to support their active inclusion in work-life.
Events to raise awareness
With our role in national and international organisations, we have taken action to raise awareness on this matter on a large scale and to spread accessibility solutions worldwide.
By collaborating with NGOs, we organise outstanding events on special awareness days such as:
Sign Language Contest
We continue to work for disabled people by offering an accessible, independent, and enjoyable travel experience with the mind-set of 'Everybody has right to travel independently and comfortably'"
In order to draw attention to the importance of accessibility in communication and to be able to communicate with sign language users, we organised the 'Istanbul Airport is searching for its own sign in Sign Language' contest, and we chose the winning special sign for Istanbul Airport on Sign Language Day.
'From Canvas to Pixels' Exhibition
In 2022, pictures drawn by children with autism were animated using AR technology and exhibited in the terminal. We also showed our support for the education of children with autism through the sale of NFT versions of these pictures, and through donations.
Looking forward
Often, passengers do not remember their experience at the airport unless it was remarkable or terrible. Here at Istanbul Airport, we plan to reshape and refresh the process again for every guest and finish it perfectly. The passenger must feel comfortable even when they are far away from home. That is why all our activities aim to provide a seamless travel experience, for families travelling with their children, for people with disabilities and for business travellers alike.
At Istanbul Airport, we do not see accessibility as a social responsibility project. We continue to work for disabled people by offering an accessible, independent, and enjoyable travel experience with the mind-set of 'Everybody has right to travel independently and comfortably.'
In the future, we aim to further develop our Accessible Route service, improve our services by continuing our airport experience studies with different disability groups and spread the applications we have introduced for an accessible world. We are pleased to have received the ACI Europe Accessible Airport award in 2021. The award will reinforce our motivation and help to realise our many efforts that will inspire the industry.
Biography

Hilal Kahraman works as Passenger Experience Design Chief at iGA Istanbul Airport. As a member of the customer experience team, her ultimate mission is to make the airport experience smoother and more enjoyable for all guests, including passengers, employees, and stakeholders, with Turkey's hospitality culture. In her specific role, she has been working for three years to enable accessible and independent travel at the airport. With Kahraman's work at iGA Istanbul Airport, she was selected as a winner of the 2021 CXPA Impact Awards in the 'Diversity, Equity, & Inclusion Outcomes Related to CX' category.