Why Amadeus developed the industry's first integrated cloud solution for airports
Being able to connect to any airline through a single internet link to Amadeus Flow allows new innovations like contactless multi-merchant payments to be rolled out at check-in desks, kiosks and bag drop units quickly and easily.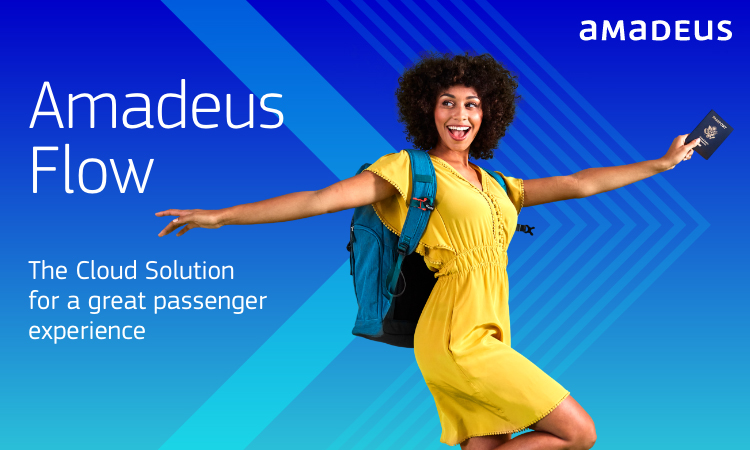 Amadeus made a strategic decision to enter the airport IT market in 2011 with a vision to free airports from the constraints of inflexible IT systems delivered on-site at the airport. We believed the industry's traditional approach to technology would constrain airports and prevent them from innovating in passenger servicing and business model. It hasn't been an easy journey and in the early years, we faced scepticism about whether the cloud was the right choice for mission-critical airport services.
Fast forward 10 years and our customers can see first-hand how flexible cloud solutions can improve the passenger experience, reduce costs and deliver rapid innovation. The strains of the COVID-19 pandemic have accelerated acceptance of cloud computing as airports have been forced to scale capacity up and down at short notice, as well as roll out new contactless passenger services in record time. These pressures demand a level of agility that can only be achieved with a high-performance cloud architecture.
March 2021 marks a milestone for Amadeus' airport IT business as we have fulfilled our vision conceived in 2011. Investment for in-house R&D and strategic acquisitions have culminated in Amadeus Flow, the industry's only fully integrated digital cloud solution for passenger servicing and data-driven airport operations. It incorporates applications, hardware, services and flexible commercial models.
We believe the pandemic has accelerated the journey for airports to a cloud 'tipping point' that was already underway. Take the example of one of our customers who needed to deliver a contactless end-to-end experience ahead of the summer season at several airports. Thanks to the ready-made integration of its applications, hardware and services we were able to make rapid modifications to its bag drop application for touchless bag tag printing and roll that out across every device at the airports in just four months. This project would have likely taken 12 months with a legacy approach.
Airports are choosing Amadeus Flow to power their passenger services. Being able to connect to any airline through a single internet link to Amadeus Flow allows new innovations like contactless multi-merchant payments to be rolled out at check-in desks, kiosks and bag drop units quickly and easily. They can also harness the cloud to move passenger services off-airport, where passengers can be checked-in from hotels or train stations to reduce pressure on the terminal.
For most airports today, implementing even a minor change to an airline's departure control system requires certification on a quarterly basis and engineering at the airport. Additionally, moving an airline's check-in desk requires a fixed network to be provisioned, which can take months to organise. The Amadeus solution allows these changes to be made within days and without the need to create new network links.
Biometric digital identity is gradually being incorporated at every stage of the passenger's airport journey for an enhanced experience and improved security, from check-in to boarding. There's no better way to show the value of the cloud than when we see the benefits of biometrics for an airport.
Successful biometric deployments require cameras embedded in check-in desks, kiosks, bag drop, security gates and boarding gates to be connected to each airline that uses that infrastructure. It also requires identity providers to be integrated, as these players offer permanent digital identities for travel that will be used at airport touchpoints.
When you consider border management, the need for a very flexible cloud approach to biometrics becomes even more important. Governments and immigration authorities may increasingly demand biometric exit at airports. This means connecting an airport up to each government's own identity management platform and match passengers' identity with airlines' passenger data.
So it's clear that a very complex web of integration is required to deliver an end-to-end biometric experience. Airports and airlines can attempt to build these individual links themselves using APIs but that effectively requires them to become systems integration firms. An alternative is to run an airport on Amadeus Flow, which provides pre-built connectivity to all these key players as standard. This means data can flow smoothly between all players and touchpoints, and biometric services can be rolled out quickly.
In the near future, travellers may be required to prove their health status using a digital health passport of some kind. Amadeus will be integrating these emerging systems such as IATA Travel Pass, Common Pass, etc. with Amadeus Flow, making that health information available when it is needed at airport passenger touchpoints.
Thanks to the integration of our solutions across the various passenger touchpoints, we are able to provide insights that enable a proactive airport management and resolution of problems before they have an effect on the passenger experience. With Amadeus Flow, airports will be able to understand the context at the right time and the impact ahead of time for a sound forecasting. We can provide insights that enable airports to react fast and make changes where necessary (for example, prevent queues and out-of-service events).
It's our firm belief that if airports and their partners are to collaborate for the next generation of end-to-end passenger experiences, an integrated cloud platform is a critical enabler. It's only by creating a smooth exchange of data between the applications at each customer service point and the multiple airlines that use them that we can unlock the potential of end-to-end passenger services. We've evolved through the different phases of cloud computing and it's in our DNA to help the travel industry harness the potential the cloud offers. That's why we are excited to share the culmination of Amadeus' strategic investment to reinvent airport technology in the cloud. We have successfully brought together all the elements needed to free airports from the constraints of legacy systems and unlock the potential of their terminals. This isn't just about technology architecture, it's about business innovation.