Passengers doing it for themselves at Budapest Airport
Budapest Airport's Chief Commercial Officer, Kam Jandu, illustrates how Budapest passengers can take control of their own airport journey, even during the COVID-19 pandemic.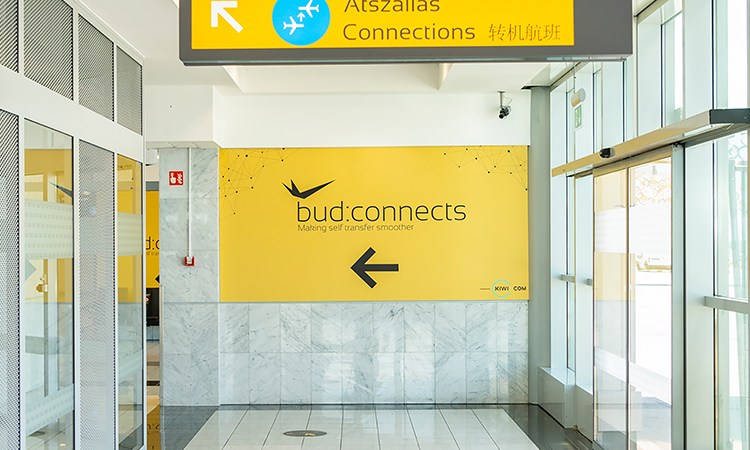 Working with COVID-19 measures
Budapest Airport (BUD) has been fast to react to the changing environment aviation finds itself in, including placing hand sanitisers and signage throughout the terminal. We also took the opportunity to communicate our new tone of voice to passengers with the 'It's time to be mindful' theme across the terminal, from the entrance to the departure gates. It was important to us that passengers truly felt that BUD is being responsible and empathetic during these times.
A self-connecting success story: bud:connects
As a country whose national airline (Malev) collapsed in 2012, Budapest has lacked a classical network hub, which is why we evaluated the market to see how we could best exploit the growing number of self-connecting passengers arriving and travelling through Budapest Airport. We decided to work with kiwi.com and its platform that highlights self-connections through different airports.
According to historic data, we need around 100 seats to have one self-connecting passenger and most of these are LCC seats. Since launching bud:connects, we have seen this volume increase by more than 55 per cent; reaching 110,000 passengers in 2019. Even in Q1 of 2020, there were 35,000 bud:connects passengers, which demonstrates that well‑informed travellers continue to increase in number, alongside the awareness of the transfer opportunities with BUD. This number is even more astounding because half of March was affected by the decimation of capacity resulting from COVID-19 cancellations.
Looking ahead, we see this niche segment growing even more as further industry consolidation takes place post-COVID-19. In fact, many of the classical hub benefits have been eroded with network airlines charging for ancillary services, meaning the point of difference is getting smaller all the time. When a bud:connects passenger buys their self-connecting trip, the trip guarantee is always included, providing peace of mind for travellers. This is more or less the same re-protection benefit that the classical hub model offers.
In order for us to provide an even greater service level for bud:connects passengers, we introduced signage and support counters where our staff can provide assistance if needed. This can be in regard to their next flight, baggage information and any other support that is requested, including connecting them to kiwi.com customer service using the dedicated phone line. I am also pleased to confirm that since the counters were introduced, the numbers of missed connections has dropped significantly.
In this COVID-19 world, numbers are slowing down, but we have observed that bud:connects puts the trip firmly in the hand of the traveller. We anticipate that as everything begins to recover, we will welcome many more customers through this scheme in our airport. 
Self-bag-drop facilities
Recently, we also installed self-bag-drop facilities at BUD. This is a further example of how we put the customer in charge of their own experience and allow them to avoid touchpoints when travelling through the airport. Right now, we have 18 self-service kiosks in a two-step configuration. Step one is the use of a tagomat, where after scanning your boarding card, you are able to print a bag tag to place on your checked case. Step two then sees that you place your tagged bag onto the baggage belt behind the reconfigured check-in counters. Of course, we do have some floor-walking assistants on hand in the event of any support being needed or irregularities arising.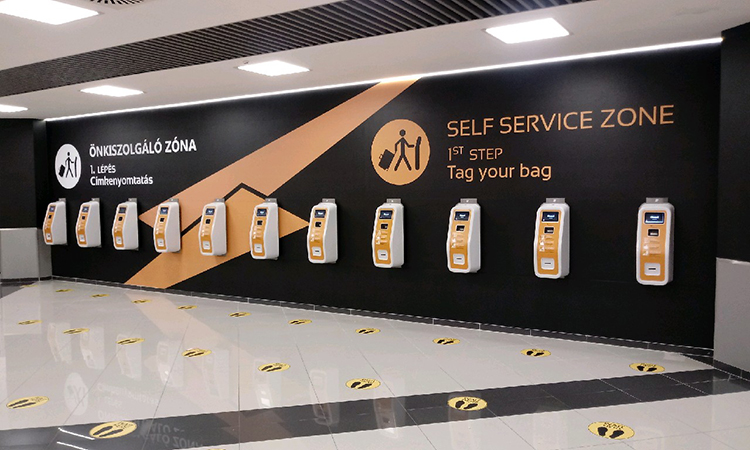 As a further addition, we have installed two tagomats and a check-in unit at the on-site Ibis styles airport hotel and are planning for more key locations downtown. 
As Budapest is arguably one of the most perfect short-break destinations, many passengers check out of their accommodation early to enjoy the last day in the city whilst storing baggage in official locations. Our concept will see us, in the first instance, issue baggage tags and thereafter, look at transporting the bags to the airport at regular cycles. The overall concept was carefully worked out and crafted with all stakeholders, so from next summer it will be used more prominently. It is a further example of placing control in the passengers' hands, only this time, off airport. The downtown bag drop and delivery to the airport concept also has a phase two which will see us install check‑in counters at the river cruise port in the city so that their passengers can also check in their bags whilst enjoying their last days in the city. This has so much potential once the sector recovers, which is why we will invest significantly in the project.
Lastly, we will continue to work on any innovations which both respect the post‑COVID-19 world and enhance the passenger experience. We have no time for complacency!

Kam Jandu joined the executive management team of Budapest Airport in 2009. As Chief Commercial Officer, Jandu holds responsibility for all passenger, cargo and business related commercial and marketing activities with the aviation and retail community. Additionally he also manages the real estate portfolio for the airport.