Conveying baggage and brand at Orlando International Airport
Jody Summers details how Orlando's South Terminal's individual carrier system will enhance capacity, efficiency and the passenger experience.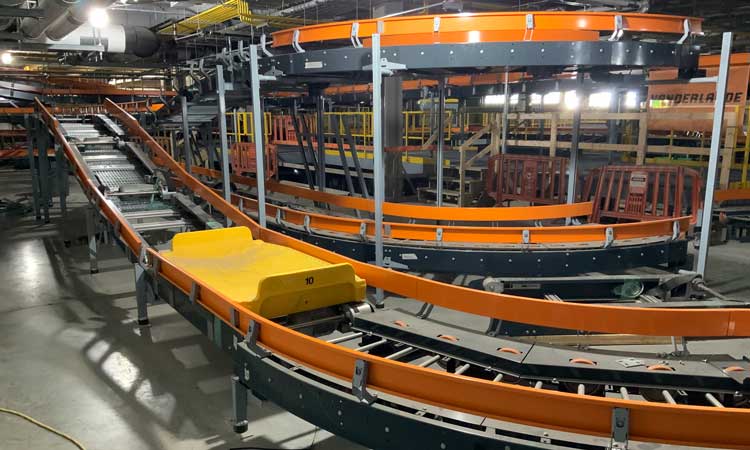 Every detail in Orlando International Airport's (MCO) new South Terminal C has been designed to enhance capacity, efficiency and the passenger experience – right down to a state-of-the-art baggage handling system.
The GOAA is installing the first terminal-wide high-speed individual carrier system (ICS) in the U.S."
The Greater Orlando Aviation Authority (GOAA) owns and operates the airport. To advance its vision of a world-class, technologically advanced, flexible, passenger-focused South Terminal, the GOAA is installing the first terminal-wide high-speed individual carrier system (ICS) in the U.S. When operators officially flip the switch on the new ICS in early 2022, MCO will be the first airport in North America to have a unique carrier that accommodates larger items.
Benefits of the system include 100 per cent bag trackability, a hands-free passenger experience, shorter baggage claim wait times, early arrival bag storage, no oversized baggage restrictions, greater speed and efficiency, and reduced maintenance and energy consumption.
Researching the options
GOAA wanted to see an ICS in action and speak with airport executives about their long-term experiences before choosing a system. As a result, Phil Brown, GOAA's Chief Executive Officer, and Stan Thornton, GOAA's Chief Operating Officer, travelled to Europe to evaluate individual carrier systems which have been in operation for nearly 50 years.
Concluding the selection of the ICS was worth further investigation, Brown and Thornton directed consultants to conduct a comparison of a red below, convinced GOAA to implement an ICS in the South Terminal.
A celebration of arrival at Orlando
"Our new South Terminal C is intended to visually and functionally communicate The Orlando Experience®, a design theme conveyed through architecture, aesthetics and convenience amenities," Brown said. "The flexible configuration of the TUBTRAX ICS should allow us to take the design concept to the next level."
Instead of arriving passengers migrating to the terminal's lower level to claim their baggage, the luggage will meet them in the arrival hall on the terminal's top floor. The system's lean, space‑optimising design allows for an elevated baggage system and facilitates GOAA's concept of flipping the terminal's layout.
In J.C. Arteaga's words, the inverted terminal design provides an opportunity to "celebrate the arrival of passengers". Arteaga is the project's architect of record for HNTB Corp., the firm designing the construction documents for the new terminal.
"As soon as passengers step off the jet bridges, they will know they are in Florida," Arteaga said. "Skylights and large windows will bathe the arrival hall in sunlight and provide picturesque views of the lush landscape and swaying palms."
Arteaga and his colleague, Bill Brooks, have been working on the project since 2016. Brooks is Senior Program Director for the HNTB architect of record team on South Terminal C. He said: "Orlando is the happiest place on earth. Why shouldn't that happiness start the moment visitors arrive?"
With the vision firmly and succinctly established, HNTB's team implemented the plan.
Single-point-of-contact contract
GOAA awarded a seven-year design, build, operate and maintain contract to the Netherlands-based Vanderlande Industries.
Ion Apezteguia, Vanderlande Project Director, said: "The contract allows us to customise operation, optimise maintenance services and provide valuable life-cycle insights for optimal system performance, planning and continuous improvement opportunities."
HNTB's Arteaga oversaw preliminary design of the ICS, with subconsultant AECOM. He remains involved in the project to help Vanderlande construct the eight-mile system virtually, with building information modelling (BIM) software.
100 per cent trackable and traceable
At check-in and arrival areas, airlines and passengers will see the same traditional conveyors and carousels that they see in other airports. However, behind the scenes, 5,000 carriers will be transporting an individual bag from inbound to arrivals and from departure to outbound.
Each carrier has an embedded radiofrequency identification (RFID) tag and unique tracking number, which greatly reduces the incidence of lost luggage. Operators will know precisely where each bag is at all times and will be able to retrieve a bag at any point in the system. Plus, each bag remains entirely within the confines of its carrier throughout the handling process, significantly reducing the risk of damaged bags and disruption to the system.
The ICS is designed to meet GOAA's goal of 5.5 minutes in-system time, with no bag taking longer than 15 minutes to be transported. Plus, it will be able to handle a mixture of standard‑sized and oversized baggage in one size of carrier. All bags will share the same loaders and unloaders, and oversized items – such as golf clubs, strollers and wheelchairs – will arrive by baggage carousel, along with theother luggage.
More efficient and independent than the traditional raw baggage conveyor system, MCO's new system operates on a pull system, only bringing bags to make‑up when needed or requested. This gives operators and handlers greater control, which keeps the system functioning efficiently and adapting to changing needs.
A hands-free experience
When the new South Terminal C is open, departing passengers will be able to check in and drop off their bags at the terminal as early as they wish"
In Orlando, many departing visitors must check out of their hotels by 11:00. When the new South Terminal C is open, departing passengers will be able to check in and drop off their bags at the terminal as early as they wish. There, Transportation Security Administration (TSA) personnel will screen the baggage and then route it by conveyor into a 30ft‑high early-bag storage room of towering racks. Robotic arms will hoist and slide the luggage into numbered slots. When it is time for the passenger's flight to load, the bags will be retrieved automatically and conveyed outbound to the aircraft.
The early bag storage room can hold up to 2,000 bags, including checked baggage from a delayed flight and stacks of unused carriers. Furthermore, it will give the airport greater flexibility and efficiency during peak load times.
Resort baggage sorting
The system also will allow for resort baggage sorting. Inbound luggage, marked by a specially coloured bag tag, will automatically be routed to a resort device in the back of the house, where resort bus drivers will load the baggage into their shuttles. Arriving passengers never have to touch their bags until they are in their resort rooms.
The process will happen in reverse for outbound luggage.
Reduced maintenance and energy consumption
The ICS is a series of connecting motorised modules, which makes for easier maintenance and less downtime. When a module needs repair, it can be disconnected from the system, removed and replaced in minutes.
When there are no bags detected, the ICS will go into 'rest mode' module by module, saving energy and giving the system a longer lifecycle. Currently, the airport has achieved 26 per cent energy savings over the baseline energy conservation code mandate.
Faster international processing
The ICS will also intermingle international baggage with domestic baggage, which automatically saves the airport about 52,000ft2 of Federal Inspection Station/U.S. Customs and Border Protection space. Alongside this, the new FIS 'Bags First' design will eliminate the need for double handling. Bags First will save staffing for CBP and will make the system more efficient and much faster.
Conveying the Orlando Airport brand
To expand and modernise MCO, GOAA is evaluating every component of the programme, not only for its primary purpose, but also for how it could support the airport's brand. With its ability to increase capacity, efficiency and enhance the passenger experience, TUBTRAX is an exciting part of their strategy to make MCO a world-class airport and a destination within itself.
Biography 
Jody Summers is a freelance writer in North Kansas City, Missouri – she has been writing for the U.S. aviation industry for 14 years.