Finland's Rovaniemi Airport rules over winter weather
Johan Juujärvi, Manager of Rovaniemi Airport, spoke to International Airport Review regarding the procedures that are in place to tackle winter weather at Finland's third busiest airport.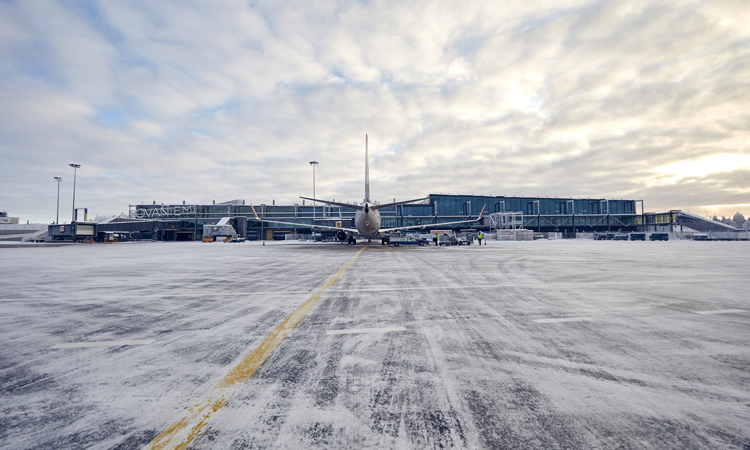 With the runway situated on the Arctic Circle, what type of extreme winter weather conditions affect Rovaniemi Airport?
We face heavy snow storms, wind and freezing temperatures. At the beginning of winter, there is sometimes water and ice on the runway as the temperature moves above and below zero. Usually, in Lapland, snow falls in October and stays until April or May. On average, we have 60 to 80cm of snow and the temperature may fall under -30 degrees.
Regardless, extreme winter conditions are not a problem for us. Dealing with snow and ice is part of our daily routine. We are quite proud of our 'snow-how': Air traffic in Lapland usually runs uninterrupted, even in weather conditions that may completely cripple operations elsewhere in the world.
As your passenger numbers increase during winter, what procedures do you have in place at the airport to reduce the likelihood of passengers experiencing delays?
Our customer promise is 'For Smooth Travelling'. To keep that promise, we do our best to minimise delays.
We invest in three important elements: Winter maintenance vehicle fleets; the education and training of our winter maintenance staff; and good cooperation between all airport stakeholders, such as air traffic controllers and ground handling operators.
What is the biggest challenge during winter?
The highest amount of snow-how is needed when we have strong side winds, the temperature is close to freezing and there is heavy snow. This may be challenging for pilots, as there might not be enough surface friction on the runway. However, this occurs quite rarely.
Harsh winter conditions may be unfamiliar for some airlines and pilots. That is why it is very important to pass the correct information about the conditions to arriving and departing flights. Airlines have different restrictions about when and in what kinds of conditions they can operate.
What techniques do you use to tackle this challenge?
Runways are kept in good condition with the use of our winter maintenance fleet. This includes snow ploughs, snow blowers and friction tester vehicles, for example. The data is communicated between maintenance, air traffic control and airline pilots.
How do you ensure airside staff are safe during winter operations?
We recruit more staff for the winter period in order to have enough resources in place.
All of our maintenance staff are educated and trained on a regular basis. In addition, we provide them with top-quality work clothes and equipment.
With more extreme weather predicted due to global warming, how is the airport preparing for future winter seasons?
All of Finavia's 21 airports are already carbon neutral. The next goal is to reach net-zero emissions by 2030.
For electricity consumption at the airports, we only use wind power. Helsinki Airport also has its own solar power plant on the terminal roof. At Helsinki Airport and Lapland Airport, the fuel for our ground fleet vehicles has been replaced with renewable diesel produced from waste and residue. At regional airports, Finavia uses renewable sources of energy for heating, such as pellets, when possible. Half of them are heated using Finnish wood biofuel.
The remaining emissions, which consist of those resulting from our business travel, we offset. This way, we have been able to achieve carbon neutrality. Now, the share of emissions that is being offset is 45 per cent.
We constantly collect information, experience and know-how, but we also think that preparing for the future is not enough. We must actively be involved in the fight against climate change.
Due to temperature changes, increasing rain and windy weather conditions, airport maintenance needs to modify its procedures in order to secure safety operations in every scenario and maintain a sustainable approach to runway snow cleaning.
Biography
Johan Juujärvi, Manager of Rovaniemi Airport, started his current position on 1 March 2016. Before that, he acted as a Station Manager in ground handling at Lapland Airports.