Cologne Airport adds 12 snowploughs to winter fleet
The additions are part of a €5 million investment and will work to limit service disruptions and cancellations due to winter weather at the airport.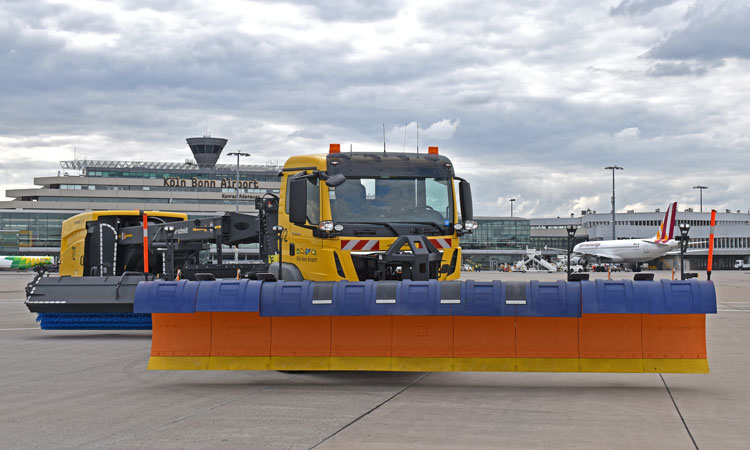 Copyright: Cologne Bonn Airport
In preparation for the winter weather, Cologne Bonn Airport has made significant improvements to its winter road clearance service by investing in new additions to the current fleet.
Twelve state-of-the-art sweepers have been received from Aebi Schmidt, each featuring a seven-metre-wide snow blade. This provides the airport with the capability to completely clear the 3,815m long and 60m wide runway by being able to sweep the space in a single run when all sweepers are used in formation. Previous to receiving the new additions, the runway would have to be swept twice with the smaller machines in order to clear the entire stretch.
The investment in new machines is expected to significantly reduce the duration of any possible service disruptions in the event of heavy snowfall. As a result, this will limit delays and cancellations and, therefore, not drastically impact the passenger experience.
CEO of Flughafen Köln/Bonn GmbH, Johan Vanneste, said: "We want to be as well prepared as possible so that we can ensure smooth flight operations for the airlines and thus also for our passengers – even in difficult weather conditions. Although winter weather can never be completely planned for, we do everything in our power to keep the adverse effects of heavy snowfalls to a minimum. Our new equipment is helping us to do that this season: our fleet is now up to date and well equipped for the coming years."
Following a €5 million investment, almost the entirety of the old de-icing fleet has been replaced and modernised. Aside from the 12 new snow-clearing vehicles, a high-performance snow blower, received from the Kahlbacher company, is also included in the fleet improvement. It will be utilised to remove heaps of snow that have been piled along the edge of the runways or aprons onto transport trolleys, which will then be unloaded into designated storage areas.
Over the course of the winter period, the total area to be cleared or de-iced by the winter maintenance team is predicted to be 2,165,890m2, dependent on weather conditions. This includes runways, taxiways and aprons. A total of approximately 270 employees will work in the two winter road clearance and aircraft de-icing areas at the airport.