The future of aviation is increased point-to-point flying, says Leeds Bradford Airport's CEO
Hywel Rees, CEO of Leeds Bradford Airport, discusses plans for a new terminal that will significantly improve the passenger experience, as well as the airport's target of achieving net-zero carbon emissions by 2023, within the latest installment of International Airport Review's exclusive CEO series.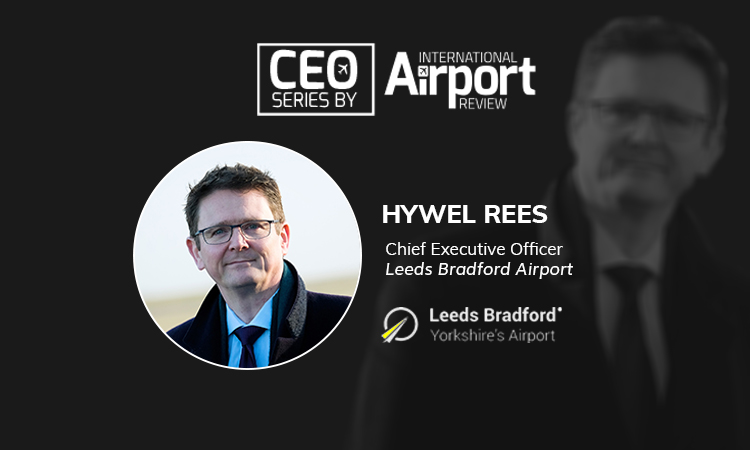 How did your career in the aviation industry begin?
I have been involved in infrastructure for 30 years, starting in 1991 in the steel industry. However, my career in the aviation sector took off when I joined what was then known as the British Airports Authority (BAA) – now Heathrow Airport Holdings (HAL) – in 2010, working at London Heathrow Airport (LHR).
This is where my love of aviation began and after I left BAA, I wanted to work for a private equity fund that was heavily involved in airports – which is how I found AMP Capital. Whilst working at AMP, I sat on the board of Newcastle, Melbourne and Luton Airports, all of which were fascinating and rewarding.
After being with the fund for five years, I was fortunate to be offered the opportunity to run Leeds Bradford Airport (LBA) as CEO.
What is the most rewarding aspect of being an airport CEO? On the other hand, what is most difficult?
Undoubtedly, the most rewarding aspect of being a CEO is the ability to do amazing things and affect real change. Having an overarching strategic vision, and acting on it, is central to the role. At LBA, I have the privilege of being able to direct the development of the airport, best demonstrated by the decision to build a brand new, state-of-the-art terminal to replace the existing one at the airport.
Of course, the freedom a CEO enjoys comes with responsibility. You never work in isolation, and it's important to bring staff and stakeholders together, along with your vision, whilst you develop ideas and strategies.  
Perhaps the most difficult thing is the complexity that naturally comes with handling the four million passengers that pass through LBA every year, not to mention the customer services challenge that presents. This is enhanced at LBA as our existing terminal building is quite old.
Can you give us an overview of the three most exciting developments currently happening at Leeds Bradford Airport?
It is a very exciting time for Leeds Bradford Airport. The most compelling development is, undoubtedly, our plans to build a new terminal building, replacing our existing terminal, which was built in the 1960s. This is one of the most radical changes in LBA's history. It will profoundly change the passenger experience and is integral to our plans to make all of our airport operations carbon net zero by 2023.
The second is the £5 million investment we have made into passenger experience improvements in our existing terminal building to ensure that, while we are planning and developing our long-term vision, we aren't overlooking the passenger concerns of today. These include improvements to passenger bathrooms, baggage handling infrastructure and lounges, as well as the introduction of new technologies, retailers and eateries, amongst others.
The third development, which underpins all our efforts, is that the whole LBA team is striving to change the perception and reality of the customer experience for passengers and airlines at our airport. It's a shift change in how we do things, and passengers, airlines and business partners can expect to see an immediate impact.
What is the biggest challenge Leeds Bradford Airport is having to tackle?
Ensuring our current infrastructure is up to scratch during the next three summers, while we work towards developing our proposed new terminal.
At this moment in time, what do you see as the biggest disruptor to the aviation industry?
I won't call it a disruptor, but the biggest issue for our industry, and many others, is reducing our impact on the environment. The industry as whole is making huge steps to address this – through investment into new engines, new fuels and new aircraft technologies (for example, enabling increased point-to-point flying). At LBA, we're addressing this challenge by ensuring our new proposed terminal has the highest environment standards (a BREEAM rating of 'excellent') and that we are carbon net zero by 2023 for the emissions that we can control.
In your opinion, how does the aviation industry need to adapt to secure its place in the future?
By addressing the environmental challenge head-on with technological innovation and process improvements.
What does the future of the aviation industry look like to you?
It is not unrealistic to believe that, in the future, we will end up with hypersonic aircraft that can take passengers from the UK to Sydney in 45 minutes.
In my opinion, the future of aviation is increased point-to-point flying and considerably more efficient through the use of new technologies that the industry is working hard to develop as quickly as possible. It is not unrealistic to believe that, in the future, we will end up with hypersonic aircraft that can take passengers from the UK to Sydney in 45 minutes, as well as electrically powered or hybridised aircraft flying on shorter journeys.
Hywel Rees is an experienced executive in the airports and infrastructure sectors at the leadership team level. Prior to his appointment as Chief Executive of Leeds Bradford Airport, Rees was Asset Director and a Board member for Newcastle Airport and London Luton Airport in the UK. He previously served on the boards of Melbourne Airport in Australia and Alpha Trains in Europe.
Before joining AMP Capital, he spent 10 years at Ferrovial, the Spanish construction and airports conglomerate. Whilst at Ferrovial, Rees sat on the Leadership Committee of BAA/Heathrow's Airports Division (comprising of Stansted, Edinburgh, Aberdeen, Glasgow and Southampton airports).
Hywel joined Leeds Bradford Airport as CEO in May 2019. 
If you are a Chief Executive Officer, General Manager or Director of an airport and would be interested in participating in this series, please contact Lily Mae Pacey, Junior Editor of International Airport Review.