The aviation industry will continue to develop, says Director of Helsinki Airport
Within International Airport Review's exclusive CEO series, Ulla Lettijeff, Director of Helsinki Airport, discusses the importance of a sustainable aviation industry, and how the airport is working to become emission free.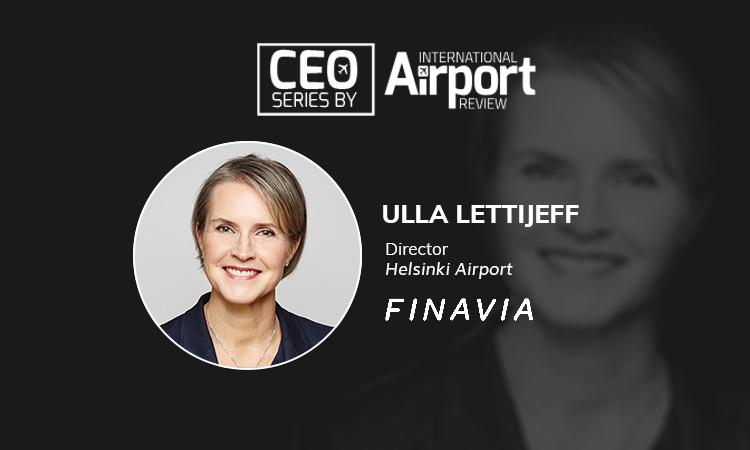 How did your career in the aviation industry begin?
The aviation industry is very new for me since I started in my current position as Director of Helsinki Airport (HEL) at the beginning of February 2020. So far, I have always been the passenger at the airport, but now, I'm changing my role and I get see what happens behind the scenes. Customer experience is at the heart of everything we do and, from now on, I get to be part of the process and development, instead of seeing just the final product.
Before joining Helsinki Airport, I had a long career at Fiskars Group, working in different managerial positions – most recently, leading the Living Business unit. Before Fiskars Group, I worked in several positions at Nokia, for example, as the Director of Nokia Networks' Espoo plant.
What is the most rewarding aspect of being an airport director? On the other hand, what is most difficult?
I believe in the philosophy of continuous learning, and an airport is the perfect place for that.
I believe in the philosophy of continuous learning, and an airport is the perfect place for that. The amount of substance and knowledge that is part of daily operations and planning is astonishing. There are always new things to learn and ways to improve yourself.
I feel that, when you can combine customers, highly operative tasks and values, work becomes rewarding. All these things, as well as sustainability, customer experience and well-organised processes that support smooth travelling, are constantly on the table at Helsinki Airport. In order to offer an exceptional travel experience for our customers, we must work together which is, in itself, rewarding.
Can you give us an overview of the three most exciting developments currently happening at Helsinki Airport?
Exceptional customer experience is one of Finavia's strategic goals for 2020. In addition, it is one of the five key programmes that we have. At Helsinki Airport, we develop our services to a wide variety of customers, which materialises as new services, terminal spaces, processes and digitalisation.
The physical development of Helsinki Airport has been very strong over the last years. The Helsinki Airport Development Programme (started in 2013) is Finavia's giant investment programme that will enable the airport to serve 30 million passengers annually. The project – which is the most extensive expansion project in the history of Helsinki Airport – reached several milestones during 2019, but the next three years are also going to be very exciting.
At the moment, the most visible part of the development programme is the new parking garage, which will be completed in 2020. When the new parking garage is ready, it will provide parking space for 1,800 cars and dozens of electric cars. The parking garage will be covered with solar panels, which supports Helsinki Airport's goal of emission-free operation. Using renewable energy allows us to serve the growing number of passengers in a sustainable way.
The construction work for the large expansion of Terminal 2 has also started. The expansion will significantly increase the terminal's facilities available for check in, security control and baggage drop services, and enhance parking and access to public transport. If you visit Helsinki Airport three years from now, you will be amazed by the transformation.
I'm also very excited about our ongoing development towards our zero-emissions goal. In addition to our achievement of making all of Finavia's airports carbon neutral, we continue our sustainability programme and the development of our airport operations in an environmentally sustainable way.
What is the biggest challenge Helsinki Airport is having to tackle?
Helsinki Airport has grown significantly when it comes to the number of passengers. This means that we must expand the terminals, as well as the ideas of how to best serve our customers.
We must combine sustainability to all new services and operations, but also keep up and maybe even exceed customers' expectations when it comes to environmental issues.
At this moment in time, what do you see as the biggest disruptor to the aviation industry? In your opinion, how does the aviation industry need to adapt to secure its place in the future?
We must take global warming seriously – more than before – and it is important that all industries and all companies reduce their emissions. At Finavia, we constantly work to reduce our carbon emissions. Carbon neutrality is not enough for us. Our next goal is to be an emission-free airport company.
Naturally, carbon-neutral airports are not the solution for all carbon emissions produced by the aviation industry. The biggest improvements come through introducing renewable energy, as well as the development of aircraft technology and electric aviation.
To enhance the development of electric aviation, Finavia has joined the Network for Electric Aviation (NEA). It is a unique initiative, where Nordic actors come together to accelerate the introduction of electric aviation in the Nordic countries.
What does the future of the aviation industry look like to you?
Overall, the aviation industry is cyclical because economical and geo-political changes, among others, can have a strong effect on the industry. I believe that, in the long run, the industry will keep developing, but it requires the challenges related to global warming to be solved.
When it comes to all of Finavia's airports, fast growth has turned into a moderate growth. On the other hand, the number of passengers transferring from one international flight to another at Helsinki Airport has increased strongly. Furthermore, the number of operations between Helsinki Airport and Asia continues to grow.
If you are a Chief Executive Officer, General Manager or Director of an airport and would be interested in participating in this series, please contact Leah Hockley, Junior Editor of International Airport Review.