More than just a makeover at Hong Kong International Airport
Hong Kong International Airport's Terminal 1 extension is the latest milestone in the airport's on-going mission to meet and exceed passenger expectations, details Vivian Cheung, Executive Director of Airport Operations at AAHK.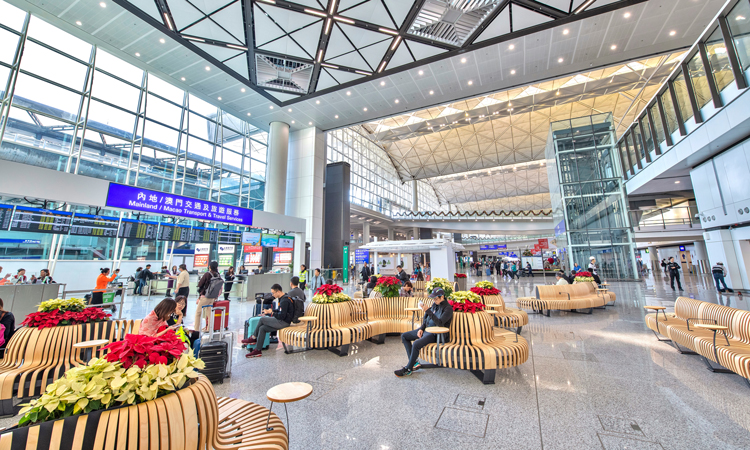 The world-class facilities of Hong Kong International Airport (HKIA) have just got even better with the opening of the new Terminal 1 (T1) extension. This development marks the latest effort by Airport Authority Hong Kong (AAHK) to continuously improve HKIA's offerings and ensure a passenger experience beyond compare.
Less waiting, more leisure
In November 2019, the new extension of T1 officially commenced operations. The extension features improvements that further boost the passenger handling capacity and streamline passenger flow.
One of AAHK's guiding principles is to make the check-in process as smooth and hassle free as possible. T1's extended departure level now includes an additional aisle (Aisle L) and 48 more check-in counters – some of which are equipped with self-bag-drop facilities – bringing the total number of check-in counters at T1 to 369. The 100 smart check-in kiosks around the terminal provide passengers with another option to check themselves in and avoid queues at counters.
The bag storage and lost-and-found offices that were previously located at Terminal 2 (T2) have been relocated to the arrivals level of the new T1 extension, as have the ticketing counters for cross‑boundary limousine and coach services, keeping important services within easy reach for passengers. More seating has also been added on the arrivals level. Meanwhile, additional baggage reclaim carousels and new catering kiosks will open in phases.
A new culinary experience
Passengers in need of a refuel at HKIA now have a whole new world of dining options available to them. The newly revamped East Hall food court in the restricted area is now a 24-hour gourmet hub offering an enhanced dining ambience and more variety. Diners may sample cuisines from brands that are Michelin-starred, ranging from Cantonese, Fujianese, Japanese, Korean and Western. The number of seats at the food court has been increased from 900 to 1,200, making it easier to sit and relax.
Relaxing and recharging
In the near future, passengers can look forward to a fresh look, exciting new leisure facilities and more amenities throughout the terminal. Designated themed zones will be set up throughout the departure level and boarding gate areas: Entertainment and technology zones featuring a variety of movies, virtual reality experiences and games; family zones have interactive games and playground equipment to entertain youngsters in a fun, safe environment; and leisure zones offer a variety of seating options, as well as foliage that fosters a calm, tranquil atmosphere.
Wherever they are in T1, passengers will be able to find a great spot to kick up their feet and relax. Seating at the terminal will offer a variety of seating styles and tables, including work spaces, window-side bar tables, recliners, dining tables and more. While passengers wait to board, they can stay connected with free airport Wi-Fi. There are also over 25 high-speed Wi-Fi zones for those who need more bandwidth to download files and stream videos.
A new weatherproof Sky Bridge will also be put into operation later in 2020. The bridge links T1 directly to the North Satellite Concourse (NSC) – currently only accessible by bus – enabling passengers to walk straight to their gates at the NSC. The Sky Bridge, which is expected to be the longest airside bridge in the world, is tall enough for an A380 to pass underneath, meaning passengers can take in a spectacular view of the apron and watch aircraft pass directly below through the bridge's glass panels.
Keeping up with demand
HKIA has seen steadily increasing air traffic demand ever since its opening, going from roughly 30 million passengers in 1998 to more than 70 million in 2019. To accommodate such rapid growth, AAHK has been completing a series of new developments over the past 10 years. In the coming years, it will continue to push forward various projects at HKIA to increase capacity and efficiency and, more importantly, to create an unrivalled airport experience.
The airport's biggest and boldest expansion yet is the three-runway system project, which is scheduled to be commissioned in 2024. Once completed, HKIA will be able to accommodate an additional 30 million passengers per year. The project involves not just reclaiming 650 hectares of land to construct a 3.8km-long new runway, but also building a new third runway passenger concourse, new taxiways and associated facilities, a new automated people mover system, a new baggage handling system and more. T2 at HKIA is now temporarily closed as it transforms into a full-service terminal, providing both arrival and departure services to accommodate more travellers.
Technology always plays a big part in HKIA's development. AAHK successfully rolled out facial recognition-powered e-security gates in late 2018, allowing passengers to scan their travel documents and boarding passes by themselves; reducing waiting times in security lines. Such technology will gradually be incorporated into the check-in and boarding procedures as well, enabling passengers to use their face as a single token for passing through all security checkpoints.
Behind the scenes, AAHK is also utilising technology to further enhance operational efficiency. The newest initiative is employing driverless autonomous electric tractors to transport baggage airside, which makes HKIA the world's first airport to use such tractors in a live operational environment. Equipped with LIDAR sensors, cameras and GPS, the tractors can avoid obstacles autonomously and safely. AAHK will continue to trial and incorporate innovative technologies and big data to turn HKIA into a smart airport, both in terms of passenger service and operations.
HKIA demonstrates how important it is to stay on top of industry trends while always prioritising the passenger experience. AAHK believes even better things are yet to come once HKIA's three-runway system is commissioned in 2024, which is expected to cement the airport's place as a leading global transport hub and further its reputation as a place where relaxing, hassle-free travel is the norm, not the exception. 
Vivian Cheung holds a Master's degree in Business Administration from Southern Illinois University and a Bachelor of Computer Science degree from State University of New York. She was appointed Executive Director of Airport Operations in December 2019 with more than 27 years of experience in airport management.