Flying is to become safer and faster, says Prague Airport CEO
As part of International Airport Review's exclusive CEO series, Vaclav Rehor discusses how aviation must cooperate effectively to ensure a safe future for the industry.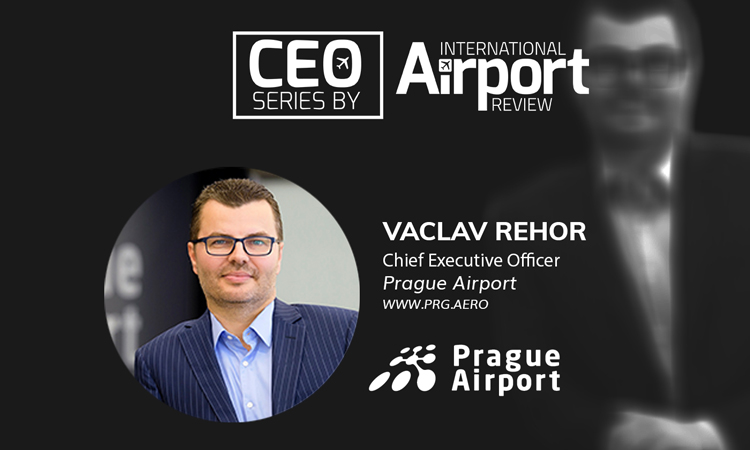 How did your career in the aviation industry begin?
During my 27 years of work experience, five were spent in finance at multinational corporations in Toronto. Afterwards, I worked in companies owned by private equity, first in the Czech Republic and then in London, UK. I left London after we successfully brought the company to the New York Stock Exchange (NYSE), and then when I was offered a position in the management of Prague Airport, I did not hesitate to accept.
I have been interested in aviation for as long as I can remember. Both airports and airlines are incredibly attractive environments, and are very varied. Not everyone is lucky enough to work in such a complex industry. 
What is the most rewarding aspect of being an airport CEO? On the other hand, what is most difficult?
One of the most valuable things to me is working with our employees. The overwhelming majority of people working at Prague Airport are extremely keen on their jobs. Basically, they live for the airport. Many of my colleagues stay with us for 20 or more years. Some of them are, absolutely, the best at what they do, and working with them is inspiring.
On the other hand, in such a complex company with such an extensive organisational chart, it may sometimes be difficult to introduce any changes that are necessary in order to reflect all the progress in aviation, and to face all the challenges which have recently arisen.
Sometimes, we even experience the fear of change or unwillingness to accept innovation from some of our employees. That is something we have to work on. We also have to strengthen some critical-thinking practices based strictly on facts, data and long-term strategies in order to create a real data-driven environment.
Can you give us an overview of the three most exciting developments currently happening at Prague Airport?
The biggest and most important development is the long-term extension plan of Prague Airport. We have come up with a clear vision and strategy through which we want the airport to be developed. Our airport needs to be extended, in terms of capacity, in order to remain competitive and to be able to provide modern and safe services in both the near and distant future.  
Secondly is our short-term development projects and digitalisation. We do not want to improve our airport without the clear vision of how new technologies will work within new buildings, even in the distant future. We have to look ahead to know how the airport facilities will look and perform in 10, 20 or even 25 years' time. That is why we started discovering and testing new technologies which we are about to implement into existing facilities, as well as into new buildings.
The third is our sustainable development strategy. We have taken efficient measures to reduce the noise pollution within the airport's vicinity. We are also very active in reducing CO2 emissions. By 2025 at the latest, we want to reduce our carbon footprint by 60 per cent compared to 2009, and we want to be completely carbon neutral by 2030. We want to achieve this in cooperation with other partners, such as the City of Prague, Prague Public Transit Company, airlines, and so on.
What is the biggest challenge Prague Airport is having to tackle?
To solve the issue of the lack of operational capacities, whilst maintaining our high-level customer experience, which we were awarded the ACI Airport Service Award for.
Our airport has been seeing a huge increase in passenger traffic in recent years, and our current infrastructure became insufficient faster than expected. That is the reason why we have come up with a comprehensive long-term development plan.
Our shareholder, the Ministry of Finance of the Czech Republic, has approved investment into the first phase of our Terminal 2 expansion, which is very good news. It means that we will expand Terminal 2 and build a new public concourse in front of it. Although the main investments are to be made between 2025 and 2028, we are already about to start this year, namely with some preparatory projects.
At this moment in time, what do you see as the biggest disruptor to the aviation industry?
Security always has to be at the heart of everything that we do. It must be our ultimate priority. However, security threats also remain the biggest disruptor in aviation. On the other hand, aviation has the best conditions in order to face it. In the transportation industry, there is no other sector that is more concerned about security issues than aviation. New effective and systematic solutions based on expertise are still appearing, as well as the best practices, technologies and analyses of security risks.
Sharing and mutual cooperation is the key, and international organisations such as ACI or IATA play an irreplaceable role in the process of network cooperation. The current green movement also does not necessarily have to be seen as a negative threat, but rather a positive impulse to start seriously dealing with imminent environmental issues.
In your opinion, how does the aviation industry need to adapt to secure its place in the future?
It is not necessary to do much other than to keep relying on the industry's ability to self-educate and cooperate, which is mostly happening on the platform of international organisations, such as ACI or IATA. Further closer cooperation may be expected, for example in field of ATC, where fragmentation of the European sky could be a barrier for future development. It is necessary to come up with the new architecture of European airspace, taking into consideration the needs of the common European network, rather than national airspace.
What does the future of the aviation industry look like to you?
The aviation industry has proved to be strong and resistant over the last few decades. So far, every crisis was followed by overwhelming growth and, after each tough time, we became even stronger. These days, there are some voices warning about another potential crisis, which may come very soon. Despite the possible short-term impact, I believe that on a long-term basis, the industry will grow, even during this time. Flying will become affordable for more people and travelling will be safer, faster and more comfortable. Due to the strong cooperation ability of all of the industry's sectors, and due to its adaptability and flexibility, the future of the aviation may be seen as very positive.
Vaclav Rehor is responsible for aviation business, quality and safety procedure management, corporate and marketing communications, security quality control, airport coordination, audits, risk and compliance management, human resources management and corporate governance. Beginning in 2006, Rehor was the Financial Director and Company Secretary in the CCS of the Fleetcor Technologies Group, and between October 2007 and 2011, he was the Acting CEO/General Director of the said company. He has worked in various positions in companies based in the Czech Republic, Great Britain and Canada throughout his 27-year career. In the eight years preceding his current position, he worked for companies owned by the following private equity funds: Advent International, ARX Equity Partners and Benson Oak. He graduated from the Czech University of Life Sciences in Prague, where he also obtained a doctoral degree in Economics and Company Management. He earned an MBA from Prague International Business School at the University of Economics in Prague/Manchester Metropolitan University.
If you are a Chief Executive Officer, General Manager or Director of an airport and would be interested in participating in this series, please contact Leah Hockley, Junior Editor of International Airport Review.