CEO at Gerald R. Ford Airport trusts disruptors can become improvements
Tory Richardson details how challenges within the aviation industry should be used to help cater for the increased demand for air travel in the years to come.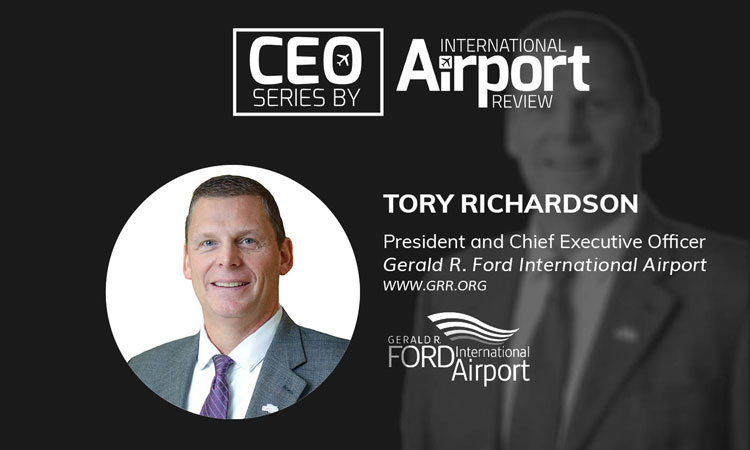 How did your career in the aviation industry begin?
My career in aviation was initiated by a fascination of aeroplanes as a child. I started flight lessons while in high school and then went to the University of Dubuque to continue flight training, graduating with degrees in Aviation Management and Flight Operations. I was fortunate to get an internship with the airport during my last year of college, which exposed me to all the different facets of aviation management. I worked in several different positions at different aviation businesses in the first few years of my career, as I knew the industry was competitive. I wanted a strong foundation of skills and experiences to advance my career, so I worked for the airlines, reported on aviation weather, worked in airport operations and aircraft rescue fire-fighting, and serviced aircraft working at the fixed base operator (FBO). Those jobs and experiences, along with great mentors, provided me with the opportunity for an exciting and rewarding career of leadership positions in several different airport organisations.
What is the most rewarding aspect of being an airport CEO? On the other hand, what is most difficult?
The most rewarding aspects of leading the airport organisation is working with a successful team to plan, design and build for the future to reflect our community positively. Seeing our team work well together and solve challenging issues is also one of the most rewarding aspects. I enjoy helping others succeed in this highly competitive industry.
On the flip side of that, one of the most challenging aspects is keeping the entire team fully apprised of all the work and issues in progress. Everyone has different expectations about how much, when and what process to use to stay informed. Meeting every expectation is very challenging. This is true of our passenger guests as well. We always strive to deliver a great service for everyone, but sometimes factors beyond our control impact our operations and then expectations aren't met. That is frustrating for passengers, as well as those of us in the customer service business.
Can you give us an overview of the three most exciting developments currently happening at Gerald R. Ford Airport?
First, we are currently underway on Phase II of our Gateway Transformation Project with a targeted opening of summer 2020. This project includes refreshing airline ticket counters, baggage service offices, our baggage claim space, adding new terrazzo flooring, enhanced lighting, new amenities, restrooms, a revamped visitor information desk, and more.
The second exciting development underway is a second FBO. To accommodate growth and offer a variety of service providers, site preparations and vertical construction are on a schedule that allows the new FBO to open in the first half of 2020.
The third development that is exciting is the first phase of what we call Project Elevate. We are in the planning and design phases now, and are set to begin construction in the spring of 2020 to expand and enhance one of our original concourses. We are adding eight new gates to the 56-year old concourse. In addition, we are adding new amenities, including restaurant and shopping options, along with accents and features that reflect our West Michigan culture and community.
We have several projects that are in the preliminary discussion and planning stages for 2020 and beyond that are even more exciting. We are anxious to share these soon! 
What is the biggest challenge Gerald R. Ford Airport is having to tackle?
Our biggest challenge right now is keeping up with the tremendous growth we are experiencing, whilst still needing to plan for further growth in the future. Our community continues to benefit from a strong economy and our passenger traffic reflects that. To properly prepare for growth, we need to relocate our air traffic control tower. The existing facility was built in the 1960's and lacks the benefits of modern facilities. Worse yet, the existing tower is limiting our ability to grow. We are at a point now that we are physically restricting the heights and sizes of buildings due to line-of-sight issues with the existing tower. We've had to deny business development opportunities at our airport because of this tower issue. Currently, we are losing $1.5 million in parking revenue per year because we have had to limit the size of the existing structure and force customers to remote parking facilities.
At this moment in time, what do you see as the biggest disruptor to the aviation industry?
I'm not sure I can give you the biggest disruptor, but I can say that I think there are several and we don't even know what some of them will be in the near future.
Some of the biggest disruptors known to us right now are unmanned and automated vehicles both on the ground and in the air; peer-to-peer business relationships; automobiles, aircraft, hangars; electric aircraft; and facial recognition technology and biometrics. We are also learning that our attention spans are narrowing and we are becoming less focused.
We live in a world of 'ever-changing everything', so what will we do to address that? How will that affect our customers and our employees? What services will be required and what will be the best way to deliver those services? Ultimately, these disruptors may be improvements, but they will bring about their own set of challenges too. Biometrics and facial recognition will evolve and expand, but not without controversy. They have the potential to make processes and decisions easier, so finding the right balance, acceptance and integration will be necessary.
In your opinion, how does the aviation industry need to adapt to secure its place in the future?
The aviation industry must continue to focus on efficiency, environmental sustainability and the customer experience. We need to continually improve and refine our operations to be efficient and environmentally sustainable. Otherwise, we'll be replaced by other modes of transportation or find our value significantly reduced. Our customers will continue to demand more of us, so we'll need to solve that with our facilities and services.
What does the future of the aviation industry look like to you?
In my opinion, the future of the aviation industry is exciting, growing and changing. I think we will continue to see strong demand for aviation in most markets. I also think the change we can expect will be significant over the next 10 years. Given that pace, I suspect we don't yet realise what changes will occur or how they will impact us. However, we are at a critical time, with all the growth that has occurred, and proper planning should be underway to anticipate the changes that are coming.
Tory Richardson, Accredited Airport Executive, is the President and Chief Executive Officer for Gerald R. Ford International Airport. Richardson joined the Gerald R. Ford International Airport Authority in September 2019, bringing with him more than two decades of aviation experience. He served as the Executive Vice President and Chief Operating Officer of the Columbus Regional Airport Authority for the past seven years. Prior to his time in Columbus, Richardson served as the Executive Director of Airports for the Fort Wayne-Allen County Airport Authority in Indiana for more than eight years. He also had roles as Executive Director of Rapid City Regional Airport in Rapid City, South Dakota, and was an Airport Operations Officer at the Dubuque Regional Airport in Iowa.
Richardson is the current chair of the American Association of Airport Executives (AAAE). He has served on the AAAE policy review committee and is a past president of the Great Lakes Chapter of the American Association of Airport Executives. He has also held leadership positions with the Airports Council International-North America (ACI-NA) and is also the past president of the Ohio Aviation Association. Richardson earned a Bachelor of Science degree in Aviation Management from the University of Dubuque.
If you are a Chief Executive Officer, General Manager or Director of an airport and would be interested in participating in this series, please contact Leah Hockley, Junior Editor of International Airport Review.