Schiphol doubles its amount of covered parking and becomes more sustainable
By creating more parking spaces at Schiphol Airport, not only has the airport increased the passenger experience, but they have installed solar panels on the roof of the building which contributes to their sustainability plans.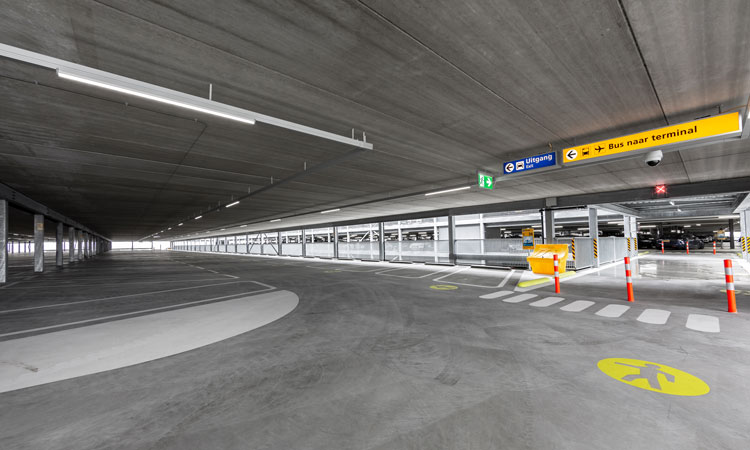 The expansion of Schiphol's multi-storey car park at P3 Long-Term Parking was completed earlier this month, and as a result, the number of covered parking spaces will increase from 2,650 to more than 5,000.
Sustainability has played an important role in this development, with 6,000 solar panels to be installed on the roof in collaboration with Eneco.
At Amsterdam Airport Schiphol, passenger experience takes centre stage. Due to the growth in the number of passengers, the demand for parking space at the airport is also increasing. By making more covered parking spaces available, Schiphol is increasing the ease and comfort of parking at P3 Long-Term Parking for both private and business passengers.
The departure hall is easily accessible from P3 Long-Term Parking: a free express bus leaves every 10 minutes to take passengers to the terminal in just five minutes. In total, P3 Long-Term Parking offers more than 15,000 parking spaces.
6,000 solar panels on the roof to provide energy
The solar power is partly used for the energy consumed by the car park, including the electric charging points and the LED lighting. The energy generated is also used for other parking facilities at Schiphol.
Dieme Ketel, Senior Manager Parking and Mobility Services at Amsterdam Airport Schiphol, said: "In total, the solar panels will generate more than 20 per cent of the total energy consumption of the parking facilities at Schiphol. This is equivalent to the consumption of around 600 homes. We are very proud of this and it is a great step towards making our product more sustainable."