Effortless transportation to the airport leaves you ready to fly
Imagine being checked-in, and having gone through security before even arriving at the airport. New automated pods could be the answer to the congestion question.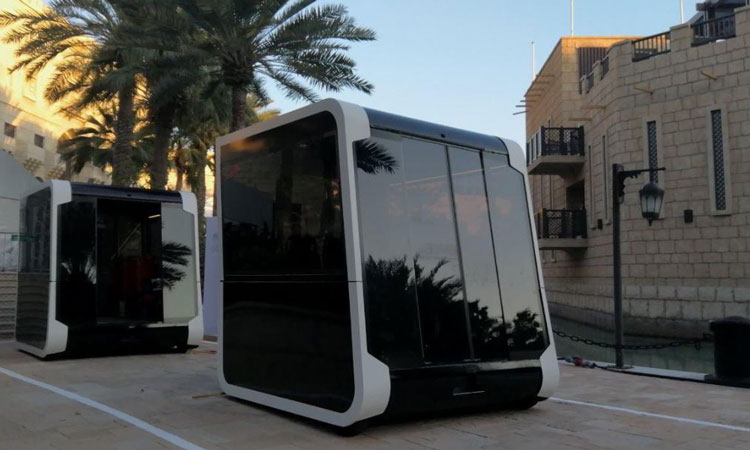 Credit: NEXT future transportation inc. LinkedIn
As airports become more and more congested, companies are looking to move operations off of the airport site. As IATA and ACI have shown in their webinar, off-airport will improve the convenience for customers and alleviate pressure on processing at the airport. 
Most recently, there has been a development of transportation to the airport, in which security and check-in can be processed whilst travelling to the terminal. 
This solution, provided by NEXT, offers air travellers the convenience of completing a majority of the check-in process during their commute to the airport. The solution is based on NEXT's patented modular vehicle platform, which allows individual pods to connect in motion and form a fleet.
Once pods are connected, the internal space of the fleet is utilised similar to a bus or train. While en route, various security technologies are applied in combination to ensure a layered approach to security. NEXT's passenger authentication solution utilises artificial intelligence, biometric and facial recognition to accelerate the check in process.  A comprehensive range of detection systems screen passengers and their baggage. 
Emmanuele Spera, CEO of NEXT said: "NEXT's new solution provides airports with an innovative platform to enhance the passenger experience. Airlines will value the simplified processes, reduced costs and increased customer satisfaction, while airports will profit from the improved use of existing infrastructure and better service."
With most airports serving as multi-modal transportation hubs for passengers and trade, the current challenge is to transform existing systems and processes to become more intelligent, interconnected and simple to use for all stakeholders. As part of NEXT's airport solution, its integrated data collection process will offer aviation stakeholders far greater insights into capacity planning, crowd-modelling, real-time staff requirements and security needs.
Tommaso Gecchelin, CTO of NEXT commented: "We [have] designed a friction-less door-to-airport passenger experience with the ambition to build a modular, human-centric, and environmentally-friendly solution based on the notion of processing travellers in a contactless manner. Delivering travellers fully credentialed to the airport helps remove the tension between passengers and airlines." 
Sven Hackmann, EVP of NEXT said: "The growing inclination of personalised passenger services is generating abundant opportunities for partnerships. NEXT is focused on collaborating with aviation stakeholders who are exceptionally committed to being at the forefront of the industry."
Related topics
Aeronautical revenue, Airport development, Airside operations, Baggage handling, Biometrics, Cyber-security, Ground handling, Information technology (IT), Passenger experience and seamless travel, Safety, Security, Terminal operations
Related people