FRA has already saved €500 million with many other benefits too
Free route airspace (FRA) allows airspace users to fly a preferred trajectory between a defined entry and exit point, subject to air traffic control, rather than fly existing airways.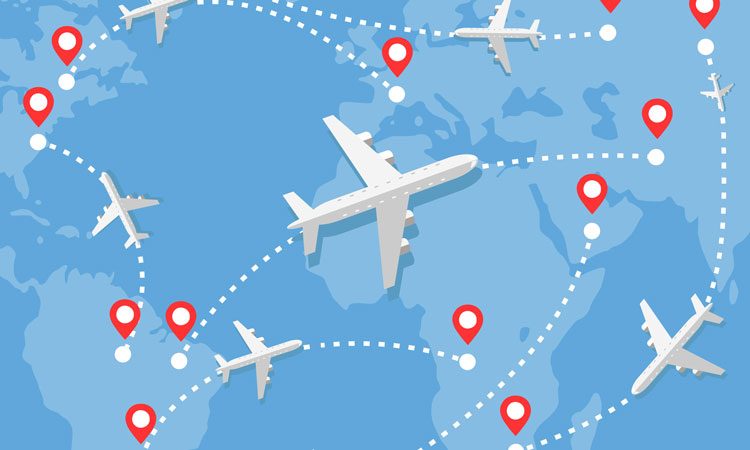 The European Commission is fully behind FRA: their regulation 716/2014 has a deadline of 2022 for implementing FRA Europe-wide above Flight Level 305.
The Network Manager (NM) developed a concept of operations a decade ago, along with technical specifications, civil-military requirements and guidance for Air Navigation Service Providers (ANSPs).
How NM helps with FRA implementation
Razvan Bucuroiu, EUROCONTROL's Head of Network Strategy and Development in the Network Manager Directorate, explained: "We developed a template for free route airspace developments, with a checklist of actions that kicks off 36 months before the implementation of a free route airspace project. Among other things, we also: start the airspace design, conduct validations, draw up military requirements, check aeronautical information publications."
The process developed by NM has led to the successful implementation of free route airspace in much of northern, south-east and central south-east Europe. Portugal was the first country to introduce full free route airspace in 2009.
Still outstanding is Europe's core airspace, which serves the region's main hub airports and has the most variation in horizontal and vertical traffic flows. But progress is being made.
Regional Projects
The North Europe Free Route Airspace (NEFRA) Programme has completed its cross-border network that allows airspace users to file preferred trajectories irrespective of borders over Denmark, Estonia, Finland, Latvia, Norway and Sweden in May 2017.
SAXFRA, the Austrian-Slovenian cross-border initiative was launched in 2016. The plan is to merge in the near future with the South-East Europe Programme – SEAFRA – which covers Croatia, Bosnia-Herzegovina, Serbia and Montenegro.
Bulgaria, Romania and Hungary have implemented cross-border free route airspace and they will be joined by neighbouring states in the next two years, including the Czech Republic, Slovakia, Albania and FYROM. Greece and Cyprus will follow in the next decade.
Upper Area Control Centres, Maastricht UAC and Karlsruhe have just launched free route airspace programmes. These have been carefully phased to gain experience before full implementation.
Maastricht has free route airspace at night and plans to expand it to include weekends in December 2018. In 2020, the centre hopes to have 24-hour operations, encompassing all military activity, and so to abolish the route network.
Karlsruhe is implementing FRA in its north-eastern sectors and will roll out others by 2020.
Pre-requisites
FRA implementation has to have modern air traffic management systems as a basis – and centres in in complex airspace need advanced flight data processing capability and support functions.
The United Kingdom, for instance, is linking implementation to the modernisation of its systems. There has been partial implementation in the Scottish upper airspace and it is moving southwards. Implementation should be complete at the beginning of the next decade.
The French Directions des Services de le Navigation Aérienne (DSNA) introduced its new En-Route Air Traffic Organiser (ERATO) systems at control centres in Brest and Bordeaux, opening up the opportunity to link regions in France with Spain and Portugal.
Cooperation with CFSPs
Equally important to NM is their cooperation with airlines, or more particularly, the Computerised Flight Plan Service Providers, CFSPs. "We cooperate with CFSPs to flight plan accurately and to use everything that is available to them in the network, including military airspace," explains Bucuroiu. NM has drawn up a document which details all the relevant technical information it plans to publish. "It describes in detail what CFSPs can do to exploit the benefits; how to connect with us; how to calculate trajectories; how to make use of civil-military airspace."
Airspace Redesign
Interestingly enough, few cross-border initiatives are following political or institutional structures. Rather, they are being driven by operational issues – and they are not being built around national borders or Functional Airspace Blocks (FABs).
A longer-term airspace design concept is emerging that is based on ATC Centres. If you have proper sectorisation based on operational requirements, it doesn't matter how many centres you have, providing they are organised properly.
Results
All the studies done to date – and there have been many – have shown that FRA brings a decrease in controller workload.
EUROCONTROL sector capacity revaluations are used to measure equivalent capacity to workload. They take account of factors such as system support, airspace structure and procedures. The studies show a reduction in evaluation and coordination tasks; fewer radio transmissions and increased traffic predictability. "All the controllers working with FRA are adamant," declared Bucuroiu. "They do not want to go back to the fixed-route network. Free route airspace offers them the flexibility to handle the traffic tactically with the correct flight plans. Beforehand, aircraft were given direct routes but there was no logical correlation between the fixed route network and how they were actually flying. FRA gives much more predictability in the traffic flows – and this is an essential enabler in creating more capacity in the system overall."